Happy Saturday. I hope your weekend, wherever you are, and whatever you're doing, is as pleasant as the weather outside. This post is simply a final reminder of the special Fall Day Celebration we're holding on Sunday, from 10 am to noon, at the Houston Botanic Garden. The event is free and open to all. Why are we doing this? Because we think fall is worth celebrating, and the whole team here at Space City Weather just wanted to try this. You can expect the following activities on Sunday:
Reliant table: Hugo mascot, branded giveaway items, coloring pages, bean bag toss game, raffling off Astros signed baseball and jersey and tickets

Luis Garcia jersey or Yuli Gurriel signed baseball
Tickets for next Tuesday's game

Face painting
Ella Coffee cart
Smoothie and snack truck
Photo backdrop
Meet-and-greet: Matt, Maria, Lee, Dwight, and I will all be there
Botanic Garden: Free entry to the garden for the rest of the day (guests can go explore the rest of the grounds after our meet-and-greet), nature/LEGO themed scavenger hunt for kids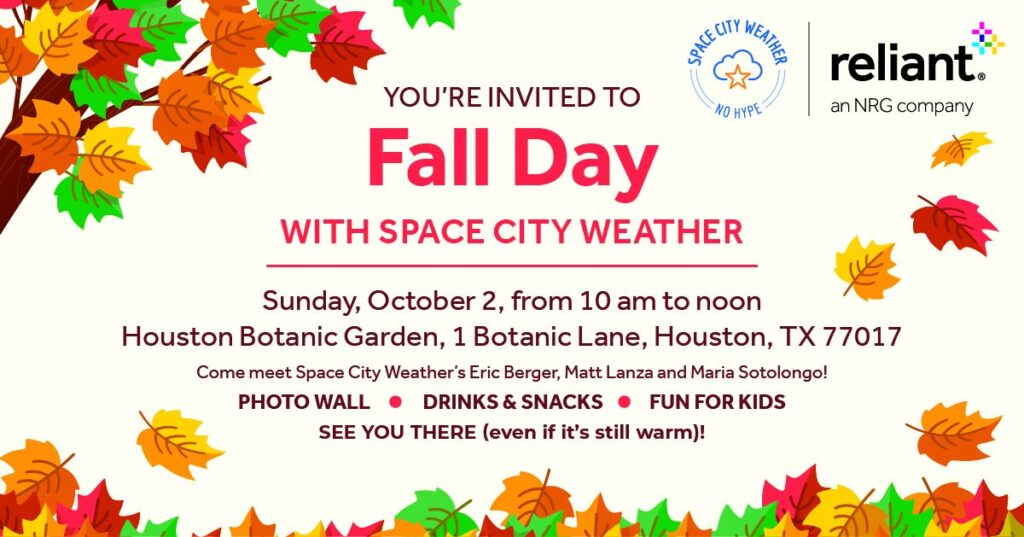 Some people have asked about the timing of the event, and are concerned about conflicts with church and other activities on a Sunday morning. We hear you. But to be honest, scheduling this celebration has been a challenge. First of all, it had to be after we were certain that fall's first real front had pushed into Houston. We were finally sure about that a little more than 10 days ago. At the time were not sure the drier and cooler air would stick around for so long as it has. So our timing options were Sunday morning, or an afternoon event at 3 pm. I was concerned it might be a little warm at that time of day, and less conducive to an event celebrating cooler weather. So we went with the morning.
The bottom line is that Sunday morning's weather will be spectacular, in the 70s, with blue skies. Come on out and say hello, if you can. You can help our planners by RSVPing here, but it's not required.