Good morning. We may be noticing it less because the temperatures are cooler, but a significant chunk of the Houston region remains mired in a severe drought. Moreover, parts of Fort Bend County are in an extreme drought. And just a little but farther, to the east in places like Beaumont, an exceptional drought continues to rage. Fortunately some relief is on the way this week, as the passage of a cool front on Thursday and Friday should bring a solid amount of rain with it—although frustratingly the totals are likely to be on the lesser end in the Beaumont-Port Arthur area.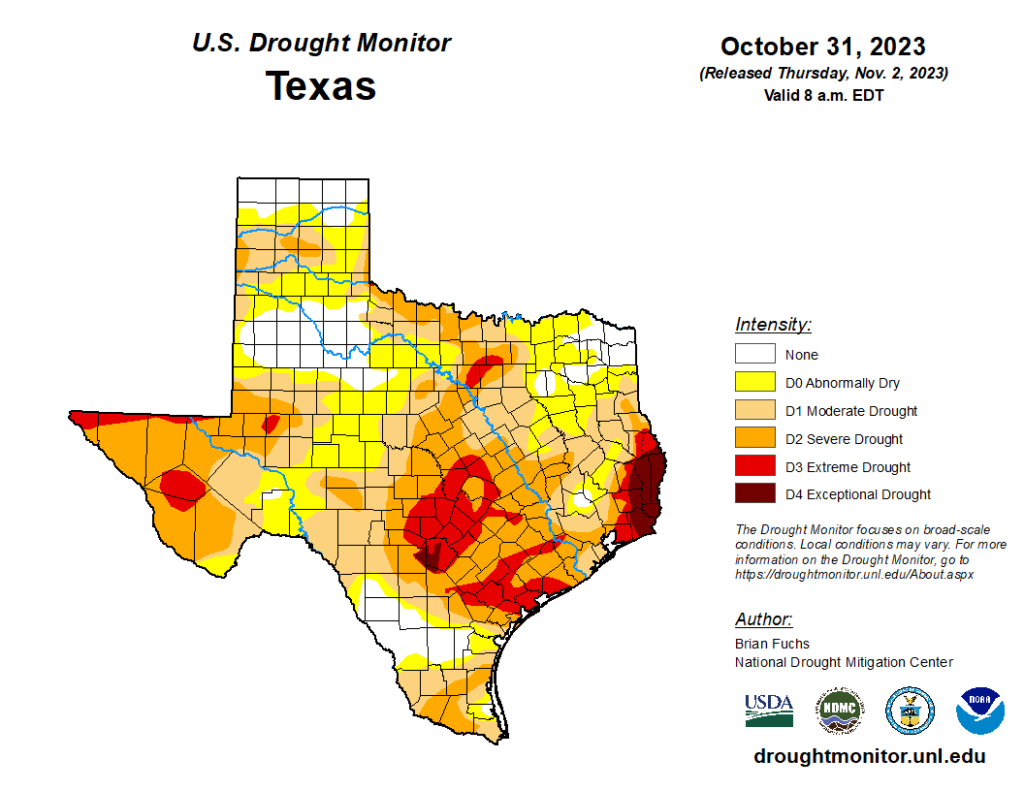 Monday
Before the front arrives we're going to see warm and humid days, but nothing too excessive. Highs today will reach the low 80s with partly sunny skies. The air will be humid, but not oppressively so. Winds will be light, out of the south, but there may be a few gusts this afternoon. Clouds will build this evening, and temperatures are likely to only drop into the upper 60s.
Tuesday and Wednesday
These days are likely to be more or less the same as Monday. Highs for most of the area will reach the 82 to 85-degree range. This is warm for early November, but still several degrees below record highs. Nights remain mild, only dropping into the upper 60s.
Thursday
By Thursday we'll be anticipating the passage of a cool front from west to east. However, most of the day Thursday should again be warm and fairly humid, with mostly cloudy skies and highs likely reaching the low 80s again. By Thursday afternoon rain showers ahead of the front should reach the College Station area, and push into Houston during the overnight hours.
Friday
As of now, the best chance for widespread showers should come on Friday morning. There is not great agreement in the global models at this point, so I could see a scenario where much of Houston receives 0.5 to 1.5 inches, and another in which most of the area picks up 2 to 4 inches. This will ultimately depend on the evolution of the front as it nears Houston, and whether it slows down for a bit. In any case, expect a cloudy day Friday, with highs in the 60s. Lows on Friday night should drop into the upper 50s.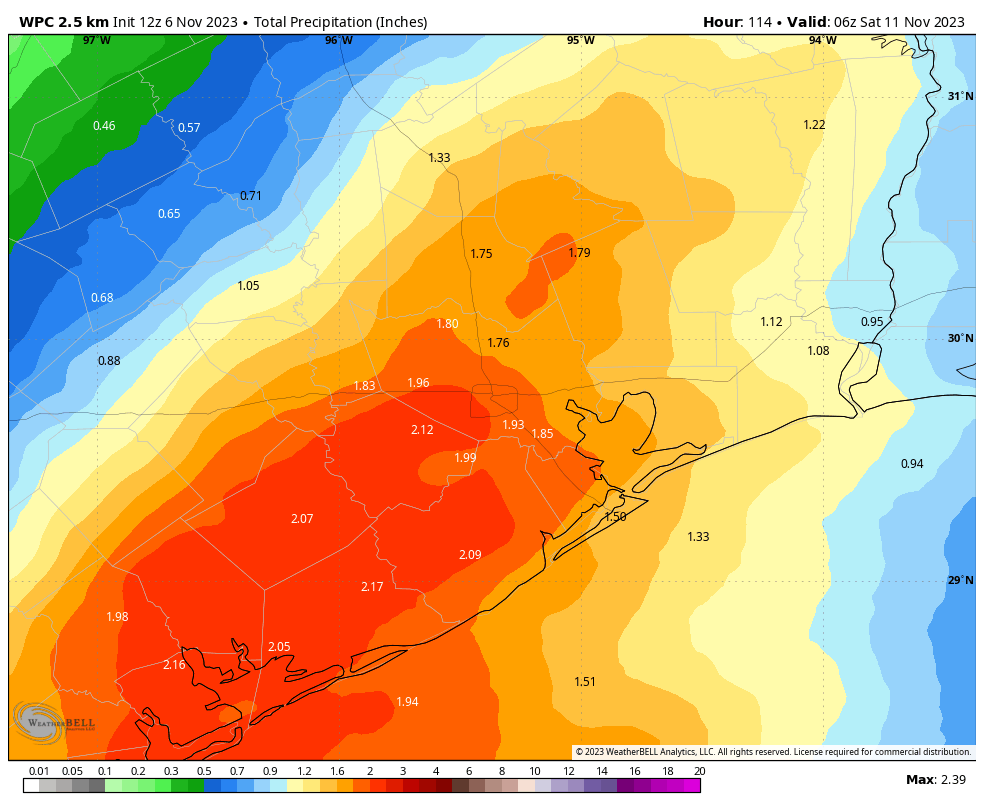 Saturday and Sunday
Veteran's Day, on Saturday, should be a partly to mostly cloudy affair. I still have questions about temperatures and the potential for lingering rainfall, but we can probably expect a day with highs in the 60s. Rain showers will remain possible on Saturday on Sunday, although chances will be far better closer to the coast than for areas inland of Interstate 10. Sunday will be similar, with highs in the 60s and perhaps a 30 percent chance of (mostly) light rainfall.
Next week
Most of next week should see highs in the upper 60s to lower 70s, with lows in the 50s. Skies are likely to be partly sunny, with low but non-negligible rain chances. We'll see a warming trend heading into next weekend, and then after that? Possibly another front. We'll see.
El Niño is strengthening
Over at The Eyewall, Matt has written a good post to summarize the strengthening of El Niño as we get closer to winter. It's worth checking out for the details. The bottom line for Texas is that this probably will lead to a wetter and cooler winter, with the potential for stormier weather. We'll see.