Good morning. The Houston region faces three more warm days before a significant change in our pattern brings improved rain chances and colder air. We're not looking at very dry air and sharply cold nights, as the region experienced a week ago. But rather we're going to see mostly cloudy weather for awhile, with days in the 60s, lows in the 50s, and healthy rain chances. We'll begin to warm back up by Wednesday or Thursday of next week.
Tuesday
Before that we're going to see some more weather in the mid-80s, with humid air. Highs today will generally be in the mid-80s, with mostly sunny skies, and southerly winds at 5 to 15 mph. Low temperatures tonight may briefly drop into the upper 60s in Houston, but there won't be much (if any) chill in the air. There is perhaps a 10 percent chance of very light showers.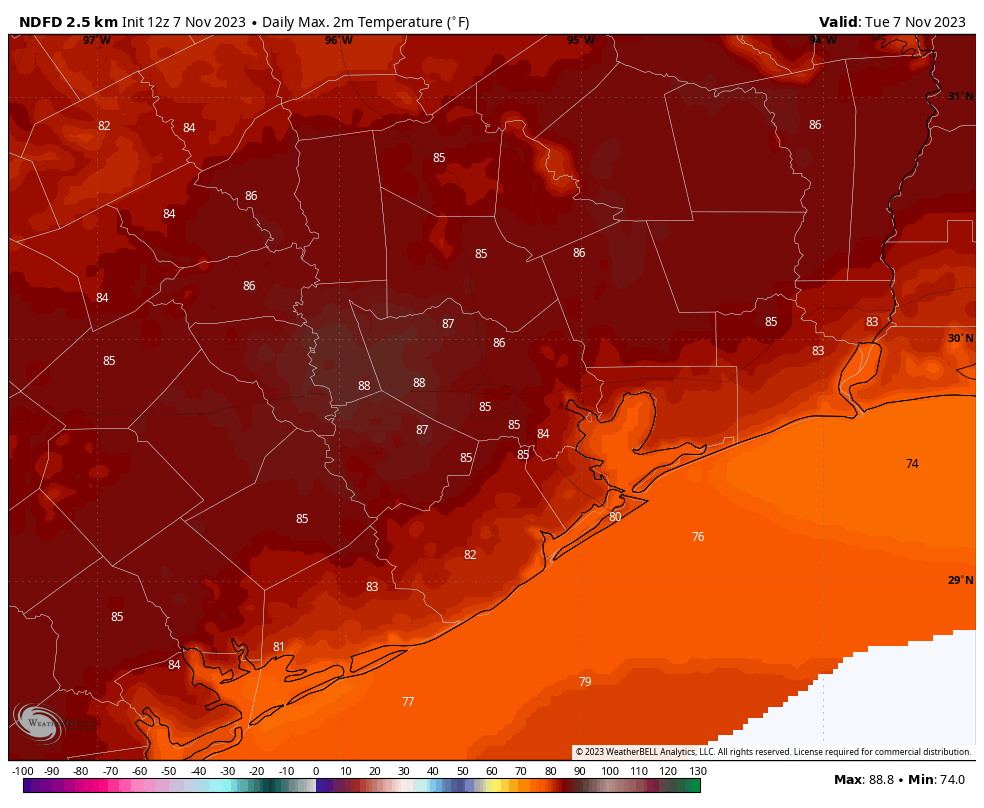 Wednesday
Did you like Tuesday's weather? Good. Because Wednesday is going to be basically the same.
Thursday
This day will begin similarly to Tuesday and Wednesday, but change will quite literally be in the air. High temperatures probably will be a couple of degrees cooler due to some more cloud cover. Some slight rain chances will start to pick up during the afternoon and evening hours, ahead of, and along with a front moving into the region. The front probably will push into Houston during the overnight hours and off the coast by Friday morning.
Friday
This will be a gray and cooler day, with highs in the 60s. So it won't be super cold, but it will be chilly with on and off precipitation. In terms of accumulations, I'm still not confident, but I would bet that most of the area picks up between 0.5 and 1.5 inches of rain, with the usual possibility of outliers. So at this point I don't really have flooding concerns. Accumulations will likely be higher to the west of Houston than to the east. Lows on Friday night will drop into the 50s.
Saturday and Sunday
My confidence in the weekend forecast also remains fairly low. There could be a break in showers on Saturday, Veteran's Day, for inland areas away from the coast. The challenge for the forecast is that the front and its associated moisture are unlikely to push all that far into the Gulf of Mexico, so we're going to see the potential for lingering showers this weekend, and next week. The bottom line is that we're looking at a pair of cloudy days in the 60s this weekend, with a healthy chance of light to moderate rainfall each day. At this point I'd say Sunday has a slightly better chance of rain than Saturday. We'll see.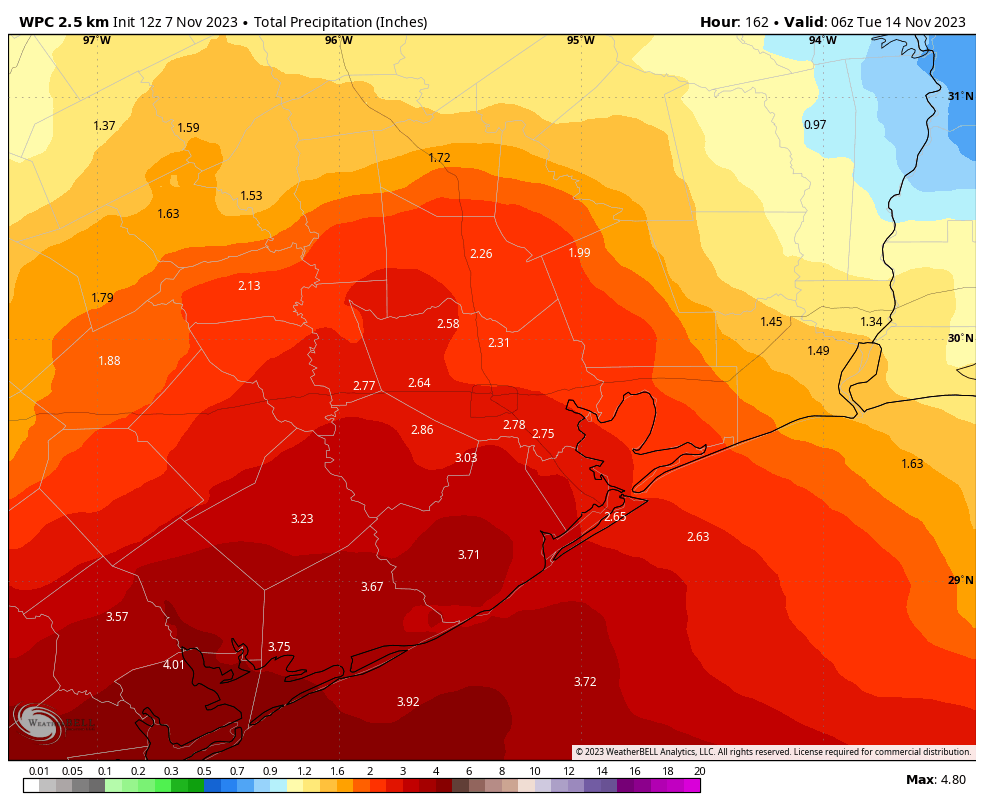 Next week
This gray and wet pattern will persist into early next week, likely at least Monday and possibly Tuesday. So that means more partly to mostly cloudy skies and ongoing highs in the 60s or so. Total rainfall accumulations (see map above) are going to add up over the the next week, likely with 1 to 4 inches for most of the metro area.
We're probably going to transition to a somewhat sunnier and warmer pattern for the second half of the week. Think highs in the 70s, with lower rain chances. This warming trend will continue into next weekend, at which point another front is likely in the cards. But whether that comes on Saturday, Sunday, or Monday, I cannot say.