Good morning. The most reputable hurricane season forecasting service, led by Phil Klotzbach at Colorado State University, has released its first outlook for the 2021 Atlantic season. The forecast calls for above normal activity (see table below) with 17 named storms instead of the more typical 12; eight hurricanes instead of six; and about 50 percent total more activity, in terms of the duration and intensity of tropical systems, as measured by accumulated cyclone energy.
This outlook is consistent with other predictions, already released, in calling for a busier than normal season. What I like about Klotzbach's forecast is that he's very clear about his methodology—using a combination of statistical modeling, and historical correlations between Spring-time weather conditions and hurricane activity later in the year. Klotzbach also has a reasonable track record.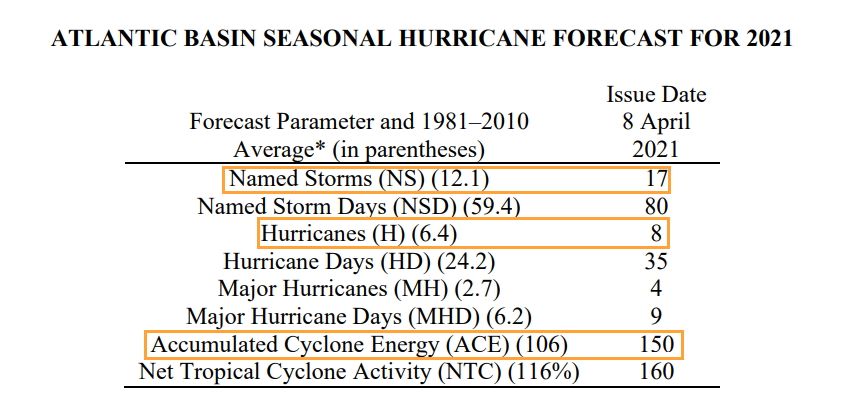 With that said, seasonal hurricane forecasts are far from perfect. I think, generally, we can expect a busier Atlantic season, but we're almost certainly not going to see a brute of a year like 2020. Moreover, the chance of the Houston area being directly affected by serious tropical weather (in terms of floods, winds, or surge) is pretty low. Historically, the region only sees a significant storm about once a decade or so. Therefore, while it certainly is time to begin planning for the 2021 Atlantic season, I very much do not want you to start worrying or obsessing about it. Matt and I will, of course, be here every step of the way, and we'll be releasing a new app before the June 1 beginning of the season to keep you informed.
Friday
A lovely weekend awaits Houston, but first we've got to navigate the possibility of some storms later today and tonight, much like we saw a rogue thunderstorm develop near College Station on Thursday night. Highs today will reach the mid-80s, with generally cloudy skies. Winds will be noticeable out of the south, gusting to about 20 mph. An approaching front will drive the potential for showers and thunderstorms this evening and tonight, and their extent will depend on whether a capping inversion breaks.
Most likely, areas south of Interstate 10 probably won't see much, if any rainfall. And, for the most part, accumulations in the Houston region north of I-10 will be perhaps a tenth of an inch. The best chances for severe weather lie far to the north of Houston, in the Lufkin and Longview areas. But as Thursday night's storm showed, there is plenty of energy and instability in the atmosphere to generate thunderstorms and hail. So we'll need to be wary tonight, and if the forecast changes significantly we'll update accordingly.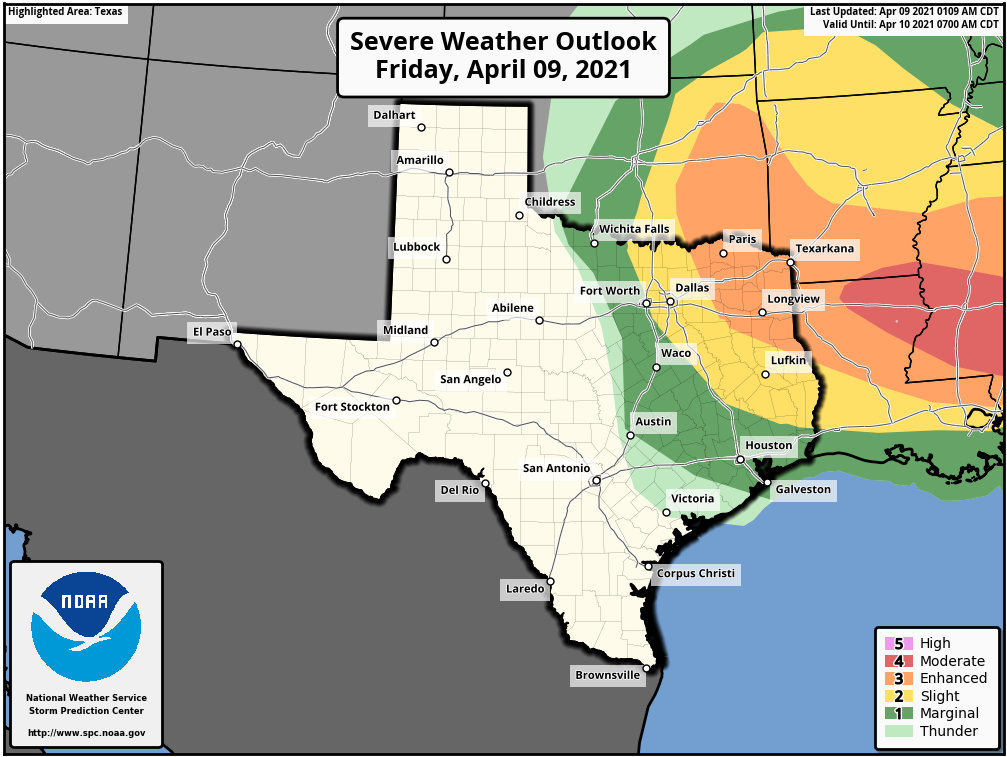 Saturday
The front itself should push into Houston around sunrise on Saturday, with drier air following in its wake. As a result we should see clearing skies and highs around 80 degrees. Winds will be a bit gusty, out of the north at about 20 mph. Overnight lows should drop into the 50s for inland areas, with 60s along the coast.
Sunday
Another pleasant, sunny day, with highs in the low- to mid-80s and dry air. As winds shift to come from the southeast later in the day, this will allow for low temperatures to be about 5 degrees warmer than Saturday night.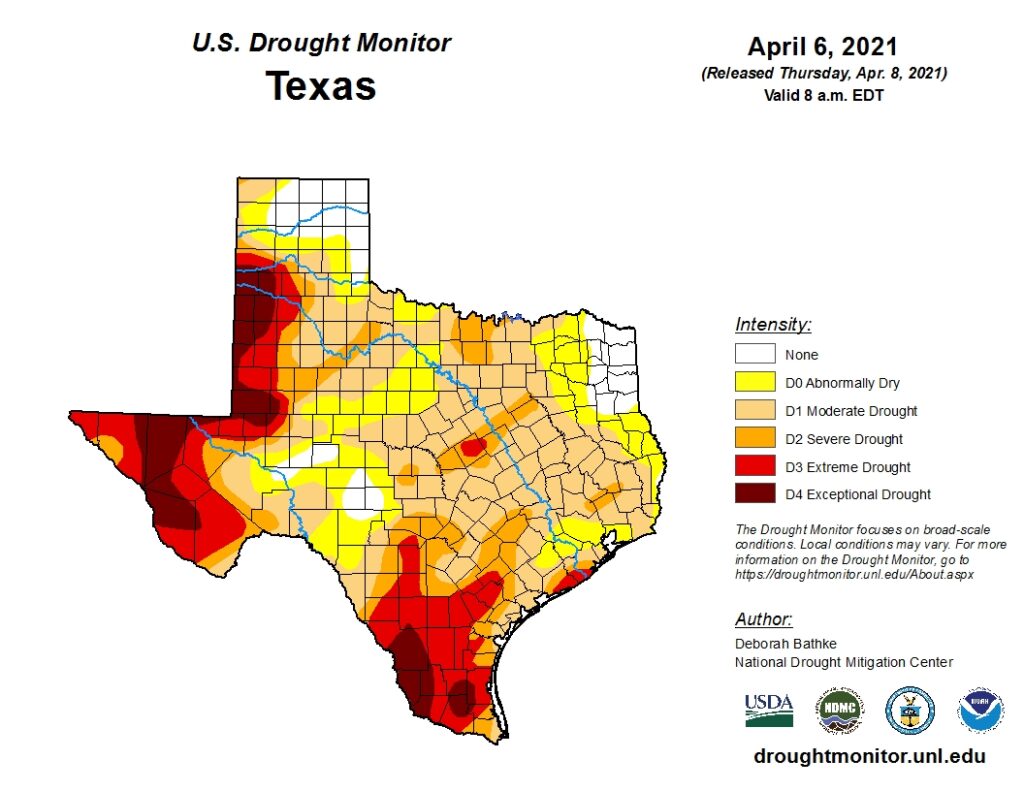 Next week
I'm hesitant to say too much about the forecast for next week, as it now looks as though we'll see a succession of weak fronts and disturbances that may, or may not push into Houston. In the end, I'd guess that next week ends up looking a lot like this week. The problem as we get deeper into spring is that we could really use some rainfall. All I can offer you is this: the global models are hinting at better rain chances (and accumulations) around the period of April 16 or 17. An inch or two of rainfall would go a long way given that parts of the region are already in a moderate to severe drought, and the hottest part of the year is yet to come. But I have no idea whether those model forecasts will verify.
We'll have all the details on that come Monday. Until then, enjoy your lovely weather this weekend, Houston!