The Houston region missed out on most of the rainfall associated with a tropical disturbance Monday, as the Beaumont area got the worst of it with 5 to 7 inches of rain falling in some areas, and in some cases more. The atmosphere remains pregnant with moisture, however, and while Houston lies between heavy rainfall to the east (near Beaumont again) and to the southwest (near Corpus Christi) this morning, it is likely that one of these long rainfall bands moves over the Houston region eventually today. For this reason, the National Weather Service has placed Harris, Chambers, Galveston, Brazoria, and Fort Bend counties under a flash flood watch through 7pm today.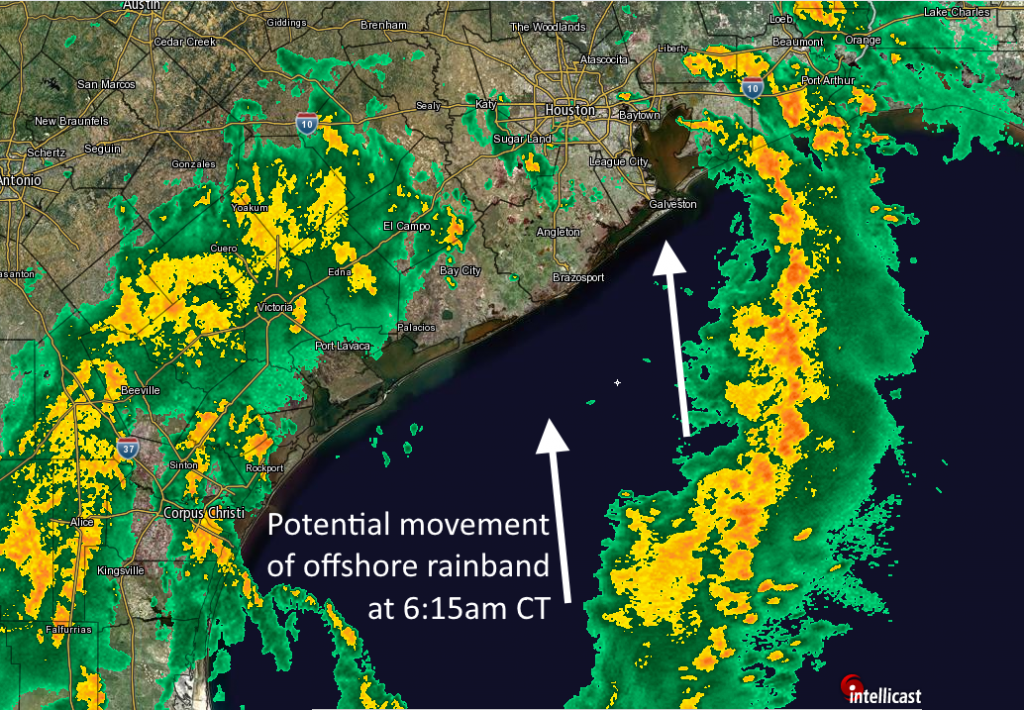 Tuesday
The much-discussed tropical disturbance has moved inland, into Texas near the Coastal Bend, but it will continue to serve as a focus of low pressure and atmospheric moisture for a few days. Given the long, banding feature on radar over the Gulf of Mexico on Tuesday morning, it is clear that somewhere along the upper Texas coast is going to get a healthy amount of rain today, probably on the order of 4 to 6 inches as training showers move inland. Whether that's central Houston, Baytown, or somewhere between Baytown and Beaumont is less clear. For this reason it is probably safest to expect widespread totals of 1 to 3 inches of rainfall if you live in the counties in the flood watch area, but realize there is a chance for considerably more than that. This probably is still just a street flooding issue, although I'm a bit concerned about Baytown and points immediately east of there that received 3 to 4 inches of rain on Monday.
Regardless, today is a day to be aware of weather, anticipate the potential for street flooding, and check conditions before making a drive across town. We will update this site as warranted.

Wednesday
Conditions remain favorable for heavy rainfall on Wednesday, although we probably won't see the banding features on radar that exist this morning, and therefore the overall threat of heavy rainfall is probably diminished. Nevertheless, for areas that get sodden today, flooding could be a concern on Wednesday if the storms strike the right areas. We probably won't have much intelligent to say about the potential for flooding in Houston on Wednesday until we get through Tuesday.
Thursday
Showers are likely again, but the disturbance driving these storms will be losing its oomph, and we expect less organization and less overall coverage. Impacts, again, will be determined by what happens on Tuesday and Wednesday.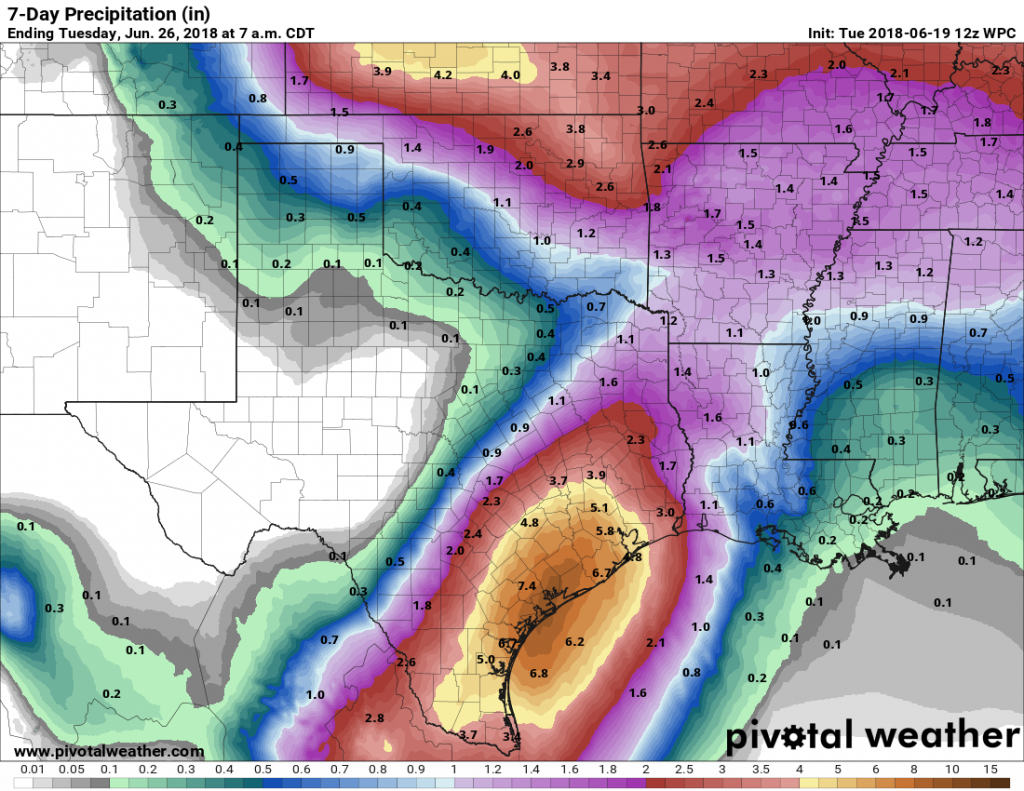 Friday, Saturday, and Sunday
The weekend still looks reasonably nice for Houston, given the time of year. Although we can't rule out some scattered showers during the afternoon and evening hours, for the most part I'd anticipate partly to mostly sunny skies with high temperatures in the low 90s.