Sunday marked the beginning of a surge of tropical moisture into Houston, and Monday represents the second day of what is looking like a four- or five-day stretch of wet weather for the region. The good news is that, despite the soggy conditions we anticipate, right now it doesn't appear as though we are going to see extremely high rainfall rates that will cause significant flooding. Our best guess for conditions through Thursday, therefore, is sporadic street flooding. If you're wondering how this affects your activities, it should be business as usual in Houston for the most part. (And if you've scheduled an outdoor birthday party, you have our apologies).
Monday
The radar shows scattered, moderate showers streaming into the Houston area this morning, but the heaviest rainfall remains offshore. That should change later this morning and into the afternoon, as a tropical disturbance moves closer to the Texas coast, and inland tonight. We anticipate the greater Houston region will see 1 to 3 inches of rainfall today, with the potential for higher localized amounts under the most intense storms. As you can see in the map below, rain totals will likely be greater near the coast.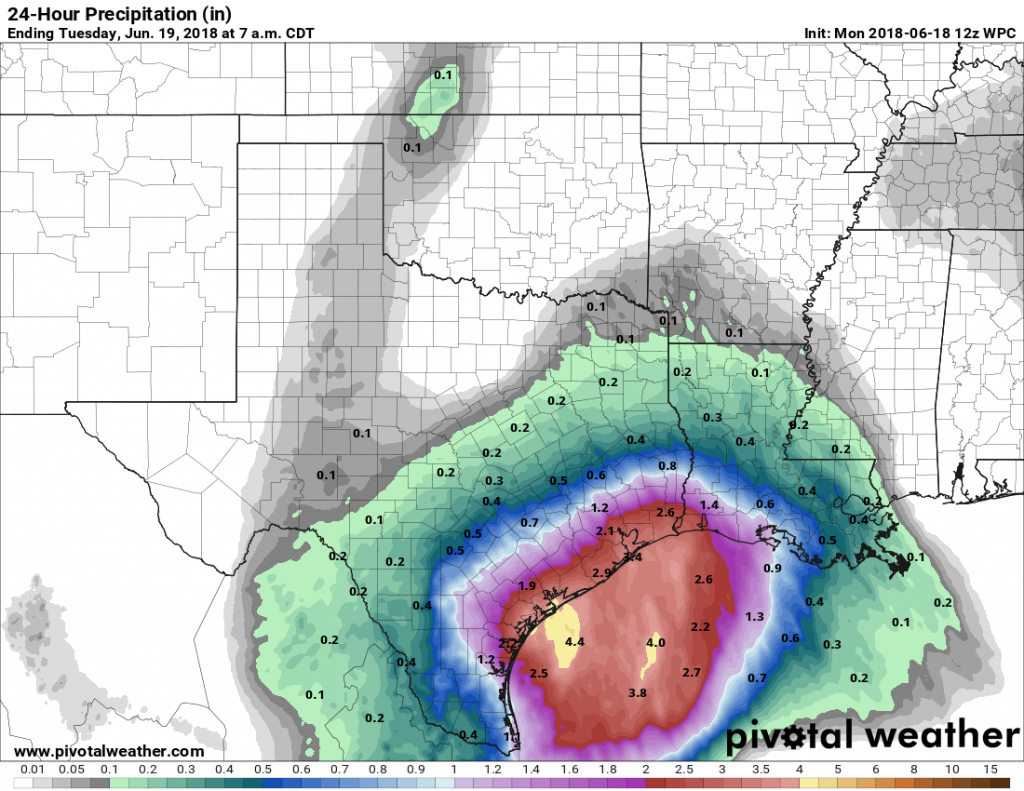 Given these conditions, we do not anticipate widespread problems due to rainfall, however if you find yourself in a heavy downpour, the most dangerous thing you can possibly do is drive into high water. Please, don't do that. Wait a little while, as these storms should progress through the area fairly rapidly and any flooding should be temporary.
Tuesday
As of now, the forecast for Tuesday is similar to Monday, with tropical moisture pushing into the Houston region, and bringing an additional 0.5 to 3 inches of rain to the area, again with the higher accumulations more likely near the coast. Any flooding concerns will depend upon where the heaviest rains fell on Monday, and again, at this time we don't anticipate anything more than short-lived street flooding. However, given the tropical nature of this rainfall (which carries the potential for high rainfall rates), and the overall uncertainty due to poor forecast model performance, we will continue to watch the situation closely and update as warranted.
Wednesday and Thursday
Periods of sporadically heavy rainfall will continue on Wednesday and Thursday, although at this time we don't think storms will be nearly so widespread as on Monday and Tuesday. Due to the nature of these storms, we think street flooding will remain a possibility, but again we are not particularly concerned about bayous backing up. True, overall rainfall accumulations this week could be impressive for the region, with 6 to 8 inches of rainfall possible over a four- or five-day period. This is a lot of rain, but provided it comes over a few days as we anticipate, it remains well within the capability of the region's bayou system to handle.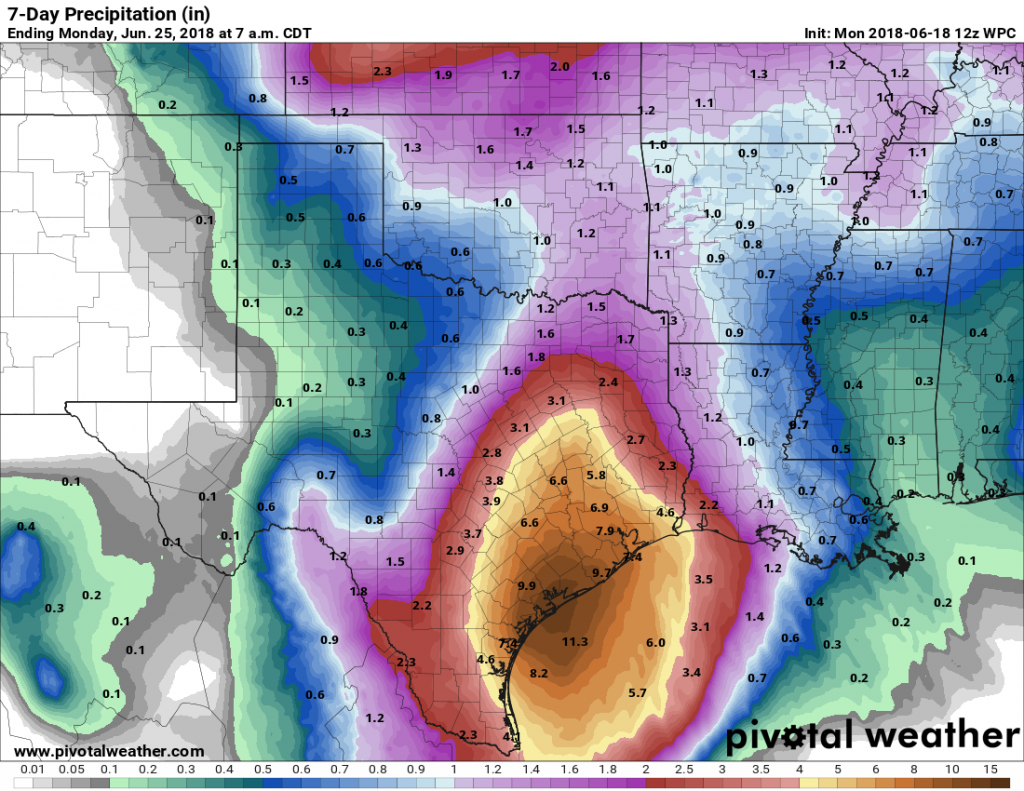 Friday and the weekend.
Up until this tropical moisture threat, the story of this month had been heat. The average temperature of 85.5 degrees at Bush Intercontinental Airport through Saturday put this month on pace for a top-five warm June, but highs in the 80s over the next few days will sap the sizzle from Space City.
Temperatures this weekend should remain relatively "pleasant" for this time of year, with highs in the low 90s, partly sunny skies, and chances for scattered showers during the afternoon hours. For Houston, this is about as good as it gets in late June, a somewhat happy medium between baking hot and torrential rainfall.