We have been talking about a potential flooding threat for Houston for quite awhile, and those of us along the upper Texas coast can finally begin to contemplate putting this event in the rear view mirror. Overall, these rains turned out to be pretty much as expected for the Houston area—with most of the region getting 2 to 5 inches of rainfall over the last several days.
However, Houston and Galveston represented a relative calm in the storm. Multiple parts of the Texas coast, such as the Rio Grande Valley, Corpus Christi and Port Arthur, received 12 inches or more of rainfall from a tropical disturbance that moved into Texas this week. The following map of estimated rain totals over the last three days (which you can click to enlarge) shows this. Truthfully, we anticipated the greater rainfall totals in Corpus Christi, but the Beaumont and Port Arthur-area rainfall surprised us. That bullseye could just as easily been Houston.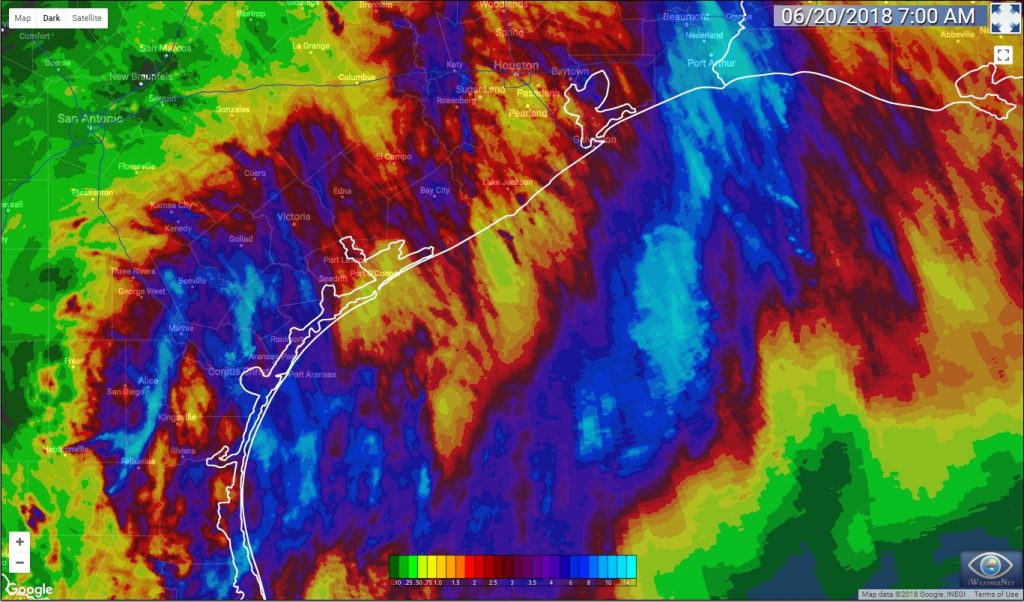 Wednesday
The atmosphere remains very moist over the region, but the axis of heaviest rainfall has moved off to the southwest, from Brownsville, to Corpus Christi to Victoria. The National Weather Service has retained a Flash Flood Watch for Jackson, Wharton, Matagorda, and Colorado counties, but removed the rest of the Houston metro area from these watches.

For the rest of today we can expect a fairly healthy chance of rainfall across the Houston metro area. Up to 1 to 2 inches may be possible across widespread areas, but the region's bayous are in good shape and this should lead to additional street flooding, at most. Expect another day with high temperatures in the mid-80s.
Thursday
A few additional rain showers are possible as the low pressure system over south Texas—formerly known as the tropical disturbance over the Gulf of Mexico—gets stretched and pulled to the northeast, away from Texas. Again, we don't anticipate any kind of flooding threat from these storms, as they should be more scattered, and quickly moving, in nature. Temperatures will nudge back up to near 90 degrees.
Friday, Saturday, and Sunday
Summer as we know it returns for the weekend, with mostly sunny skies replacing the clouds we've seen since last Sunday. Clearer skies will allow the summer sunshine to do its work, and push high temperatures back into the lower 90s, with correspondingly high humidity. It will be hot—but not as hot as summer can get in Houston. We can't rule out a few, isolated showers during the afternoon due to the sea breeze, but if you're headed to the beach or planning a pool party, you're in luck.
Early next week looks similar, with sea breeze showers possible but no indications of organized rain systems.