Earlier, Matt called attention to the potential for very heavy rainfall tonight from Tropical Storm Harvey, which is drifting east-northeast between San Antonio and Houston. Unfortunately this is exactly what is happening in the Houston metro area. Now is the time to get off the roads, get to your residence, and wait out a potentially long night of flooding.
Before jumping to the forecast, we've had some questions about why Harvey can maintain its strength and rainfall generating potential a full 24 hours after making landfall along the Texas coast. The following satellite photo, taken by NOAA's GOES-16 satellite at sunset tonight, tells the story. We have a vigorous low-pressure center inland, but it remains near enough to the Gulf of Mexico to pull copious amounts of moisture into the state.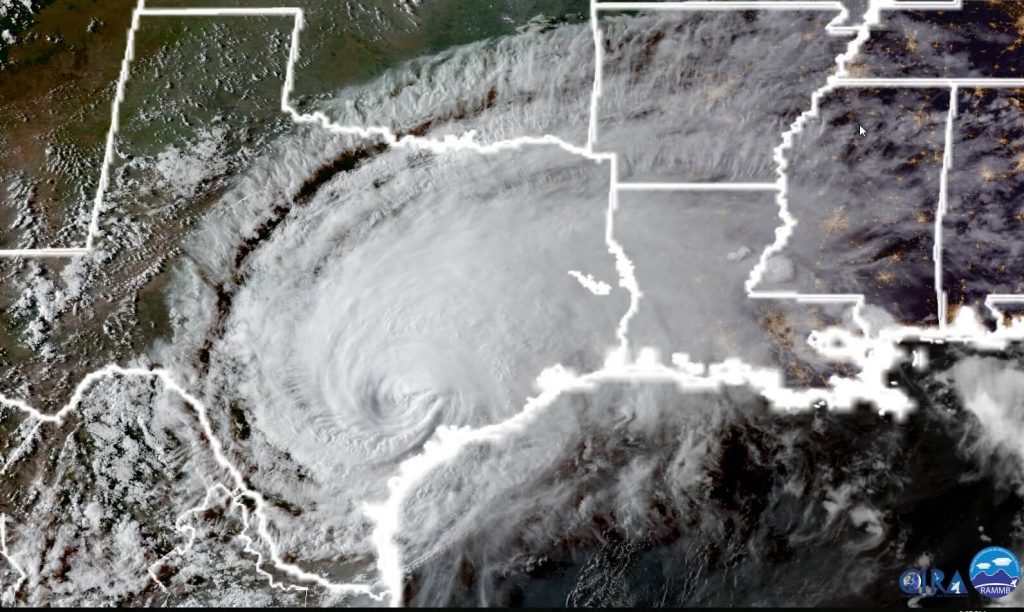 Rainfall rates
Beginning at about 7:00 pm a large feeder band began moving into the Houston area, and it has brought an impressive amount of rainfall in a short period of time. Some areas near Waller, northwest of Houston, and Stafford, southwest of Houston, have seen rainfall rates of 4 inches per hour during the last hour. That is about twice the carrying capacity of most bayous in the Houston area, and we have started to see flooding along some nearby bayous. We are already seeing deep street flooding in parts of western central Harris County, near Interstate 10 and the Sam Houston Tollway.
Here's a look at the rainfall band's position at around 9pm tonight. You will note the main feeder band extends over the Gulf of Mexico, from which it is pulling moisture into Houston. Additionally, a second rain band near El Campo and Bay City appears to be strengthening, and will move through Houston later this evening.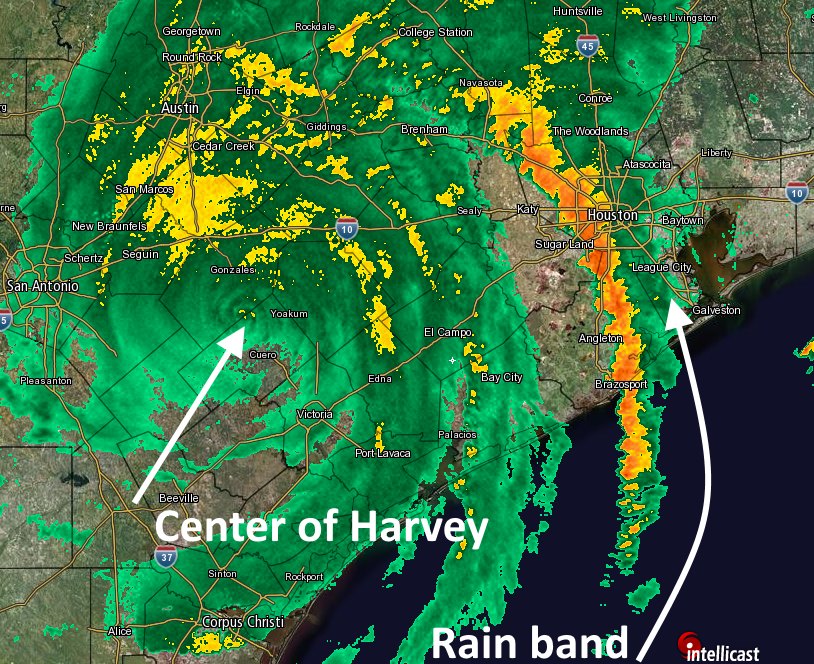 High resolution models (which are run frequently) continue to show high rainfall totals tonight and into Sunday morning, with widespread accumulations of 3 to 6 inches, and some locations receiving in excess of 10 inches. On top of the rainfall, we continue to see indications of tornadoes on the radar. As Matt suggested, now would be a good time to make sure you have your mobile device emergency alerts notification set to "On" tonight.
We remain concerned about the potential for flooding in the Houston region tonight, and will do our best to keep you apprised of the situation.
Posted by Eric at 9:10pm CT on Saturday