A major rain band has slammed Houston this evening beginning on the west and southwest side, progressing through central Houston, and now it is approaching a line from The Woodlands to Baytown to League City. It has produced tropical-storm-esque rainfall rates of 4 inches per hour (and higher), which has backed up bayous. The National Weather Service issued a rare flash flood emergency, indicative of the dire state of affairs.
As a result of this, Houston on the cusp of a major, widespread flood event of that could affect thousands of homes. Only the fact that this main band has progressed slowly to the north-northeast has saved the region from greater flooding. So far, this has mostly been a street flooding issue. (Mostly). And while some bayous are teetering on the edge or overtopping their banks, for the most part the region's bayou systems are holding. So the critical question is, what comes next? Is this it? Or will one or two more bands fire up before Sunday morning and push through Houston.
So, as of 10:30pm CT, here is what we are worrying about.
1. Will further rain bands from Harvey exacerbate a bad situation? Another rain band pushing into Houston from the west within the next several hours, of similar intensity to the first band, (Band 1 in the graphic below) would likely push bayous out of their banks, and turn a major street flooding problem into a major structure flooding problem.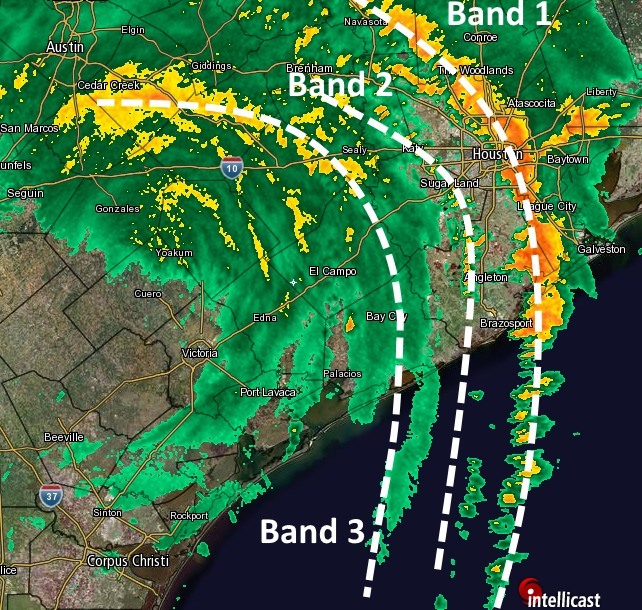 2. Will Band 1 slow down as it moves toward a line from, say, Humble to Seabrook, or along the Gulf Freeway? There are some meteorological reasons to think it might, and this could potentially become a devastating event for the east side of Houston. A nearly stationary line of showers producing 4 inches of rain per hour does not take long to flood structures.
3. What comes next? Tropical Storm Harvey may be weakening, but its rainmaking potential isn't going anywhere. The latest forecast track from the National Hurricane Center suggests this. We might hope that some of its ability to produce such massive, powerful rainbands diminishes over the next couple of days. But still, it's going to be there in some form or fashion. Alas, we'll have to worry about this one tomorrow.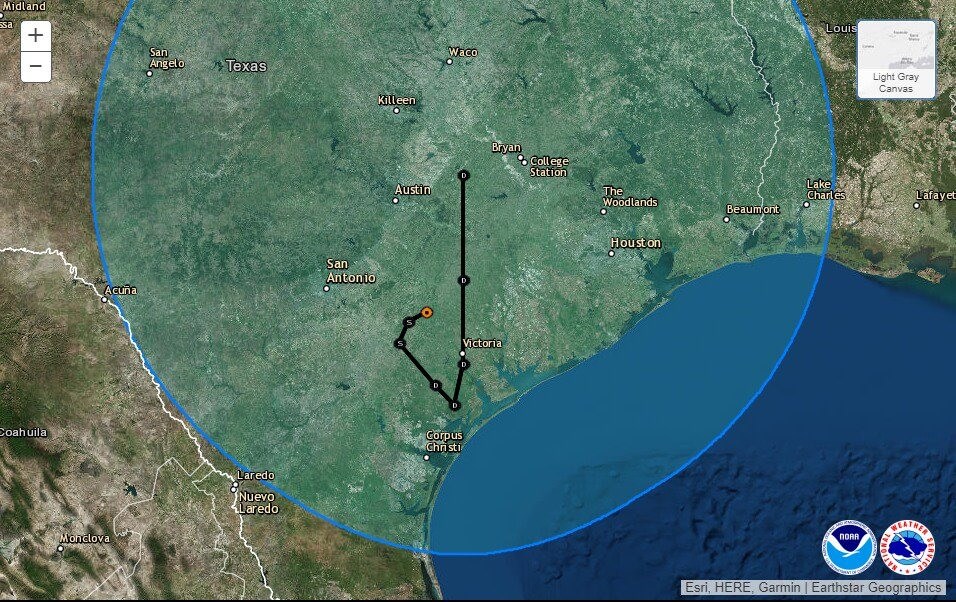 We will continue updating tonight as warranted. Or as long as the beer here at Space City Weather HQ holds out.
Posted by Eric at 10:45pm CT on Saturday