Good morning. Houston's not hot, but definitely not cold, weather will continue for several more days. In the meantime, while we can expect plenty of things to fall out of the sky, rain drops are unlikely to be among them. Instead, we should see the continuation of high season for tree pollen in Houston. It is everywhere in the air at the moment, and this pattern is unlikely to change for at least the next week. As for rainfall, chances may pick up about 8 to 10 days from now.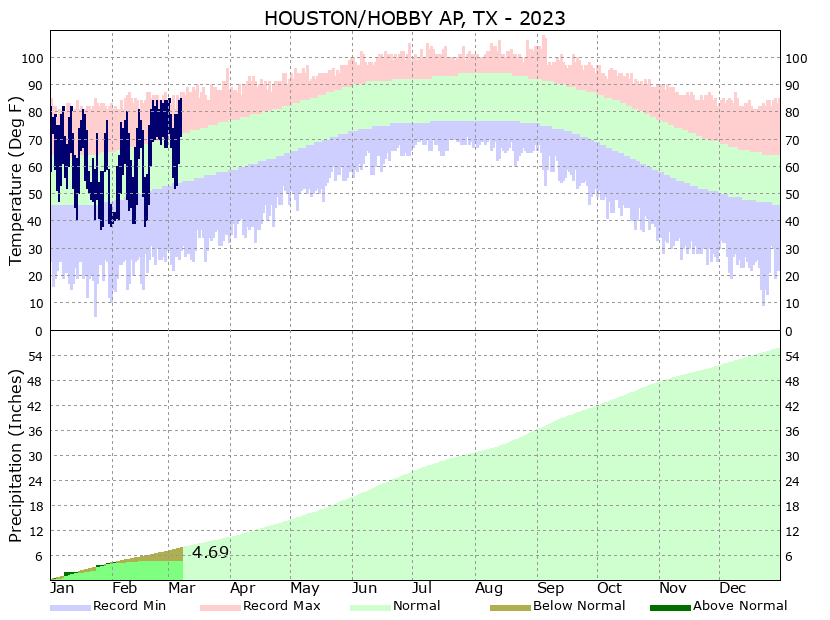 Wednesday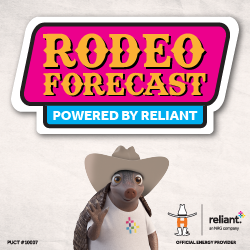 If you've been paying attention to the weather this week, then you have a pretty good idea of what to expect today outside. Coastal areas will see fog this morning. Mostly cloudy skies to start the day may break up just slightly during the afternoon hours to provide a little sunshine. And for most of us, high temperatures will be climbing into the mid-80s to make for a warm day.
If you're heading to the Houston Livestock Show and Rodeo this evening, you can once again count on mild conditions. Temperatures this evening will be in the upper 70s, with moderate southerly winds. Rain chances are near zero. Overnight lows in Houston will only drop to around 70 degrees, or slightly below that the further inland one goes.
Thursday
Basically, a carbon copy of Wednesday.
Friday
By late Thursday night or early Friday, a weak—an oh so very weak—front will be approaching the Houston region from the north. It's going to stall out somewhere, and the models are still a bit uncertain where. At this point, if I'm forced to predict, I'd say it stops north of Interstate 10. The bottom line is that, for now, I'd expect most of the area to see a warm day in the 80s, albeit with a slight 10 to 20 percent chance of rain. Lows on Friday night may drop into the low- to mid-60s for areas north of Interstate 10, due to the influence of the front, but humidity levels aren't going down very much.
Saturday and Sunday
This will be one of the warmest weekends of 2023 to date. Saturday should see highs in the low to mid-80s with partly sunny skies, with Sunday seeing highs jump into the upper 80s due to a warmer westerly flow. On Sunday you'll probably also notice the winds out of the west, gusting to 20 mph or higher. At some point on Sunday, perhaps during the afternoon, or perhaps later in the evening or overnight, a more substantial front will work its way into Houston. This one should go all the way to the coast and offshore. Lows on Sunday night will be cooler as a result. At this point the frontal passage looks mostly dry, in terms of rainfall.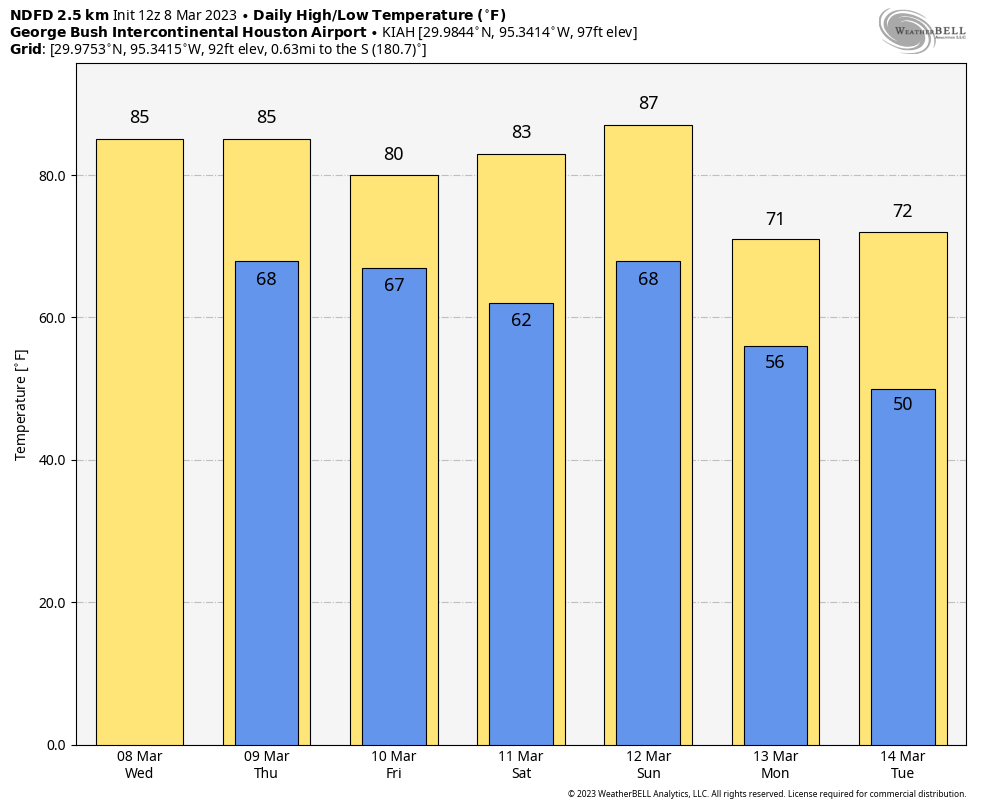 Next week
Said front will give us a few days of cooler, and probably mostly sunny weather to start next week. We're talking mostly about highs in the 70s and lows in the 50s. After a warming trend, a second front may push into the region by Friday-ish. At this point the models are still holding onto a chance for decent rain accumulations with this front, but since we're talking about a forecast nine days from now, I would not hold my breath. But golly, we sure could use some rain.