Good morning. The Houston area is now on day three of a miserable stretch of weather that has been magnified by widespread and ongoing power outages that seemingly have no end. Of the weather, we can at least say this, Houston is closer to the end of this Arctic blast than the beginning.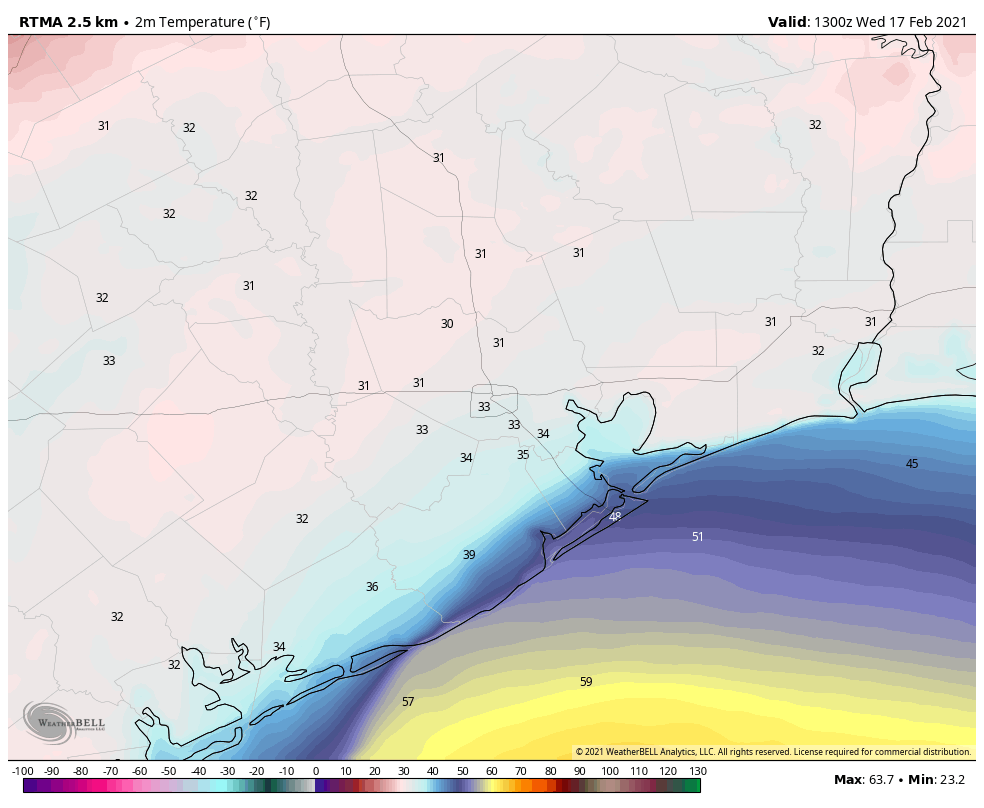 Wednesday
Generally light precipitation is falling across the metro area, and as anticipated this is simply rainfall south of the freezing line, and freezing rain to the north. Right now this line stretches roughly from Columbus to Katy to Cypress to Kingwood. This freezing line should lift slowly north to the northern edge of Harris County by around mid-morning, and to Highway 105 by around noon. (Here's a list of current icy road conditions). Most of the region should be passable by noon as temperatures warm, but motorists along and north of Interstate 10 should take care on roads, especially bridges and elevated highways, until ice has melted.
Precipitation will begin to exit the area to the east by noon or shortly thereafter, leaving a cold and gray day in its wake. High temperatures today will generally reach about 40 degrees south of Interstate 10, and mid- to upper-30s north of the freeway. However, for inland areas—again, north of Interstate 10—temperatures will begin to approach freezing levels by around sunset or within a few hours after this. Depending on the extent to which roadways dried, any lingering water may freeze, and travel may remain treacherous in some locations. Lows will drop into the upper 20s for inland areas, and remain at or just above freezing closer to the coast.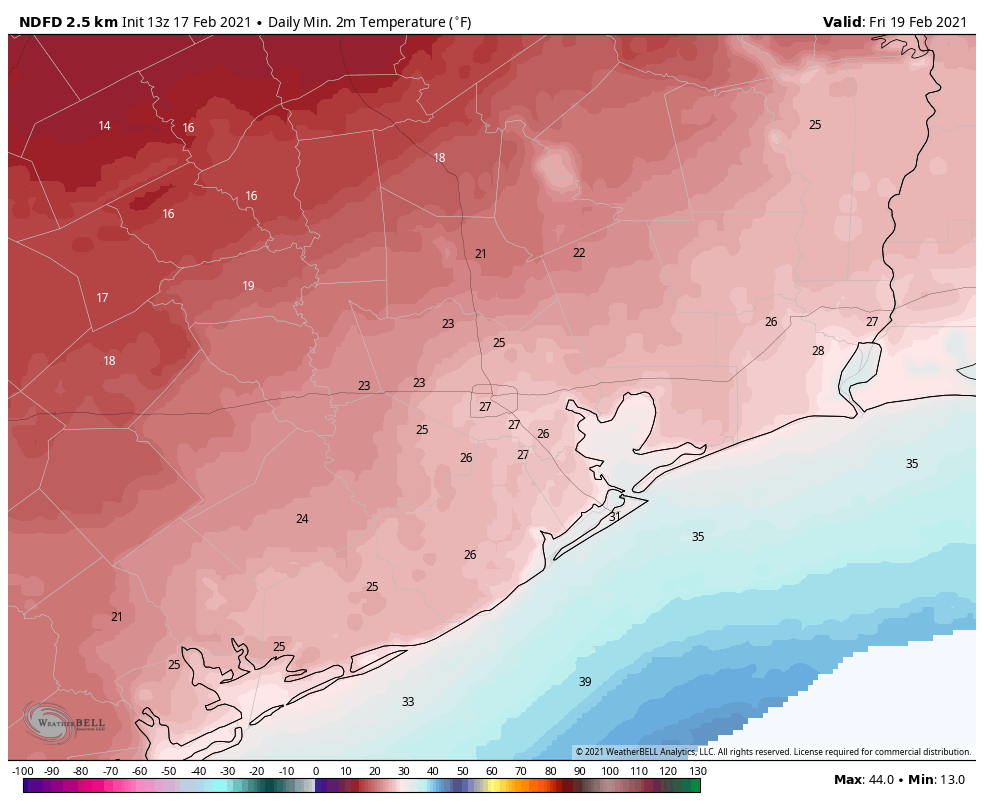 Thursday
As additional cold air surges into the area on Wednesday night—and this is the final push of very cold air—we'll see one more slight chance of precipitation in the form of snow or sleet during the morning hours. However, this is generally expected to be slight, and not pose additional problems on roadways. Highs should reach into the mid- to upper-30s on Thursday, with one more very cold night. Lows will drop into the 20s for much of the region.
Friday, Saturday, and Sunday
The weekend will see stair-stepping high temperatures of 40s on Friday, 50s on Saturday and 60s on Sunday. There will be plenty of sunshine. Houston is unlikely to see a freeze again this winter after Saturday morning, but after what we've been through this week I am making no guarantees.
Power outages
The catastrophic power outage continues across much of Texas, with 2.8 million customers still without power statewide as of 7:30 am Wednesday morning. This is down from 4.4 million on Tuesday morning, but about half of those losses are within the Houston metro area. State officials who manage the electric grid at the Electric Reliability Council of Texas have not been able to provide any reliable information about when power may be restored to all. This really is unacceptable in weather conditions such as these.