This week Houston has survived a freakish snow and ice storm, extreme cold, and bout of freezing rain. So what else does Old Man Winter have to throw our way? Well, my friends, there is just one last sting in the tail, then it looks like this mess will be over.
At least from the standpoint of weather—in terms of electricity and water, that is another issue entirely. As of this evening, about 2.3 million Texas homes and businesses remain without power, and about half of those are in the greater Houston area. For millions of your neighbors, the misery continues.
Wednesday night
In the wake of precipitation earlier today, cold air from yet another front is now moving into the Houston area. Temperatures will drop to freezing levels north of Interstate 10 tonight, and where ice or water remained on roads today, this will refreeze tonight. There is also the possibility of some light snow or sleet late tonight north of Interstate 10. In these areas you'll need to watch for icy spots on roads through about noon on Thursday. Closer to the coast, a freeze is unlikely overnight.
Thursday and Thursday night
High temperatures on Thursday should get into the mid- to upper-30s. Brisk winds out of the north will knock wind chill temperatures below freezing. But at least we should be dry after lots of wintry precipitation. After a cloudy start, a bit of sunshine may peek out later in the afternoon on Thursday. This will be nice, but clearing skies also means we'll see strong radiational cooling on Thursday night, with lows again dropping into the 20s on Thursday night.
It. damn. sure. would. be. nice. to. have. power. back. by. then. ERCOT.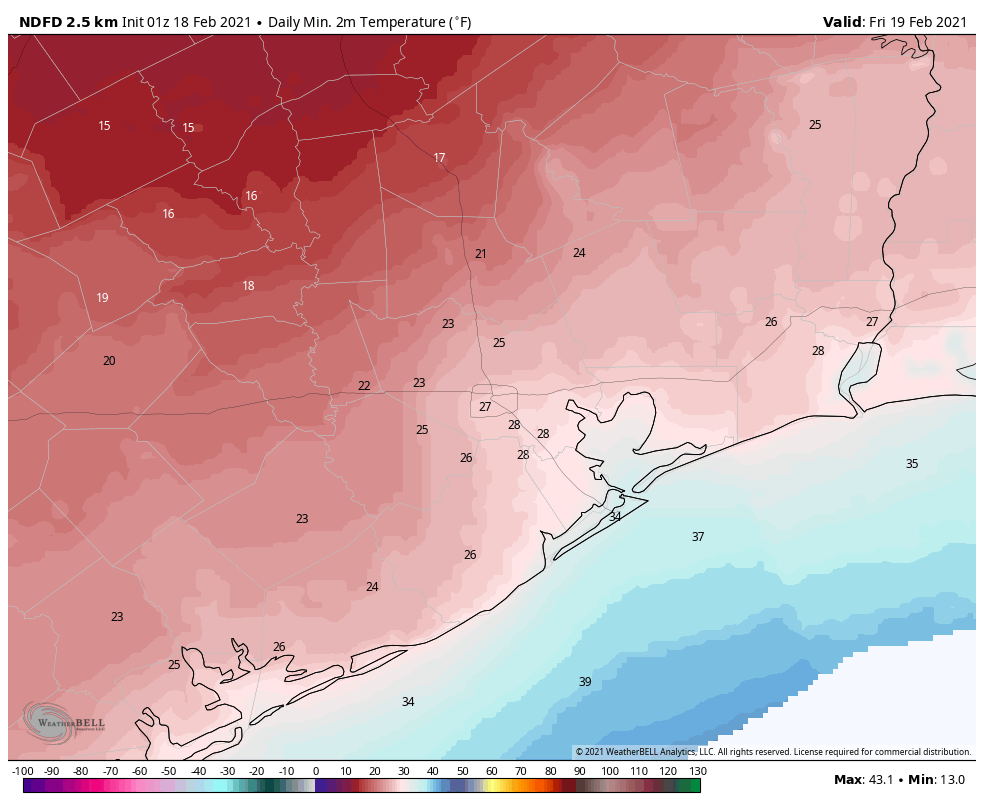 Friday and beyond
After a cold start, sunshine should help temperatures warm into the low 40s on Friday, but with a northerly wind it will feel cold out all day. Low temperatures on Friday night will still be very cold, but should be a couple of degrees warmer than Thursday night.
Highs on Saturday should push into the 50s, and the threat of a freeze will finally be over.