Much of the Houston area has warmed to at or above-freezing levels today, but just as the region can start to take a breath, Mother Nature is readying a second punch. It will come tonight in the form of another round of precipitation, which will fall as freezing rain for inland areas.
Tuesday night
Road conditions have been improving today, and should remain so until later evening, or possibly even midnight. After this point precipitation from a coastal low pressure system will begin overspreading the area. The key question is where the freezing line falls, north of which will produce freezing rainfall. Initially, this line will likely fall roughly along Interstate 10, and then may migrate northward as temperatures warm Wednesday morning. The big concern this presents is accumulating freezing rain on roads and power lines, especially north of Highway 105.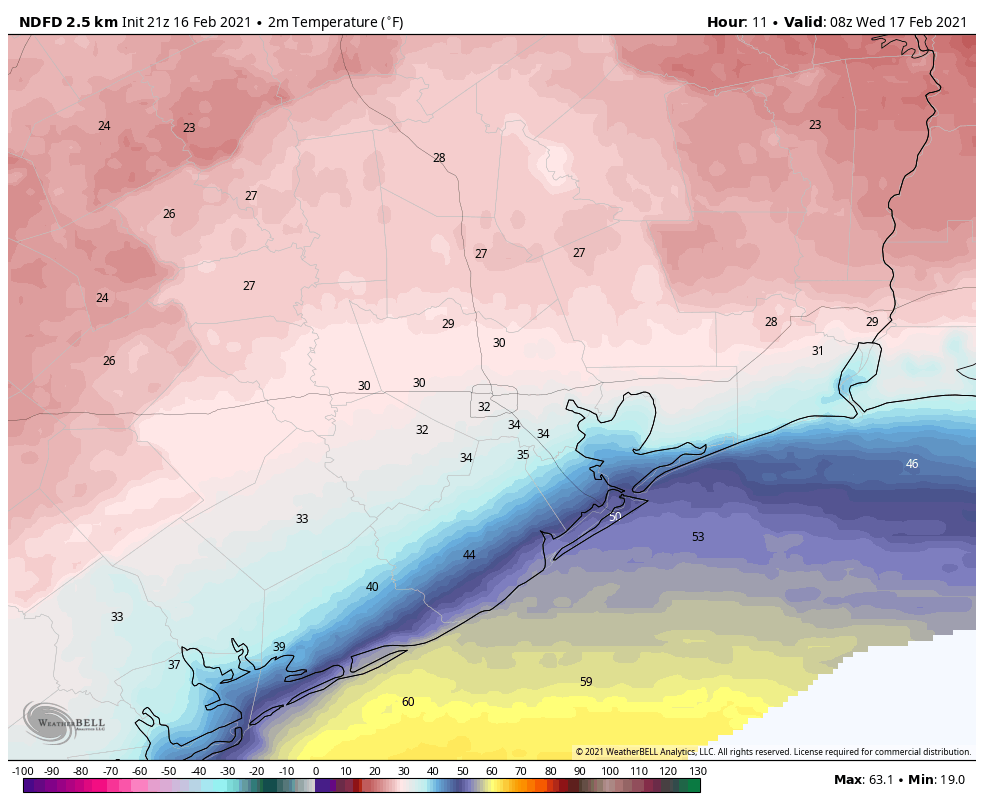 The bottom line: Travel in the northern half of Harris County, and points north, could become problematic to rather dangerous late this evening, and should be avoided after about 10pm.
Wednesday
The precipitation will come to an end by around noon on Wednesday, and then it becomes a game of when air temperatures will warm enough to melt off any ice on roadways. For now I think that will occur before noon in Harris County, and probably after noon in Montgomery County. There likely will be some point around Highway 105, or north, where it does not get warm enough to burn through the ice. Where that will be? Can't say for sure right now.
In Houston itself, expect highs to reach the upper 30s, with lows dropping just below freezing Wednesday night. Some additional light precipitation is possible Wednesday night, but at this point is not expected to cause major additional problems.
Thursday and beyond
Thursday looks cloudy and cool, with highs in the upper 30s to 40 degrees. But the rain will be over. Thursday night will provide one more sting, with lows dropping into the 20s. After this we'll be off to the races in terms of sunshine and warming. We should see mostly sunny skies into early next week.
We'll have a comprehensive update for you in the morning. Please stay safe, and as warm as these trying conditions permit.