Welcome to another crazy day in the tropics. While we we've been waiting for Tropical Depression 22 to strengthen into a tropical storm, a system in the deep tropics became Wilfred this morning. And then, at noon, Subtropical Storm Alpha improbably formed off the coast of Portugal. Neither of these storms remotely concern the Gulf of Mexico, so our focus will remain on the depression that will become—checks notes—Tropical Storm Beta later today.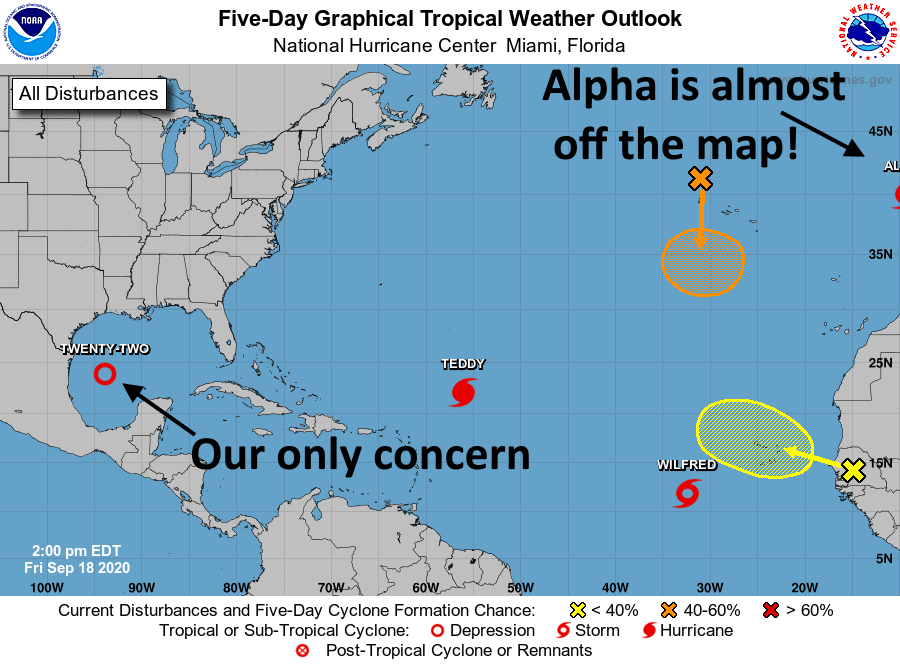 We are issuing our first Flood Scale forecast for this depression, with the caveat that this is subject to change. Simply put, there remains a healthy amount of uncertainty about where the heaviest rains will come over the next five or six days. However, for now, we are calling for a Stage 2 flood for areas south of Interstate 10, and a Stage 1 flood for areas north of Interstate 10. The biggest rainfall risks for Texas are right along the coast, from Brownsville to Galveston.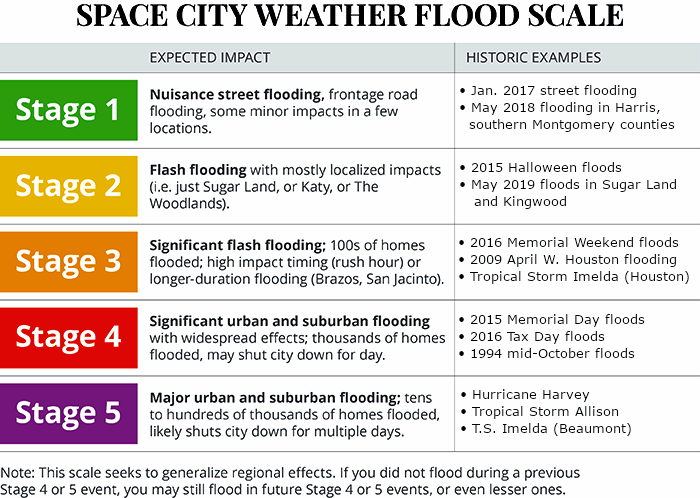 Now let's talk track, because that ultimately will determine what happens with the depression's rainfall.
Where will Beta bend?
This will be the story of two turns. The following graphic shows the National Hurricane Center's official forecast track (as of 10am CT Friday) in black. I've made several annotations that I want to talk through to help you understand the track forecast and the uncertainties that we're dealing with.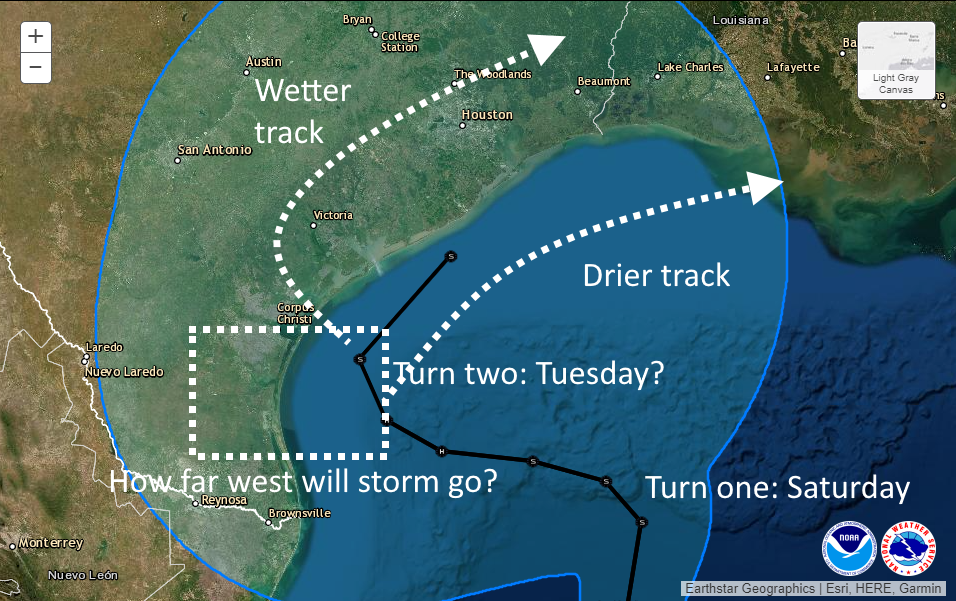 Alright, so we're fairly confident in the storm's track today and tomorrow, when it should run into high pressure associated with the front that has moved through Houston already. This should push the system westward, toward Texas. The big question after this is how far west the storm will get—probably very close to the coast, and perhaps even a little bit inland (I've tried to highlight this area with the white rectangle). The storm does its coast-hugging, slow moving routine on Monday. At this time it will produce a lot of rain, but hopefully most of this will fall east of the center, offshore.
The second turn
By around Tuesday, the storm should begin to lift to the north and then northeast, perhaps moving close to the coast (as indicated by the official forecast), or further inland (wetter for Texas) or further offshore (drier). Because we have so little confidence in the track for Tuesday and beyond it's hard to say how much rainfall we will see in the Houston region. For example, I could envision 5 inches of rain in Galveston, or 20 inches. I could envision 2 inches of rain in Houston, or 8 inches. We're pretty confident that rain chances will perk up on Sunday, with the really heavy stuff possible from Monday through perhaps Thursday morning. For more precise totals you're going to have to hang in there with us until we get a better handle on the storm's track.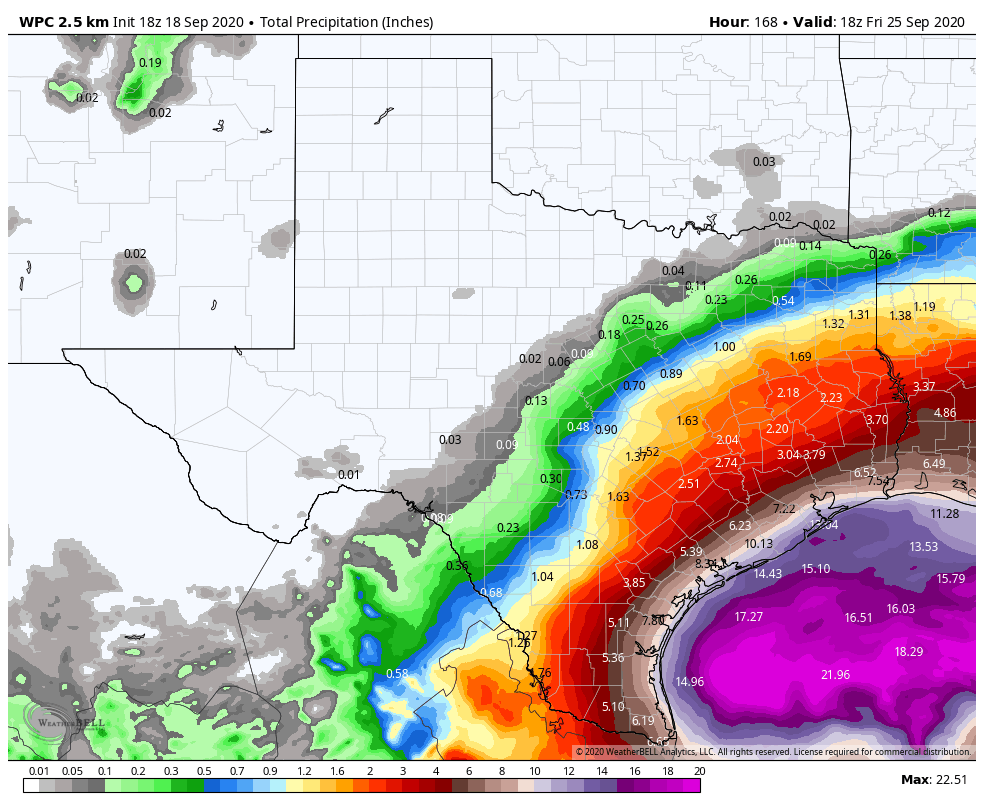 Coastal flooding
The other issue is coastal flooding. Generally, we anticipate the potential for water levels to rise 1 to 2 feet higher than the region experienced with Hurricane Laura three weeks ago. Waters will start to rise on Saturday, and increase on Sunday. After that any additional rises will depend upon the intensity of the depression—we still think it's going to become a tropical storm or a Category 1 hurricane at most—and its track. So these hazards are to be determined as well.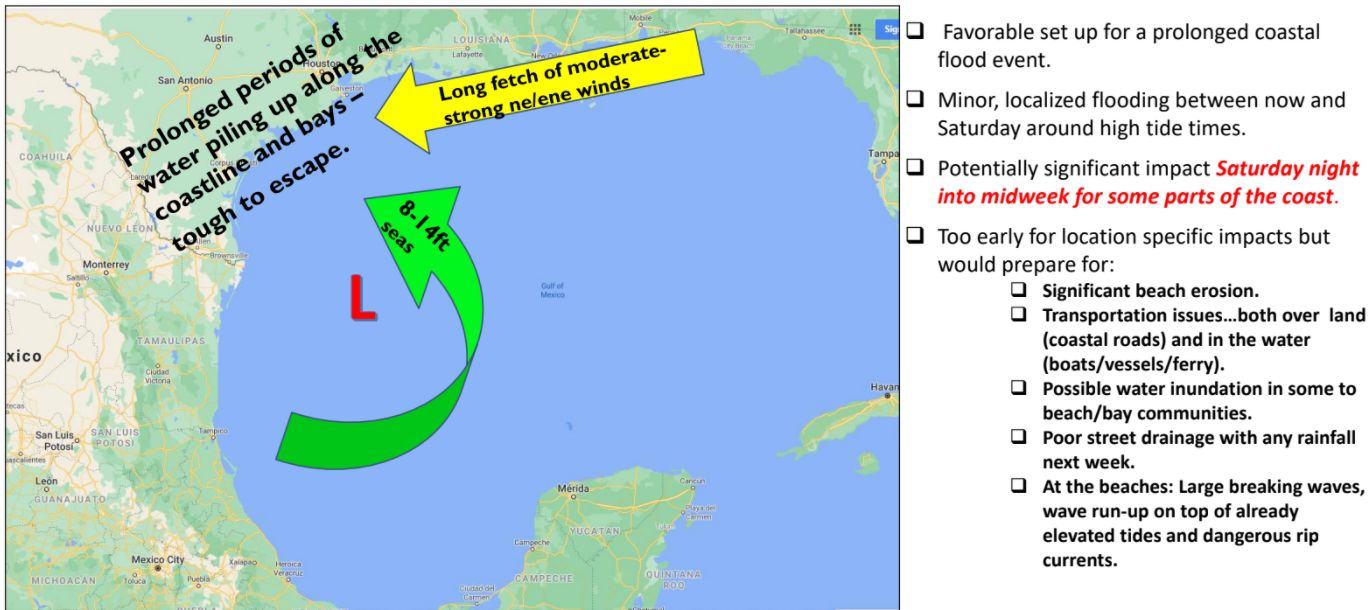 That's all we have for now. Matt will have our next update at 8:30pm CT this evening. By that time Beta probably will have formed. Alas, Beta won't be a fish storm.