We will hop right into things today, beginning with our near-term forecast and then jumping into the latest on Tropical Depression 22.
Friday & Saturday
The cold front is through, and we're on the way to more comfortable weather. Look for a good bit of cloud cover at times today, with perhaps a slight lean toward more sunshine later in the day. Highs should be in the upper-80s today, perhaps a bit cooler in spots, and you'll notice a bit less humidity as the day wears on.
Clearing commences tonight, and we'll have a stellar morning Saturday, with lows mostly in the 60s.Look for full sunshine tomorrow in most of the area with highs again in the upper 80s and tolerable humidity, a very nice late summer day. Winds will be noticeable at 10 to 15 mph, with some higher gusts up closer to 20 mph at times, especially on Saturday.
Sunday & beyond: The TD 22 impact
Alright, let's talk about Tropical Depression 22. We'll start with what it's doing now, and then we'll run through some track scenarios and what impacts those have for the Houston/Galveston areas south to Matagorda.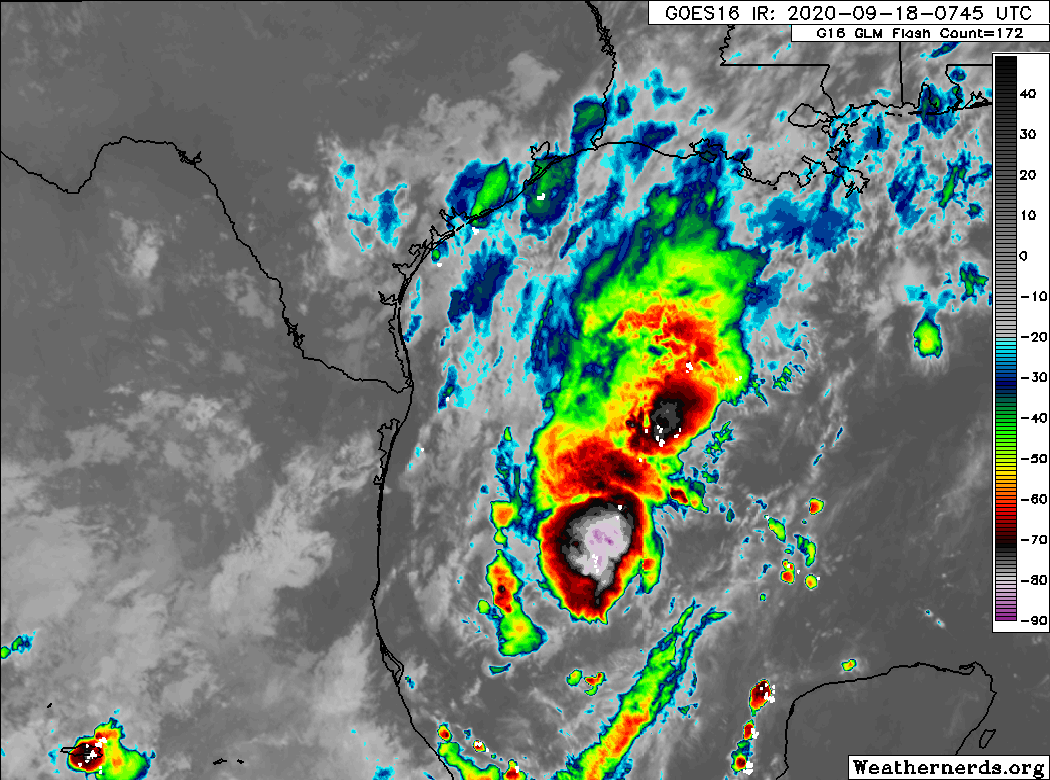 If you look at the satellite loop above, you'll see that while TD22 certainly has a lot of thunderstorm activity, it lacks a lot of organization. Per the National Hurricane Center (NHC), the center of TD22 is fairly elongated and its motion erratic. Basically, this is still a nascent storm.
Over the next 48 hours, the storm will, broadly, track slowly to the north or north-northeast. The center, which is currently about 250 miles east of the coast of Mexico will likely end up about 250 miles off the coast of Corpus Christi by Sunday morning. We have fairly good confidence in this part of the forecast.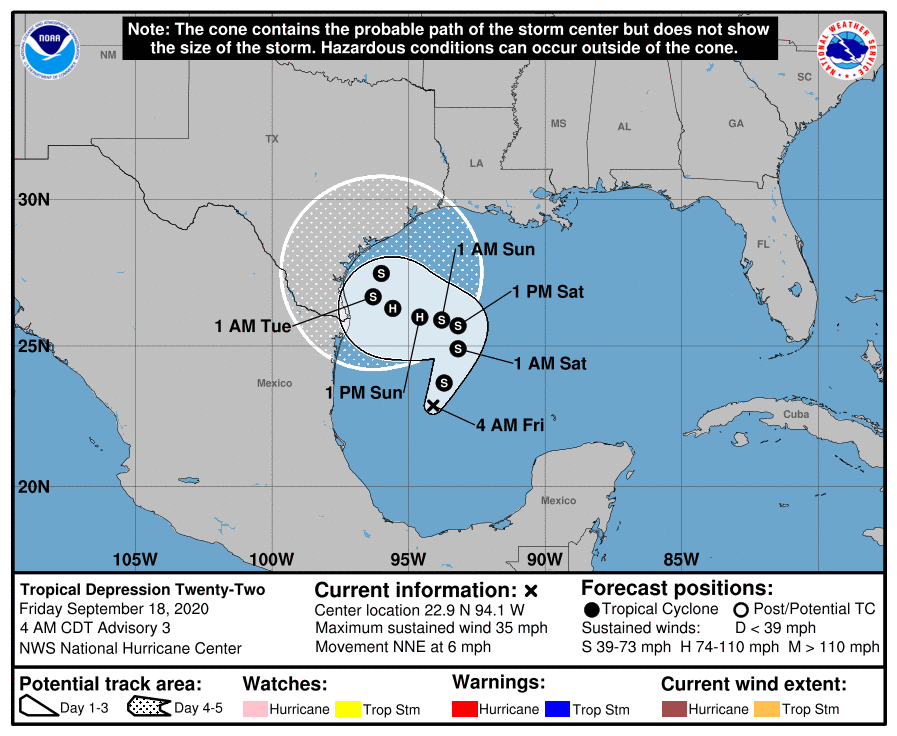 From there, forecast confidence plummets. But we can again at least make some generalizations. The storm should generally, slowly track toward the coast south of Houston on Sunday, Monday, and Tuesday. The NHC brings it up to category 1 hurricane intensity on Sunday and Monday, but even they admit that is at the "top end" of forecast guidance at this time. Assuming it's Tropical Storm or Hurricane Beta, it will likely begin to weaken after Monday thanks to dry air from our recent cold front being wrapped into the storm.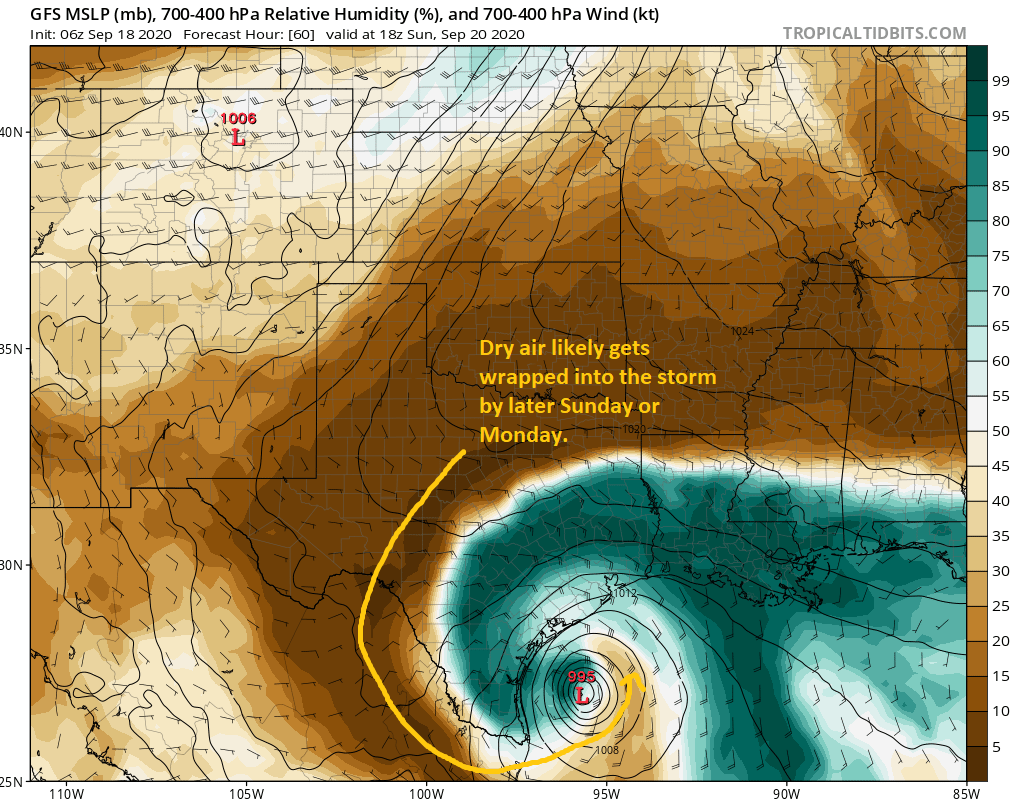 While we should remain vigilant for any sudden changes in intensification, Eric and I (and most others) will be framing TD22/Beta in terms of a water concern more than wind. This is not Laura. With the storm possibly stalling off Corpus Christi for a time, coastal areas south of Freeport may end up seeing lower-end tropical storm winds for a couple days.
Because this is a slow-moving rainstorm, there will also be temptation to compare it to a certain 2017 storm. This is not Harvey. I don't want to give people a false sense of security; this storm is a serious concern in its own right, but it is a unique storm that will pose different problems for different places than we saw in other past storms.
TD22 or Beta will likely stall off Corpus for a couple days and then begin to drift northeast out of the area. That process may take a couple days itself, and it's possible we are not done with this storm until next Wednesday or even Thursday.
Eric laid out three scenarios yesterday, and it appears today that some version of scenario B is most likely. We still don't know if that track will end up bringing it ashore near Corpus and then up the coast or if it will keep it offshore. Either way, we endorse the NHC forecast map above as being about as good as it gets given the information we're all looking at right now.
Just to give you a sense of why there's still uncertainty, here's a look at the tropical "spaghetti" plot.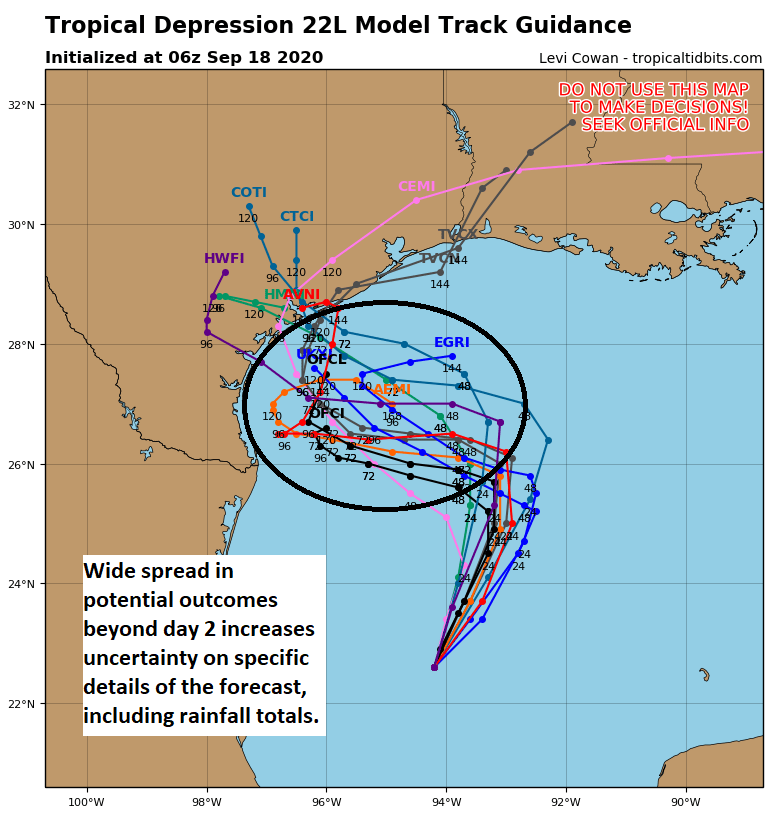 Don't focus on any individual track here, but the reality is that a number of possibilities exist, each of which could offer a different outcome for the Texas coast. A track to the west approaching the coast near Brownsville will provide a different rainfall outcome than one that comes west closer to Matagorda Bay. And that's why it's important to understand that the specific details of this forecast are absolutely subject to potentially considerable change over the next few days.
So what about rainfall? Well, the current forecast is based on the official NHC track. As noted, this can and probably will change for better or worse.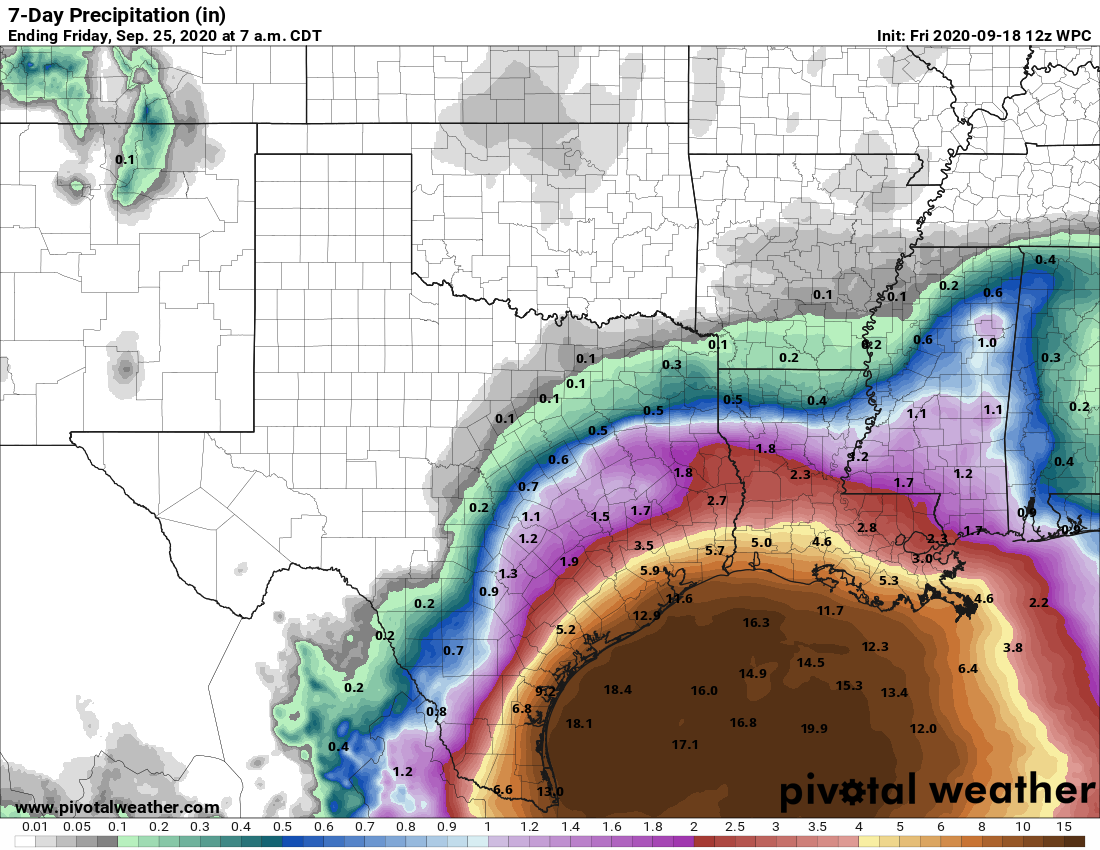 The current rain forecast calls for about 2 to 5 inches for most of the Houston area, escalating to 10 to 15 inches as you get toward Galveston or Freeport. Areas north and west of Houston are currently expected to see 1 to 3″ or so. Spread out over a week, this is probably manageable to some degree for areas south and east of Houston. But much will depend on how intense the rain is and for how long, questions we are unable to answer at this time. But this gives you a good opening bid on what to expect. Again, if the track comes farther north or shifts south, these totals will change.
In addition to the rain, there will be some considerable coastal impacts as well. Days of east or northeast winds and 8 to 15 foot offshore seas will pile water up along the coast, with limited chance for it to drain out substantially. The current expectation is for tides to be 1 to 2 feet higher than those experienced during Laura as early as Sunday. This will cause considerable coastal flooding of low lying roads at high tide, as well as significant beach and dune erosion, especially considering it will likely continue into Monday and Tuesday. Coastal residents should be prepared for issues beginning Sunday and continuing through at least Tuesday. We'll have more on this as it becomes clearer.
It's a lot to digest, but hopefully we've at least given you a reasonable first call at what to expect here. In terms of timing when the rain will be worst and where we will place this on our flood scale, we'll try and hammer that out a bit more later today and tomorrow. Right now, expect some rain, possibly heavy each day beginning Sunday and continuing into Wednesday.
Eric will have our next update no later than 2pm CT.