Happy cold front day again, Houston! We have already had our first front of the season, but this will be our first real legitimately autumn-like front today. It will be warm and muggy this morning but cool and breezy this afternoon. It's a "dress for two seasons" kind of morning.
Today
As of 5 AM today, the cold front was located northwest of Houston.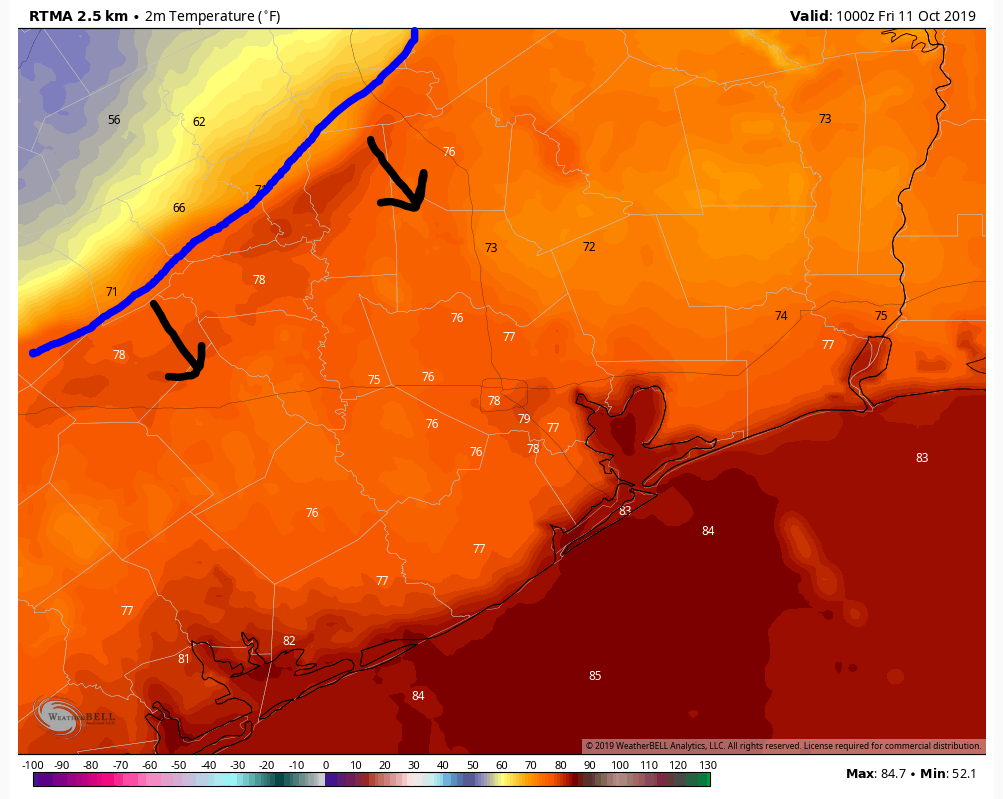 Ahead of the front in Houston, it's near 80 degrees and humid this morning. It was just moving through College Station as I write this, where temperatures will drop from the upper-70s to the mid-60s over an hour or two.
Showers have popped up ahead of the front in a few spots, but most rainfall today will hold off until the front arrives. The front should get to Waller County and western Montgomery County by 7 AM or so, into northwest Harris County, Katy, and The Woodlands around 8 AM, through Houston between 9 and 10 AM, and southeast of Houston to the coast by 11 AM or Noon.
Behind the front, look for gusty winds and scattered showers or storms. Total rainfall will be hit or miss, with some places seeing just trace amounts and others seeing perhaps a quarter or half-inch of rain. Some light rain may linger once the steadier showers pass.
If the early week front disappointed you because of the lack of temperature drop, then you'll probably enjoy today's front. Temperatures will drop into the 60s behind the front and stay there or slowly fall for the rest of the day. Look for clouds and possibly some showers to linger into the afternoon. Along with that, expect wind gusts of 25 to 35 mph, not problematic but certainly making it feel very fall-like.
Tonight
Ahhhhhh…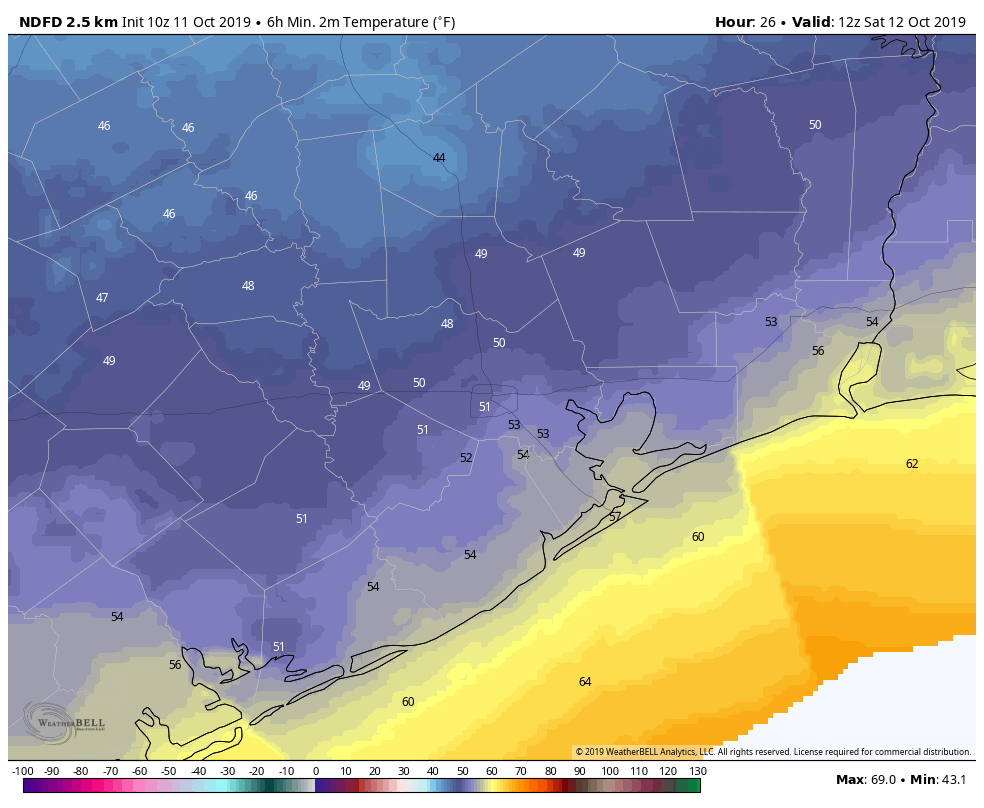 It will still be a bit damp tonight, along with a breeze, but if you've been waiting for autumn, here you go. Expect lows to range from the 40s up north and west of Houston to the 50s in the city and suburbs to 60 or just shy of it near the Gulf.

Saturday
I suspect that Saturday morning may start out with a good deal of cloud cover. We should see gradual clearing as the day goes on, and it should end up a fine afternoon. High temperatures will be in the 60s.
Sunday
We will start with another cool morning on Sunday with most locations bottoming out in the 50s away from the coast. The forecast gets a little trickier as you go north of about The Woodlands. A weak little disturbance looks like it might sweep across North Texas. With it, some clouds and perhaps an isolated shower. Basically, that could mean the difference between a sunny, pleasantly mild day or a cloudy, cooler one. For most of us, a mix of sun and a few clouds with highs in the upper-70s. To the north, the risk will be for clouds and highs in the low-70s.
Next week
Sunday's warmer weather will come as onshore flow ramps up. That should yield a warm Monday, with AM lows in the 60s inland to near 70 for most of Houston and warmer near the Gulf. Look for mid-80s Monday afternoon. Along with that, a few showers or a thunderstorm possibly, as today's cold front returns inland as a warm front. Look for a similar day on Tuesday, but perhaps 2 to 4 degrees warmer with slightly less shower coverage.
The forecast will get a bit trickier for Wednesday and Thursday as our next cold front enters the picture.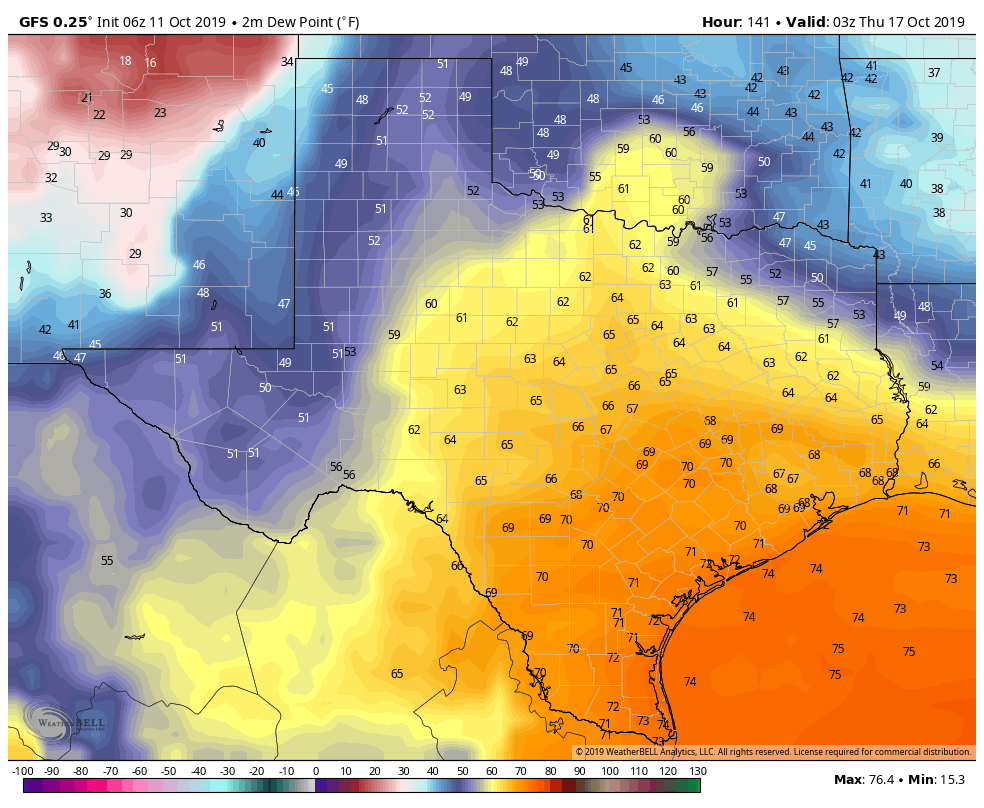 While this one likely won't have as much cold air behind it as today's front has, it is going to try and come close to getting through Houston. Right now, expect mostly just a slight drop in temperatures for the back part of the week and potentially additional chances of showers or storms. But there's a good deal of uncertainty as to how far south this ultimately gets, so check back with us Monday for the latest.