Houston enjoyed a block of four solidly sunny, splendid days from Saturday through Tuesday in the wake of last week's Arctic freeze. But now the sunshine party is over, with clouds and humidity taking its place. This is likely to remain the case for the next week or so. In the image below, an ensemble forecast for cloud cover, white denotes clouds and darker colors sunshine.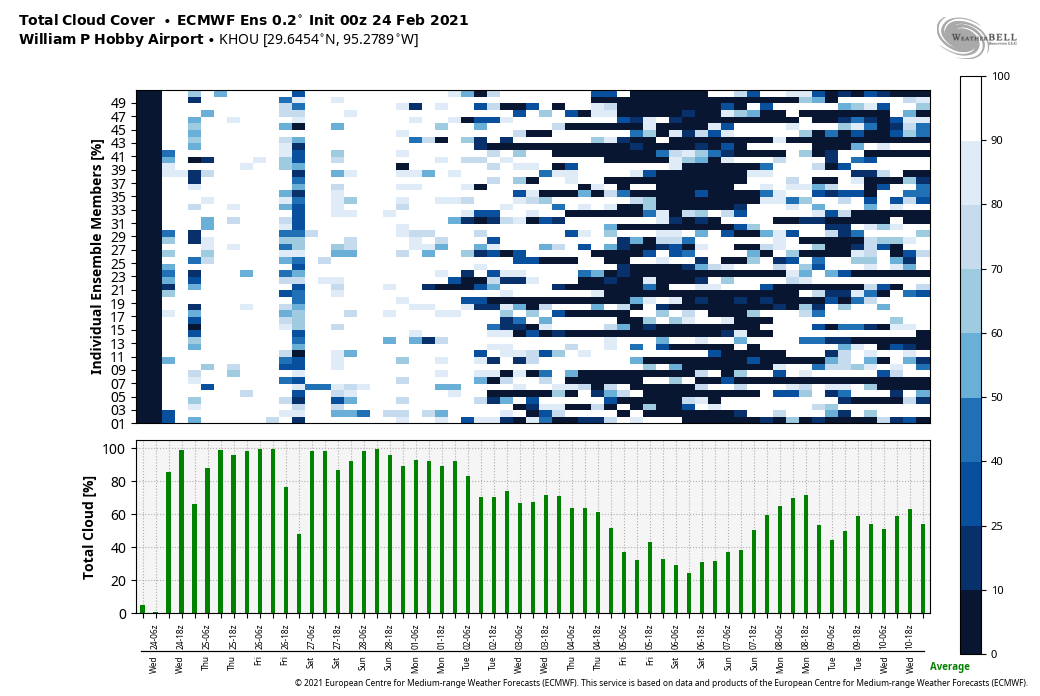 Wednesday
Lows this morning are starting out at about 60 degrees—a remarkable contrast to just eight days ago when the low was 13 degrees. Welcome to Houston weather.
Winds are now blowing from the south or southwest, and this will bring in additional moisture and humidity throughout the day. However, any rain showers will be very light, and very scattered. For the most part it will just be mostly cloudy skies, with temperatures warming into the upper 70s to 80 degrees. Lows tonight will again only drop to around 60 for much of the area, and the development of sea fog is very likely along the coast.
Thursday
A weak (and dying) cold front will sag into Houston after midnight, likely pushing to around the Interstate 10 corridor. This will bring better rain chances, but I still expect anything that falls to be light in nature, with accumulations of a tenth of an inch, or two.  This will lead to highs on Thursday in the 60s, with somewhat drier air for inland areas, and lower 70s closer to the coast, with more humidity. Lows Thursday night will depend on where you lie in regard to the front, and our best guess is shown on the map below.
Friday, Saturday, and Sunday
After the potential for some partly sunny skies on Friday afternoon, the weekend period looks to see continued warm and gray for the Houston region, with highs in the 70s, lows in the 60s, and a 20 to 30 percent chance of rain each day. So this will be the very definition of mild weather for Houston. One negative is the (very) likely development of sea fog as this warmer air moves over still much cooler shelf waters.
Next week
Most of the forecast model guidance is on board with a stronger cool front arriving later on Monday, or Monday night, which should usher Houston back into weather conditions more closely resembling late winter or early spring. Confidence in the front passage is not absolute, but I think next week will probably see daily highs around 70 degrees, lows in the 50s, and more sunshine.