After a day or two to remind us that Houston can have beautiful weather in the cool season, we'll go gray today, with a little rain. We begin the march back to a warmer pattern as well.
Today
Radar shows sporadic rain across the area this morning. Some of what you're seeing on radar may not actually be reaching the ground well north of Houston. The air is still a bit dry there yet.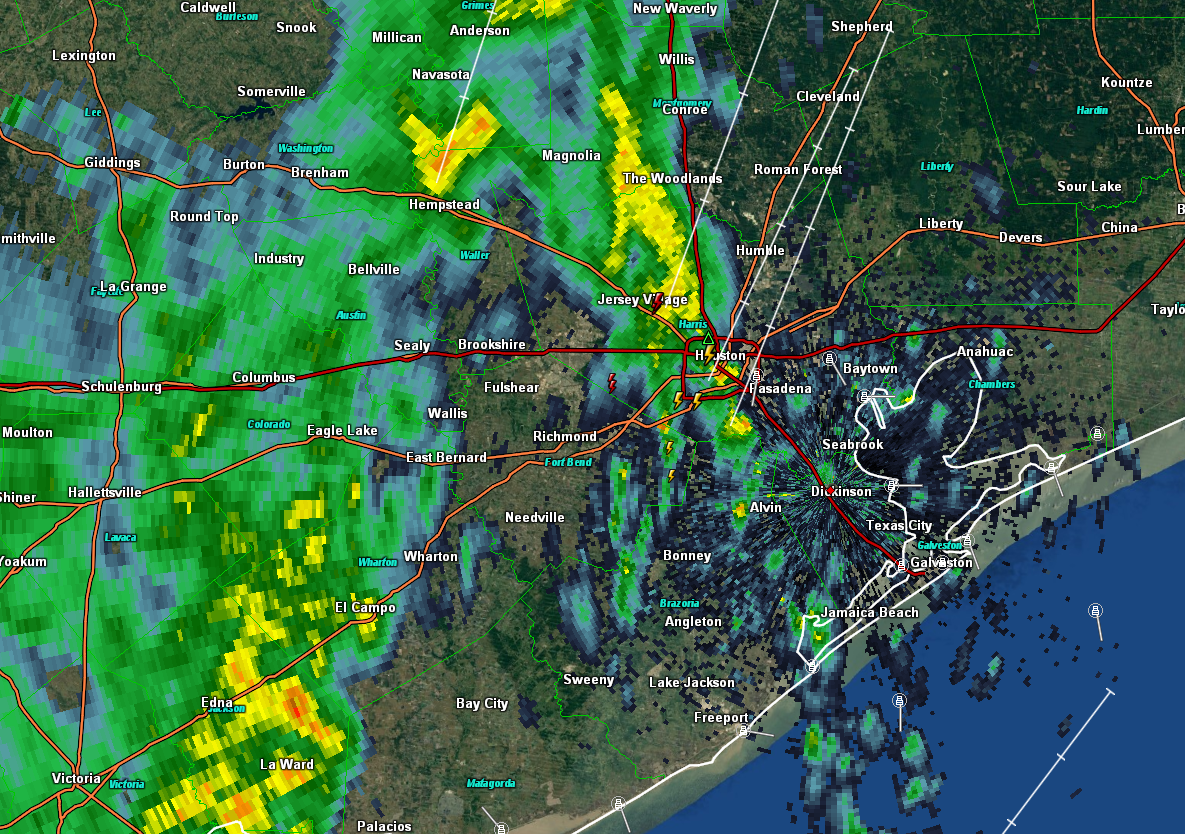 We've also heard some thunder in and around Houston this morning. That should kick off to the east over the next couple hours. The rest of the day likely sees scattered rain, mainly in southern parts of the area. Some of it could be moderate to briefly heavy along the coast. And yes, rumbles of thunder will continue to be possible, but we aren't expecting any severe weather from this system. It's entirely possible some inland areas see nothing more than a few raindrops. Most of us will see gray, cloudy conditions for much of today.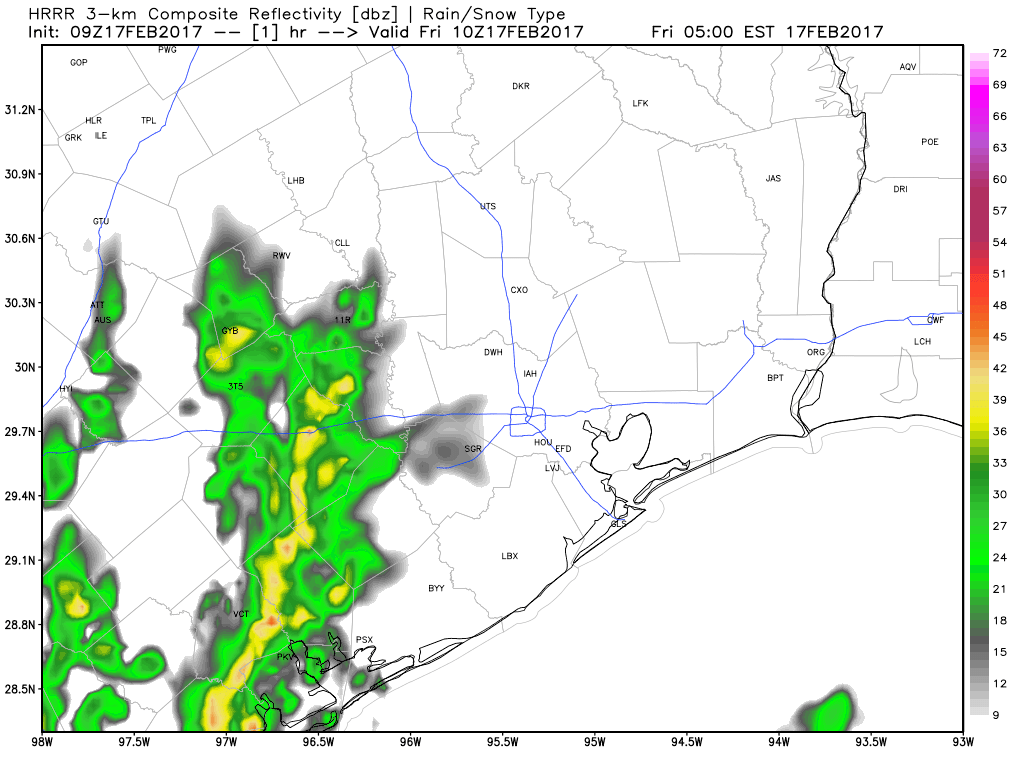 Temperatures will grind upwards into the upper 60s to near 70 degrees this afternoon.
(Space City Weather is sponsored this month by Darrell Lee's The Gravitational Leap)
Weekend
Saturday looks great, albeit warm. We start with some areas of fog in the morning. But then the sun should arrive. With that, Houston is likely to tie our record for 80° days in a winter. Saturday looks to sneak into the low 80s, making it the 17th such day since December 1st.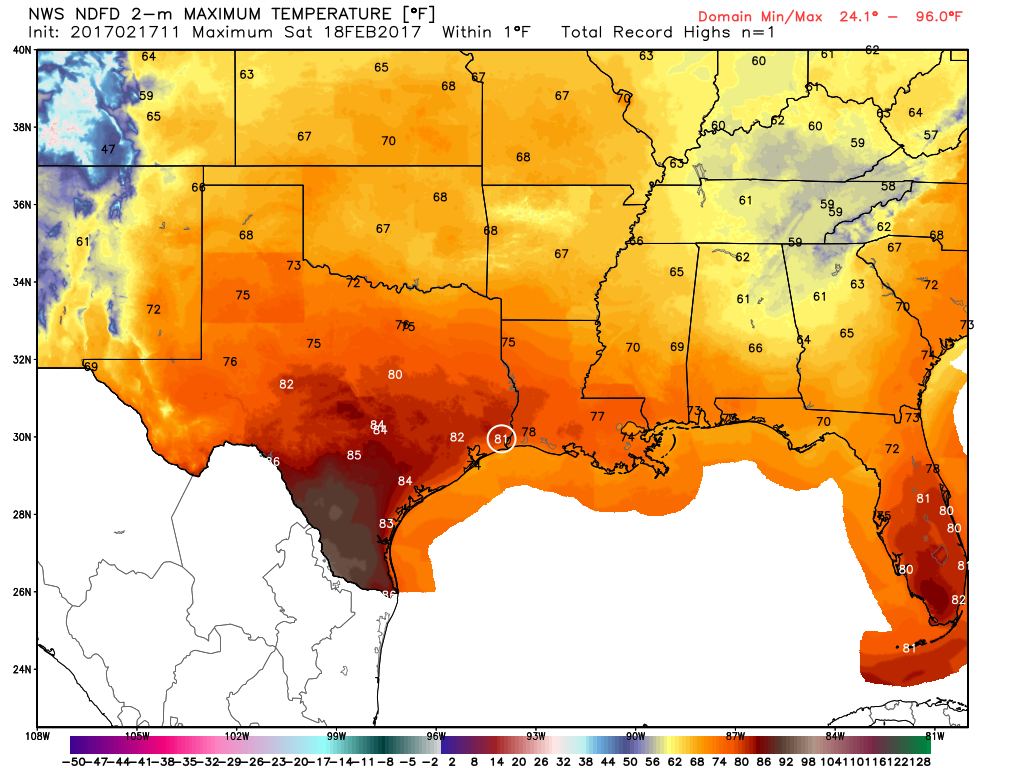 I don't think we'll see many individual records fall Saturday. Houston's record high is 87° (1986) and Galveston's record is 78°, last set in 2000. Galveston has a better chance for a record than Houston, depending on fog. We'll see.
Sunday will be very warm again, but gray skies inland and fog at the coast could hold temperatures back a few degrees. Still, I wouldn't rule out a record-setting 18th winter season 80 degree day in Houston Sunday. Atmospheric moisture increases substantially on Sunday as well, and we'll likely see scattered showers or even a few thunderstorms, mainly west of I-45 and Houston.
Next Week's Rain
The forecast for next week's rain event has both good news and bad news. The bad news is that it's still going to occur. The good news is that rather than the storm being drawn out from Sunday night through perhaps Wednesday, it looks a bit more progressive on the weather models today. Now, we may be talking about an event from Sunday night into early Tuesday.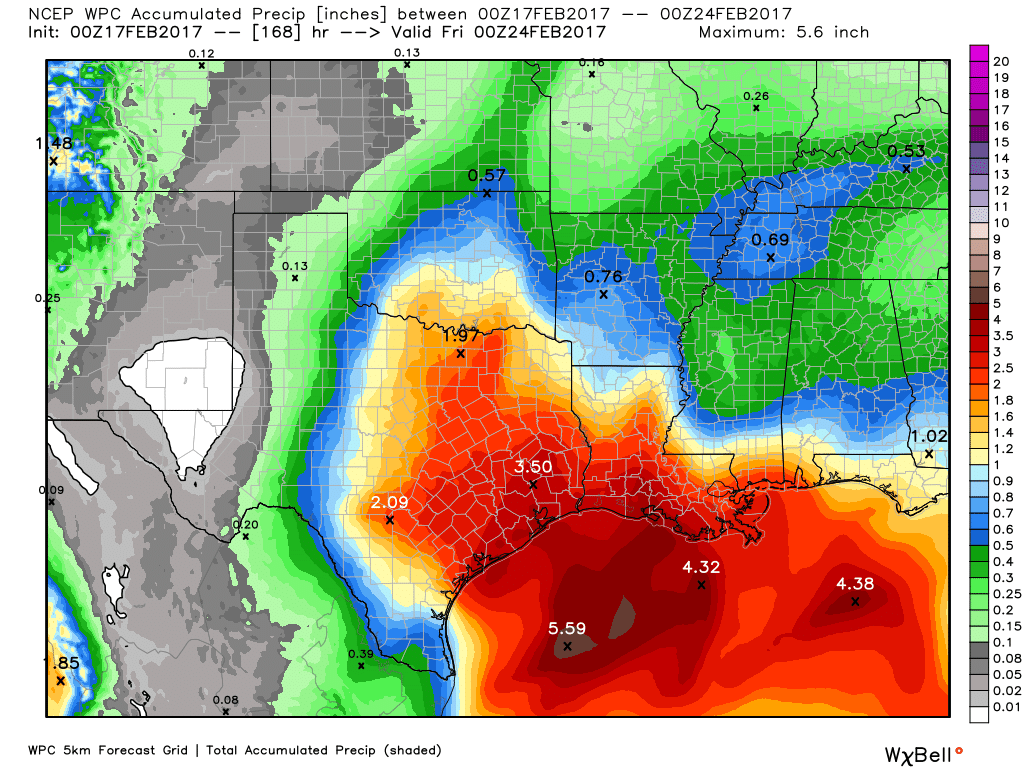 That being said, we're still likely to see a substantial amount of rainfall as the system carries through, especially Monday. We still have near-record atmospheric moisture in place. The fact that it keeps moving is important however. That could help mitigate what looked like potential for a serious rainfall event just a few days ago. Still, the NWS Weather Prediction Center has us at least in a "Marginal" risk for excessive rainfall Sunday night & Monday.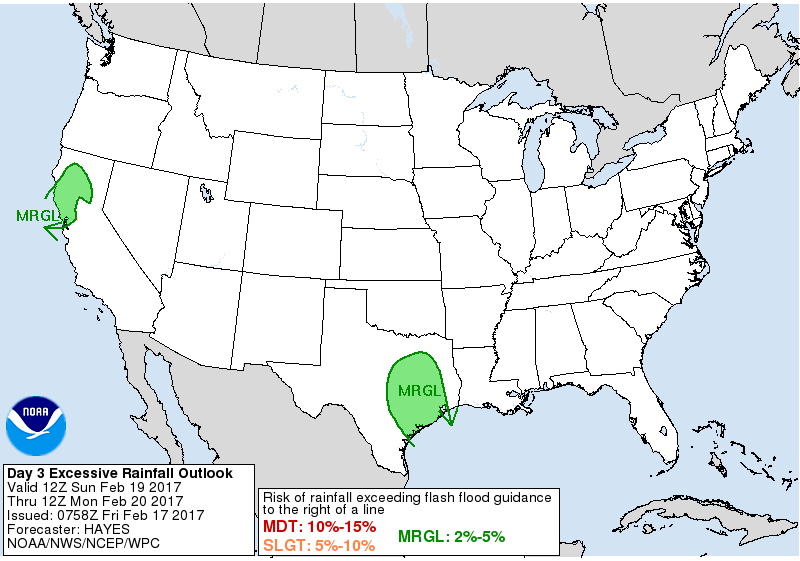 Eric and I will continue to monitor this storm over the weekend and update if necessary. I know a lot of folks in the region are flood weary (and especially on holidays). The good news I see is that model trends have been to cut down significantly on the amount of rainfall we were concerned about a few days ago. It's clearly a weather event we should continue to watch, but it doesn't have us quite as nervous as we were even 36 hours ago. Hopefully those trends continue. We'll keep you posted.
Quiet, pleasant weather is likely in the wake of Monday's storm system.
Posted at 6:40 AM by Matt