Good evening, everyone. We just want to freshen up the situation a bit for you this evening. Thank you to Eric for holding down the fort as I wrangled power, water, work, and children like so many of our readers the last couple days. I hope this finds you powered.
CenterPoint is still reporting about 15,000 customers without power. This means 99.5% of the Houston area should have power back now. Just over 350,000 customers are still without power across Texas, which is down from 620,000 this morning. Many of those are due to issues stemming from ice in recent days. Per ERCOT, we're still in a tenuous situation, but it sounds a like things are much more stable than they have been.
Majority of customers are able to be restored, electric companies still restoring outages in the field: https://t.co/abmB6Vv2Ju

— ERCOT (@ERCOT_ISO) February 18, 2021
So it goes. We encourage you to continue to conserve power so the overall situation continues to improve.
REMINDER: As power is restored, we urge everyone to continue conserving as much energy – and water – as possible to reduce the risk of additional outages. Visit https://t.co/24IKpbxGsD for tips on how to conserve. pic.twitter.com/dywZXyrEnz

— Houston OEM (@HoustonOEM) February 18, 2021
The water situation is still a bit difficult. A boil water notice continues in Houston and many other places.
The City continues to experience system-wide low water pressure, and a Boil Water Notice remains in effect. If you do have water, use it sparingly for health and safety. The same goes for power. #ConserveUtilities @HouPublicWorks pic.twitter.com/yXK0or1rZ1

— Houston OEM (@HoustonOEM) February 18, 2021
The city of Houston is directing bottled water distribution through city council member offices, so we'd encourage you to reach out your representative's office if you need access. As for other communities, please check their websites, social media feeds, etc. Various news media in the city have also put together lists for this.
If you or someone you know need something more urgently or can provide support to those that may have those needs, please utilize the Crowdsource Rescue website. This organization has been working tirelessly and doing great things.
I'd encourage our readers to drop any advice or information about other organizations doing important work through the freeze in the comments section.
On to the weather.
Tonight & tomorrow
It was nice to see the sun in much of the area today, and temperatures did push 40 degrees. Meanwhile, Del Rio saw 10 inches of snow. It's been a weird, weird week, y'all.
Clear skies and diminishing winds will allow for another night of cold, cold temperatures.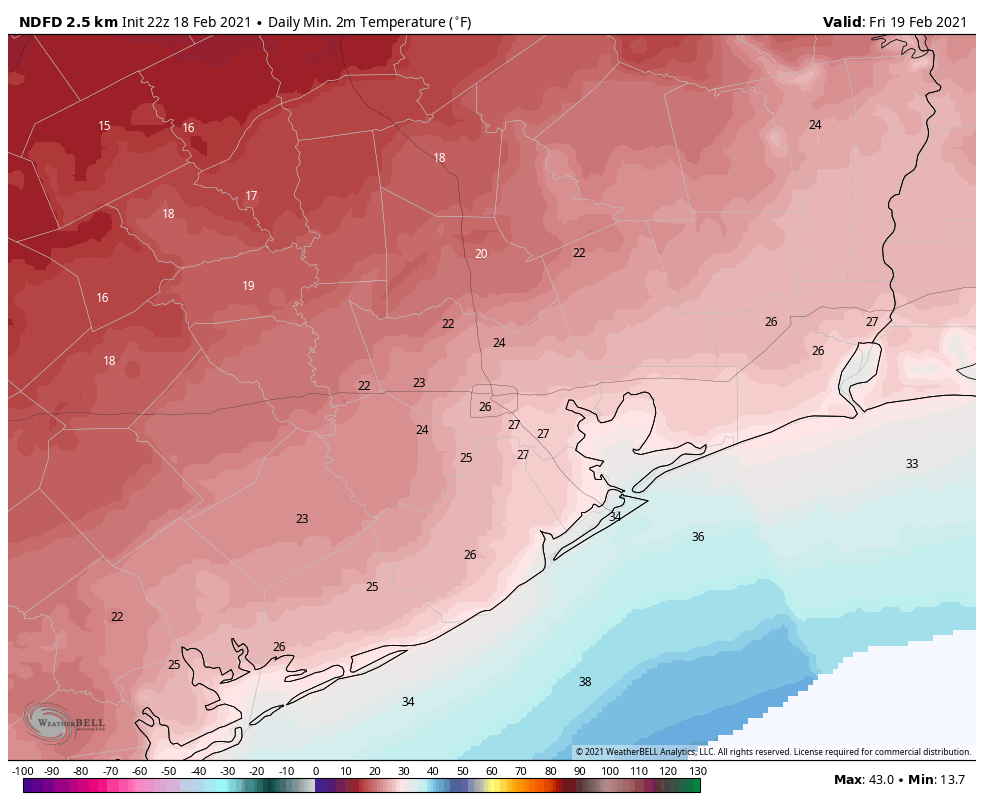 Nighttime lows will be in the 30s for Galveston, around 30 or upper-20s in the Bay Area and Chambers County, mid to upper 20s for the south side of Houston and Brazoria County, mid-20s north of Houston and Fort Bend County, and low-20s, with pockets of upper-teens possible in Montgomery County, Liberty County, and points north. Generally, the farther north and west you go, the colder it will be. Thus, a Hard Freeze Warning is in effect tonight for most of the region. Continue to keep pipes and plants fully protected, and make sure to check on people and bring pets inside.
The good news is that temperatures will recover quickly tomorrow. All areas should be back above freezing by late morning with full sunshine. Look for highs tomorrow to top out in the mid-40s in most places except the far northwest.
There will likely be another freeze tomorrow night, but temperatures will probably be about 3 to 6 degrees warmer than tonight. The finish line is in sight. I'll have the latest on the rest of the forecast tomorrow morning, and I can almost promise to bore you to tears, which is exactly what I think we're looking for right now.