Good morning. We're continuing to get closer to the end of this Arctic blast, but we're not there yet. The remaining concerns are icy roads and bridges this morning, and the potential for a hard freeze tonight, and again Friday night for areas well inland. We also have an update on the region's improving power situation.
Thursday
A band of light winter precipitation is falling north of Houston this morning, bringing sleet and snow flurries north of a line from Brenham to Conroe, and this will continue to move to the northeast. This morning, for the northern half of the region, we'll continue to see some icy spots on roads and bridges with temperatures at or just above freezing. For Houston, today will be cold and breezy, with highs generally rising to the mid-30s to about 40 degrees, and mostly cloudy skies. Winds out of the north will keep wind chill values below freezing.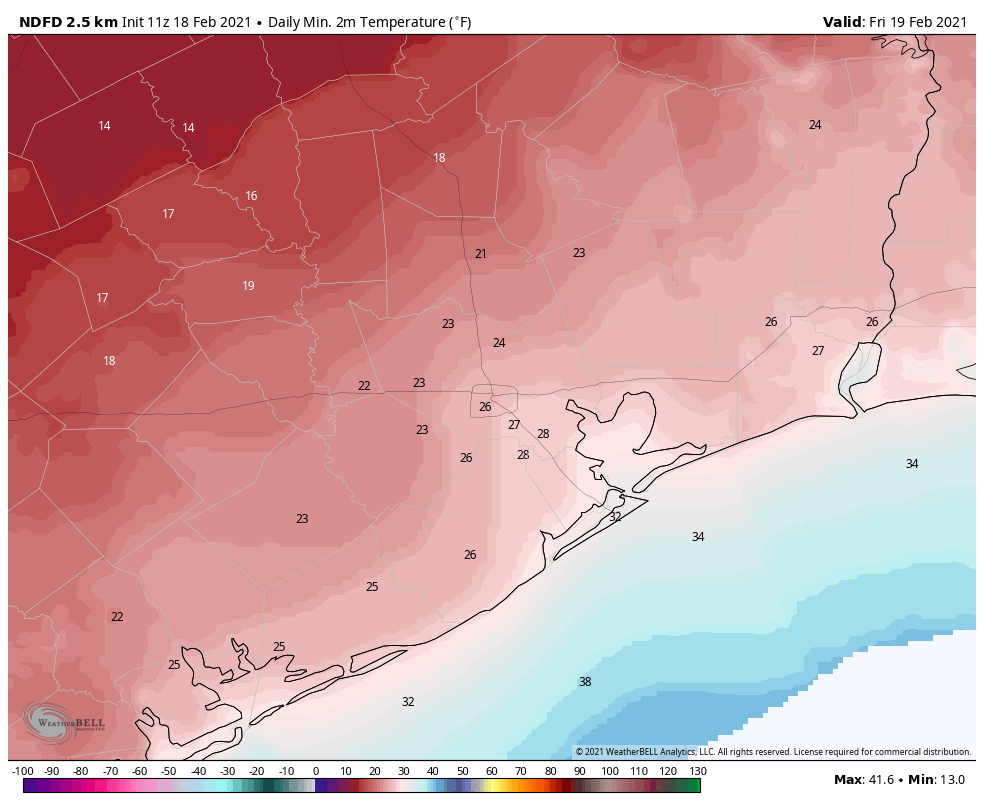 As the atmosphere dries out this afternoon and evening, and skies clear, temperatures will again plunge tonight. Lows are likely from 15 to 25 inland of Highway 59/Interstate 69, and even coastal areas will likely see lows in the upper 20s to low 30s. For inland areas, this will raise additional concerns about pipes.
Friday
This day will be warmer, with highs climbing into the low to mid-40s area wide, and plenty of sunshine. A persistent northerly wind will still keep wind chills on the cooler side, however. Lows Friday night will likely drop below freezing for inland areas again on Friday night, but will stay several degrees warmer than Thursday night.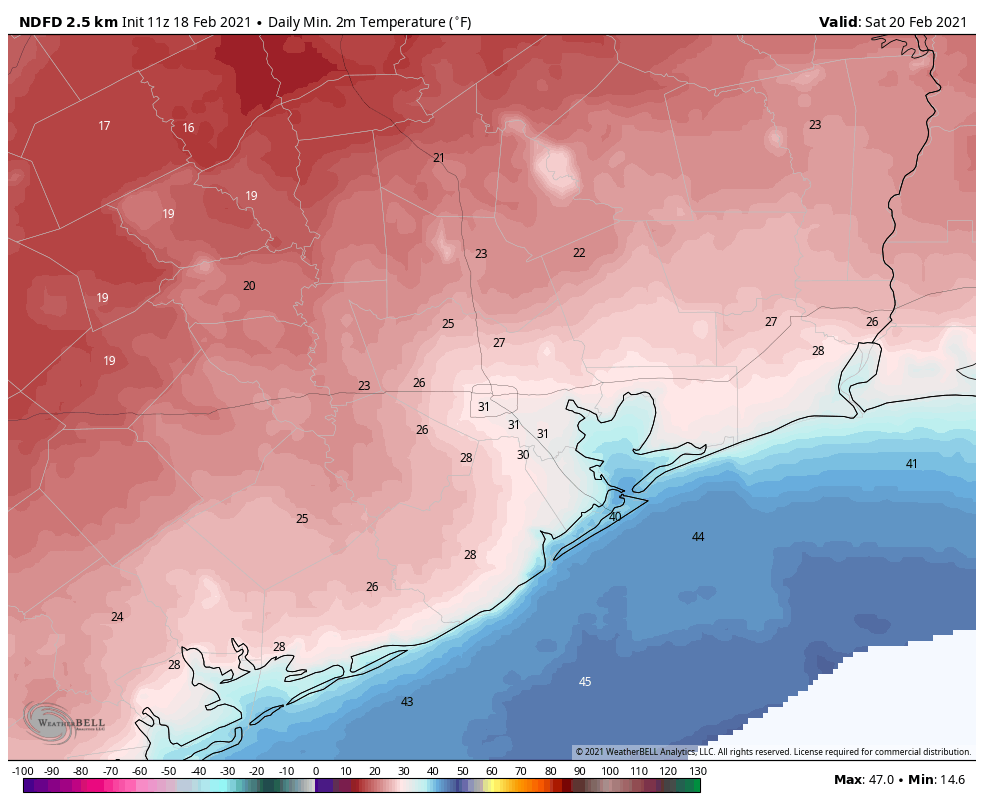 Saturday and beyond
After Saturday morning we are finally done with the freezes. Highs Saturday should reach into the mid-50s, and by Sunday get into the 60s. A mild cool front will bring some slight rain chances into the region on Sunday night, and first half of next week looks quite decent. Highs will mostly be in the 60s, with lows in the 40s and 50s. We should continue to see plenty of sunshine. There are no additional Arctic fronts on the horizon.
Power
Power generating plants are finally coming back online and we've seen significant decreases in power outages overnight. As you may recall, about 4.4 million Texas households and businesses were without power on Tuesday morning, and that number was about 3 million on Wednesday. This morning, about 620,000 customers are without power across the state, and there have been significant improvements in the greater Houston area. (For example, about 120,000 of 160,000 customers in Galveston County remained without power on Wednesday. This morning, the number of outages is down to 8,600.) We can probably expect some rolling outages today and tomorrow, but the worst of this situation seems to be passing. Please, please continue to conserve power so that service may be restored to all.
Water
City of Houston officials have said they expect the city's water system to become fully operational by the end of today. The boil water notice in effect for Houston, and many surrounding areas, is likely to continue for a longer period of time.