Good morning. We hope this finds you well today. If you are available to help out in the community, Crowdsource Rescue is looking for volunteers in the Houston area to deliver relief today to those that need some:
Morning 🌞. Getting ready for a HUGE day in Houston.

Getting relief out as fast possible; going out as fast as it comes in.

If you can get out and drive today –> https://t.co/9RDZVfSaq5

NEED ALL THE DRIVERS WE CAN GET. #houston #texas #TexasWinterStorm2021 pic.twitter.com/F3yE96vQmn

— CrowdSource Rescue (@cs_rescue) February 19, 2021
Here's a quick roundup on some key issues:
Power: Nothing new that I have seen from ERCOT this morning, and CenterPoint is reporting all but 3,900 customers with power (as of 6:30 A.M.). We don't expect a repeat of this week's mess, but we'd encourage you to continue conserving power where you are able for another day.
Water: For the city of Houston, it sounds like a boil water notice will remain in effect through much of the weekend. There will be water distribution today for folks who are unable to boil. Many other communities are in similar situations right now, so please monitor your community's social media feeds or websites for information on status and bottled water availability.
Roads: Only a handful of issues remain out there, but they do exist so please drive cautiously, especially the next few hours. Check Houston Transtar's website for the latest road conditions.
On to the weather.
Today
We are beginning the day with a hard freeze across much of the region. Temperatures have bottomed out at 27° at both Bush and Hobby Airports, colder elsewhere.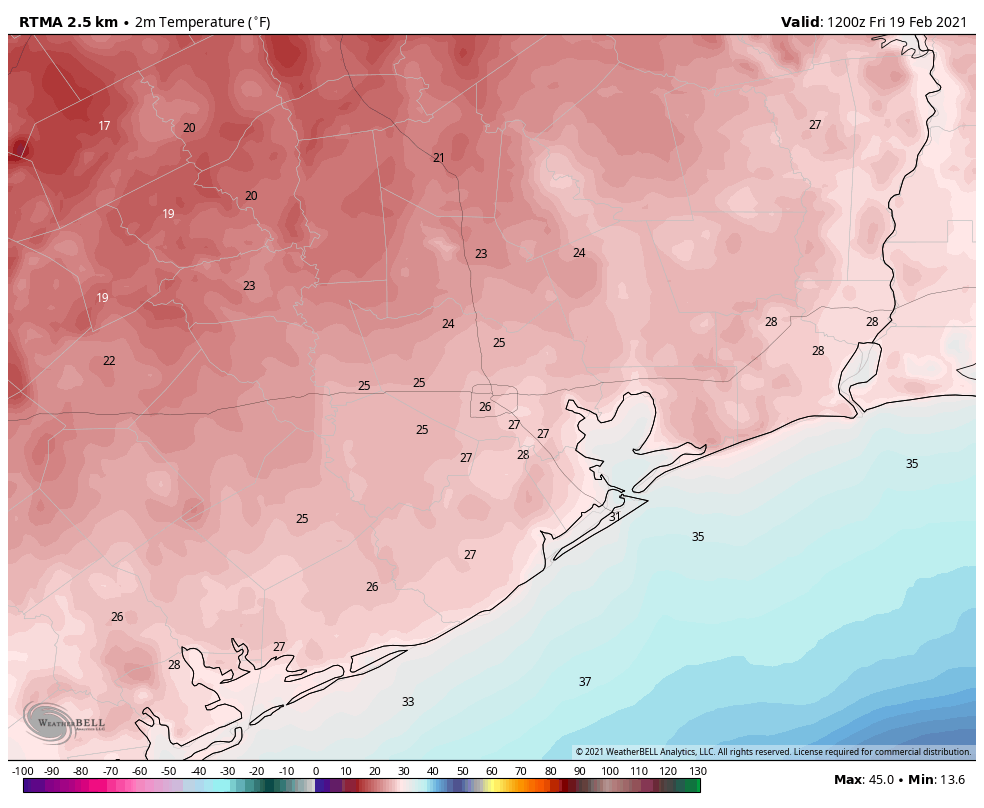 With the sun out in force today, look for temps to bounce back above freezing by 10 to 11 A.M., and our high temperature will likely push well into the 40s in much of the area.
Saturday
Tonight will be the last really cold night. Expect a light freeze in Houston and points south and east (though coastal and bayfront communities may just barely get below 40 for a brief time). Another hard freeze is possible north and west of Houston, though the hours spent that will be a little less tomorrow morning than they were today. Saturday should see ample sunshine again with a few more clouds by late day and highs well into the 50s to near 60 degrees.
Sunday & Monday
It will be downright balmy on Sunday morning, with low temperatures only in the upper 30s and low 40s, approaching 50 at the coast. We will have a good deal of cloud cover on Sunday, but that won't stop temperatures from hitting the 60s!
Now, a cold front will sweep through the region on Sunday night, but this will be of the kinder, gentler variety like we've seen most of winter here. No organized rain is expected, and we'll see lows mainly in the upper-30s to low-40s and highs in the low-60s behind the front for Sunday night and Monday into Monday night.
Rest of next week
One thing we can say with some confidence is that it looks fairly warm next week. There's a good chance we'll see a day or two in the 70s, as well as milder nighttimes. There should be another modest cold front flirting with us on Thursday and Friday, but the details around that are a bit uncertain. But we would expect some rain with that system. More on Monday!