And so it begins … Texas suffered its first major blows from Hurricane Harvey on Friday, as the storm neared the coast and, instead of slowing down, kept moving right along and plowed into the Central Texas coast. It came inland shortly before 10 pm CT as an intense Category 4 hurricane. The early meteorology reports out of Corpus Christi and Rockport are pretty grim. Harvey should now gradually weaken, so long as it remains inland.
What happens now
I understand that some of you appreciate dark humor during these dark times, so I present you with this evening's spaghetti plot of track models that were initialized at 6pm CT, and came out shortly thereafter. They are nonsensical. I posted them to Twitter with this comment: "Great to see that the latest forecast models are finally getting a good handle on Harvey's inland track."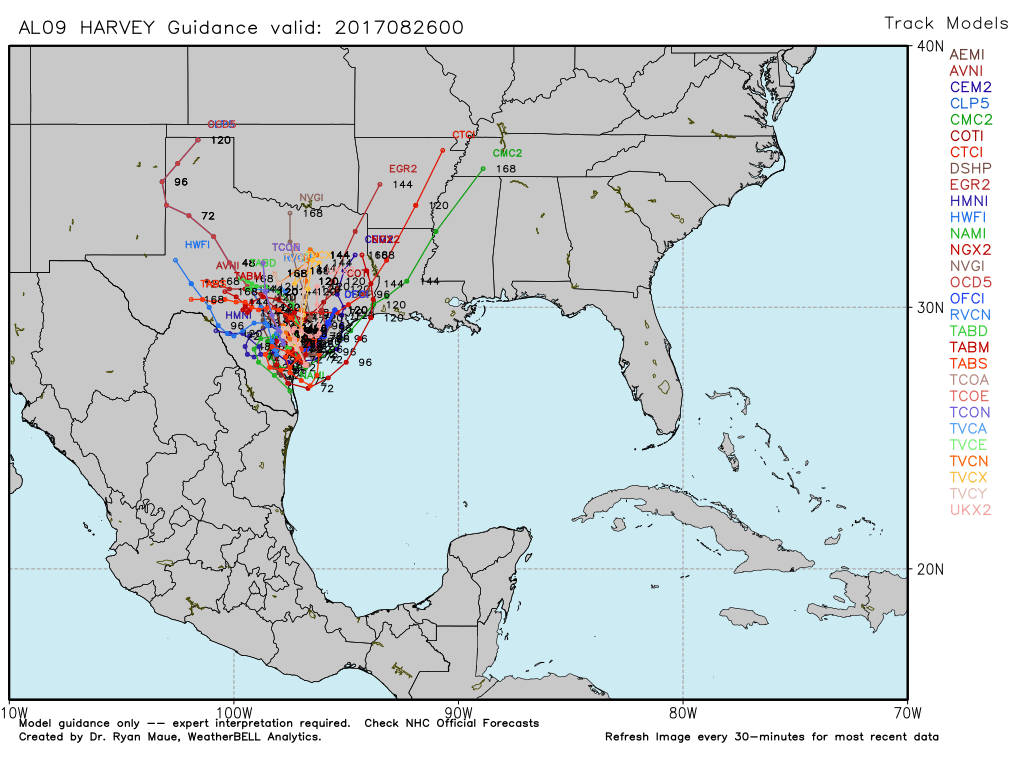 You have to laugh at times like these, because for a lot of us, the uncertainty, the stress, it can kind of become unbearable. In any case, be glad you're not a meteorologist trying to make sense of a mess like that. But I am, and so I shall. The first thing to do is simply to ignore that plot.
Secondly, when you look at the major global models, and their ensembles, it seems pretty clear that they think Harvey is going to loop around South Texas, somewhere between Corpus Christi, Victoria, Laredo and South Padre Island, for the next 24 to 48 hours (and dropping prodigious amounts of rain there). After that, the picture becomes more cloudy. When faced with such uncertainty, if you've been reading me for any amount of time, you'll know the way I like to address that is through probability. Let's revisit last night's scenarios, shall we?

The Euro special
Thursday night's probability: 40 percent.
Tonight's probability: 25 percent
This was the idea that the storm would stall inland, and then pull back over the Gulf of Mexico and eventually move north, into Houston for a second landfall, or into southwestern Louisiana. Under such a scenario, depending upon the track, much of the Houston area would likely get 10 to 25 inches of rainfall, with the greater totals closer to the coast. We would also have wind and storm surge concerns. I've backed off this idea a bit because no other model shows the scenario, and the European model isn't entirely on board, either.
The wandering 59 special
Thursday night's probability: 35 percent
Tonight's probability: 45 percent
Under this idea Harvey or its remnants hangs around south Texas for a while, maybe several days, before eventually pulling north or northeast toward Houston. This emerged as the odds-on favorite today, and I discussed it in a somber post this afternoon. Really, this is a terrible option for south Texas and southeast Texas (which includes Houston), because Harvey remains close enough to the coast to regenerate its moisture content, and it dumps 20-25 inches of rain across a wide swath of Texas, including the Houston area (with higher totals). Widespread flooding ensues all over, from Corpus through Houston, and probably extending most of the way to Austin and San Antonio. Just brutal.
Dying in the Rio special
Thursday night's probability: 25 percent
Tonight's probability: 30 percent
This was the scenario that had Harvey (and its remnants) looping around South Texas, but eventually it moved into central Texas or the Rio Grande Valley, whereupon it strays far enough from the coast to run out of moisture. In this case the heaviest rains are over the central Texas coast (God knows they don't need the rain, on top of the surge and winds), and the area between Corpus Christi and San Antonio. However, this is a scenario in which the upper Texas coast, including Houston, may be "spared" by getting only 10 to 15 inches of rainfall over a few days as it lies on the eastern periphery of the heaviest rains. Some of this evening's GFS model ensembles support this scenario, and I'm seeing some support from a few other models.
Key takeaways
Hurricane Harvey is coming ashore tonight, and is the most powerful hurricane to strike Texas since Carla, in 1961. Spare a few thoughts for residents of the mid-Texas coast, who are being absolutely hammered by a major hurricane tonight.
Houston has seen some tornadoes, and heavy rainfall, but so far the winds and storms have been manageable. CenterPoint reports, as of 9:30pm, that 99.3 percent of customers have power.
We expect heavy rain to fall in Houston on Saturday, but accumulations will probably only be 1 to 4 inches (with higher amounts likely near the coast). This should be manageable by area bayous, aside from some short-lived street flooding in the most intense storms. We think most travel should be OK.
A major flooding event will begin to ensue across Texas, starting near the landfall of Harvey. We expect the central Texas coast, including areas like Corpus Christi, Rockport, Victoria, and elsewhere to begin seeing serious flooding issues on Saturday.
Heavy rains and flooding will spread into other parts of the state on Sunday, but exactly where is dependent upon the evolution and movement of Harvey's core. We do expect heavy rains in Houston on Sunday, which may begin to impair travel around the area, but we do not have high confidence in this forecast.
Our next post will come on Saturday morning, by or before 7am. It's Matt's turn, so if the post is late, please flog him appropriately.
Posted at 9:55pm CT on Friday by Eric