Houston residents have started to see rain bands from Hurricane Harvey move onshore today. Unfortunately, this is but a taste of what awaits the city—and the entire Texas coast from south of Corpus Christi through the Beaumont area, as well as inland counties—for several days to come. I'd love nothing more than to write a post expressing some optimism about the rainfall forecast ahead, but as of now it looks really quite grim. So let's get to it.
Harvey has intensified this afternoon, reaching 120-mph sustained winds and Category 3 status. It should come ashore the central Texas coast near Port Aransas on Saturday morning, by or before sunrise. The storm is going pack a major wallop in terms of both wind and storm surge. Residents in the area should have completed their preparations and evacuated, because conditions are starting to deteriorate. It is a life-threatening situation for people who have remained behind in low-lying areas between Corpus Christi and Matagorda.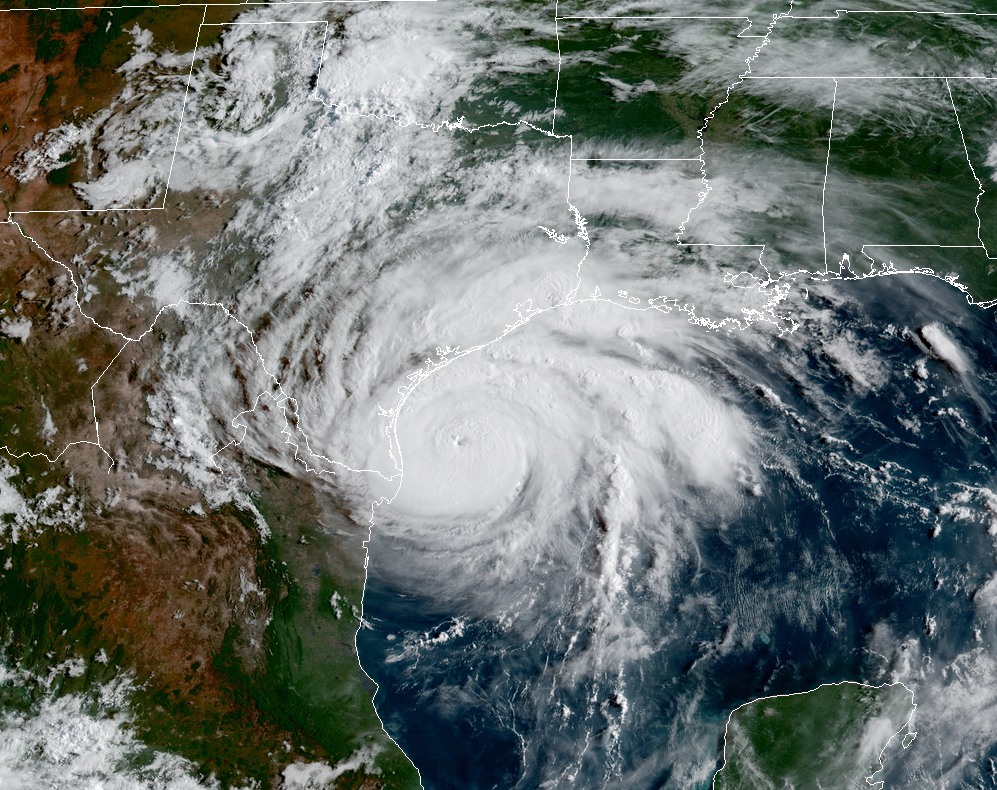 Beyond Harvey's landfall the situation remains a mess. An absolute mess. Last night we talked about three different scenarios for Harvey's movement, post-landfall. And honestly, all three of them remain in play. The most important thing to understand is that our confidence in Harvey's post-landfall track remains very low. Unfortunately the most likely scenario now is that Harvey isn't going anywhere, any time soon. Therefore, we can say with high confidence that Harvey will produce a [googles a synonym for 'sh–load'] large amount of rainfall over Texas.
Expect floods. Lots of flooding.

Let's start with the GFS model to explain what I mean. Here's the ensemble plot of Harvey's remnant low (perhaps still a tropical storm, perhaps not, doesn't really matter) location for Thursday morning. Remember this is fully five days after landfall.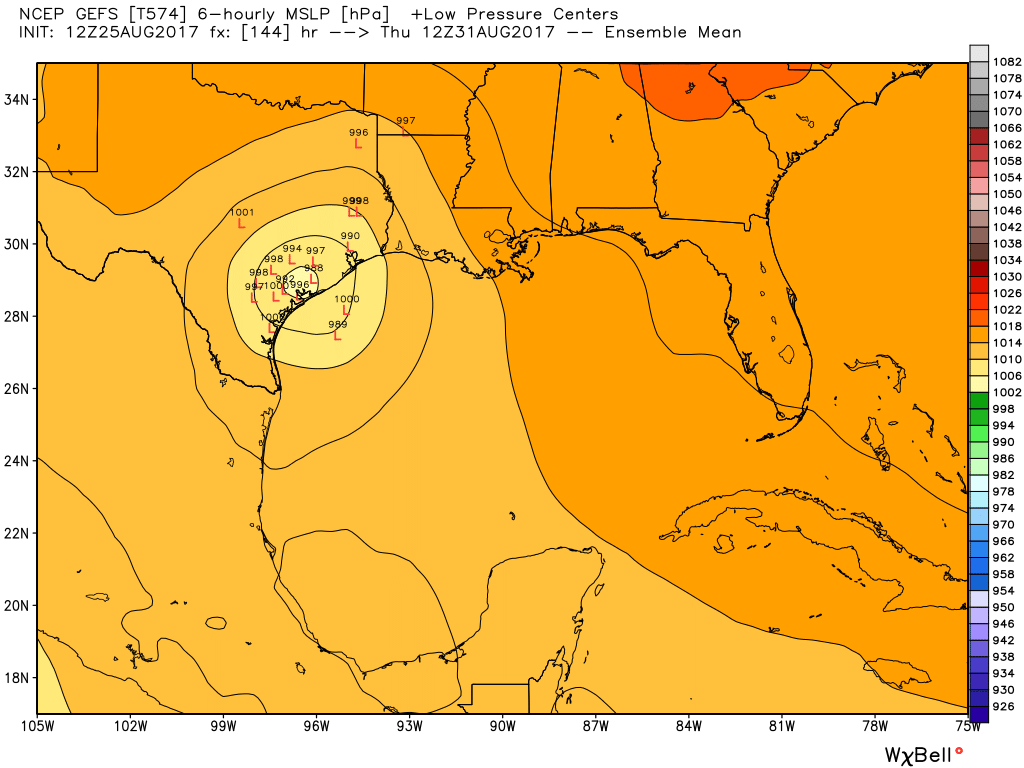 Yeah, that's bad. If this is more or less correct, it means Harvey has remained in Texas, within 100 or 200 miles of the Gulf of Mexico, for five days hoovering up moisture and heat from the bath-like Gulf and dumping it on the eastern half of Texas. Five days. I think Noah just maxed out his Home Depot credit card.
And it's not just the GFS model. One of NOAA's best hurricane-only models, the HWRF, basically takes Harvey on a similar, five-day rainmaking tour of central and south Texas, keeping the storm in place with no steering currents.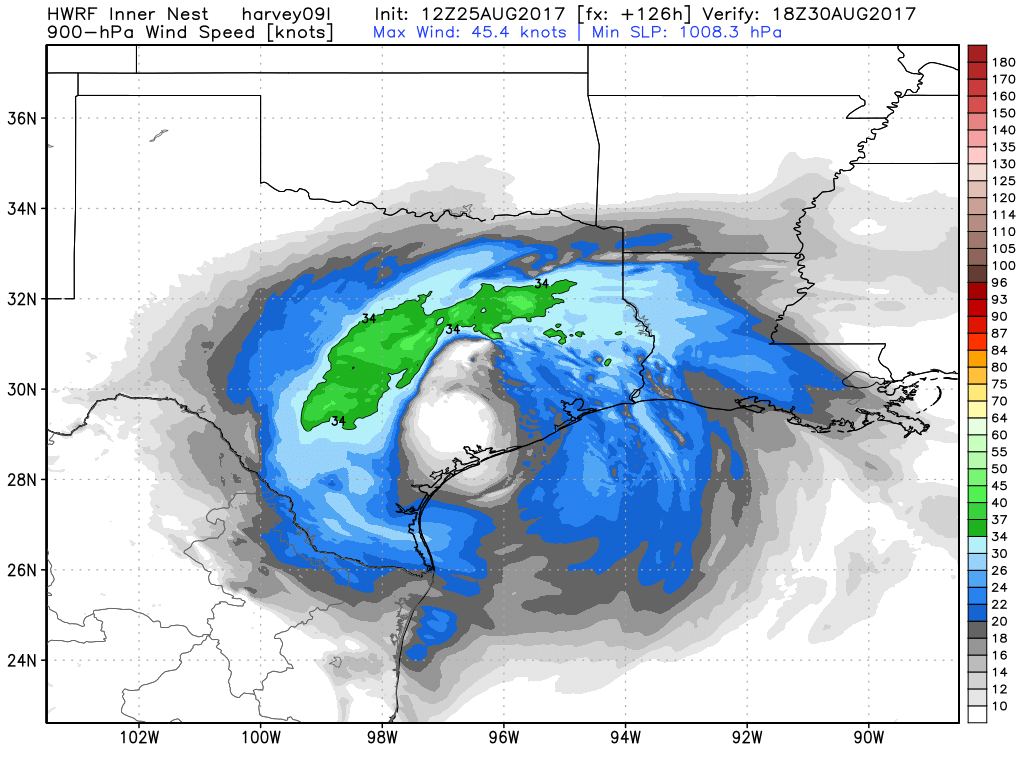 Finally, there's the European model, which during its last two runs had pulled Harvey out into the Gulf and had it caught up in a trough over the Midwestern United States. At least this pulled it out of the region by Wednesday, or so. Now the European seems to be playing the "shelter in place" game with Harvey's remnants, too. Its latest run (12z) keeps Harvey more or less onshore (not entirely) and has the storm wandering around Corpus Christi, Victoria, and the western Houston area through … Friday night.
I've been saying it is meaningless to try and predict which areas of Texas will get the greatest amount of rainfall during the next several days, and that remains true given that there is such low confidence in Harvey's evolution once it moves onshore. But I feel confident that a lot of people, perhaps most of the area between Corpus Christi and Beaumont, have a good chance of seeing a lot of rain. Like widespread 10 to 25 inches of rain over the next five or six days. Or maybe more. That means you, Pearland. Take a bow, Katy. You're on deck too, Baytown. Have some water, League City. Looking at you up there in The Woodlands, too.
Key takeaways
A very serious flooding situation is coming.
A very serious flooding situation is coming.
A very serious flooding situation is coming.
For some reason, the Governor of Texas said Friday afternoon that Houstonians should evacuate from the rain. Normally that decision is handled by local officials, who have advised residents to ride out the storm. That would be my advice as well for almost everyone in Houston—ride it out.
Matt will be posting the next update at around 7pm CT today. Hopefully he will be able to come up with some brighter outlooks where I have failed.
Posted at 3:15pm CT on Friday by Eric