As of 7:45 PM Friday, Hurricane Harvey has been officially upgraded by the National Hurricane Center to a category four storm with 130 mph maximum sustained winds. Port Aransas just gusted to 105 mph as the eyewall approaches. Should Harvey make landfall at its current intensity, it will be the strongest storm (by wind) to hit Texas since 1961's Hurricane Carla (which came ashore just north of where Harvey should) and the strongest in the U.S. (by wind) since Charley hit Southwest Florida in 2004.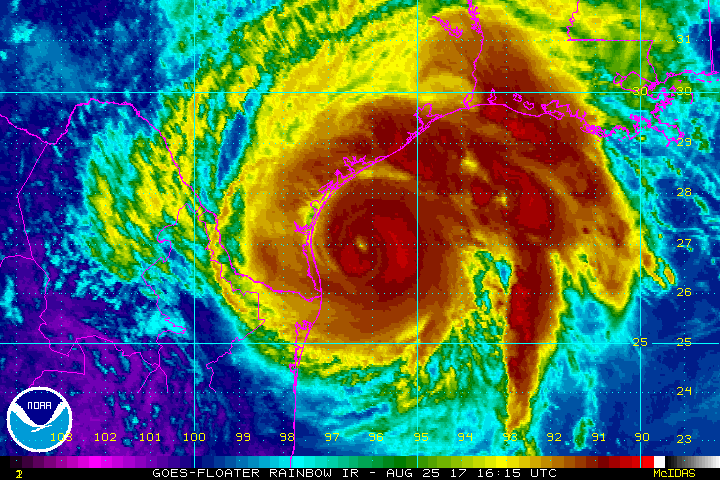 Coastal Texas from near Corpus Christi north to Matagorda are being absolutely pummeled by wind and squalls  and they will continue to deal with this in the hours ahead. Few words needed to describe the situation there, and our thoughts are with folks that live in that region.
Here in the Houston area, things are also active. We've had numerous tornado warnings issued throughout the day today, mainly south of US-59 and I-10. As these squalls and feeder bands on the north side of Harvey come ashore, they are capable of producing brief tornadoes, mainly in the coastal counties. These are extremely difficult to warn on because they spin up so quickly, and the NWS Houston office has done an outstanding job thus far with them. If you are placed under a tornado warning tonight, do take it seriously and seek shelter at your location (lowest level of the building in an interior room). Have a way to receive warnings overnight. A tornado watch remains posted until at least 2 AM for the Houston area, along and south of US-59 to I-10.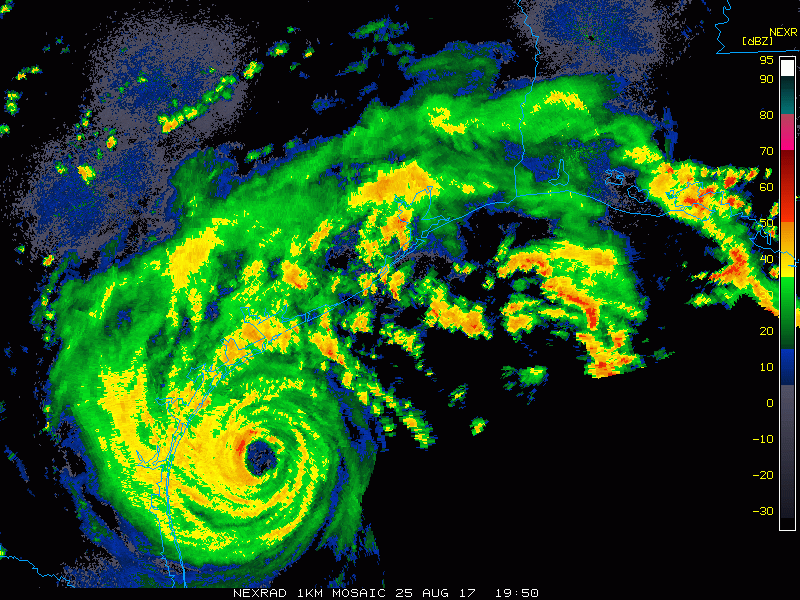 Rainfall thus far today has been tolerable in and around Houston. Most areas north of I-10 have seen around or under a half inch. Areas south of I-10 have seen more, with 2-4″ falling near the coast south of Harris County.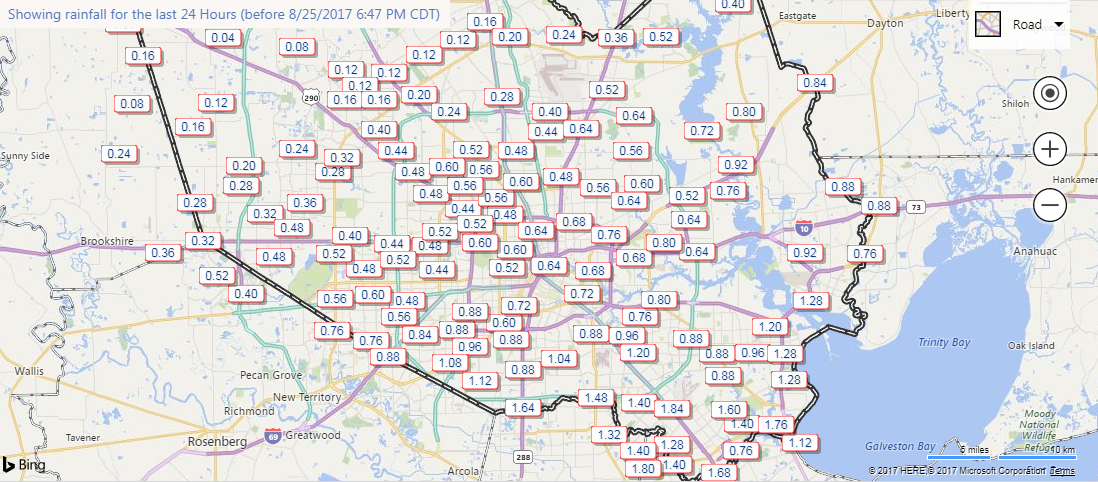 The next 12 hours
So what is in store for us tonight?
Rain: As Harvey moves inland, the somewhat sporadic rain and thunderstorms will become more frequent. After midnight, I think it will be raining the majority of the time in and around Houston. Rain totals will vary depending on exactly where the most frequent feeder bands setup before everyone sees heavy rain overnight into Saturday morning. I suspect we could see an average of 1 to 3 inches of rainfall by 7 AM Saturday, less north, more south. There will likely be some areas that pick up somewhere in the ballpark of 3 to 5 inches. The best odds of that occurring will be south of the city, closer to Harvey's core (Brazoria/Matagorda Counties).
Flash flooding is likely in spots, though widespread river and bayou flooding should hold off through tomorrow morning (this will become more of an issue, and a serious one, after more and more rain falls).
Tornadoes: As outlined above, isolated tornadoes are likely tonight, mainly south of I-10, and short-fused warnings should be taken seriously.
Wind: We also expect winds to increase a bit (probably not a ton) as the night goes on. So far, Hobby has only gusted to 37 mph. As some of these stronger and more frequent rain bands come ashore, we could see a few 40 or 50 mph gusts, mainly south of the city. Stronger winds will be possible along the coast in Brazoria and Matagorda Counties obviously.
Surge: Tides are likely to stay high into tomorrow and much of the weekend with persistent onshore flow preventing a lot of drainage in the bays. That said, most coastal flooding impacts should be minor in Galveston for the next 12 hours. Once you get to about Freeport and southward, that is obviously where things get very dangerous.
What's Next?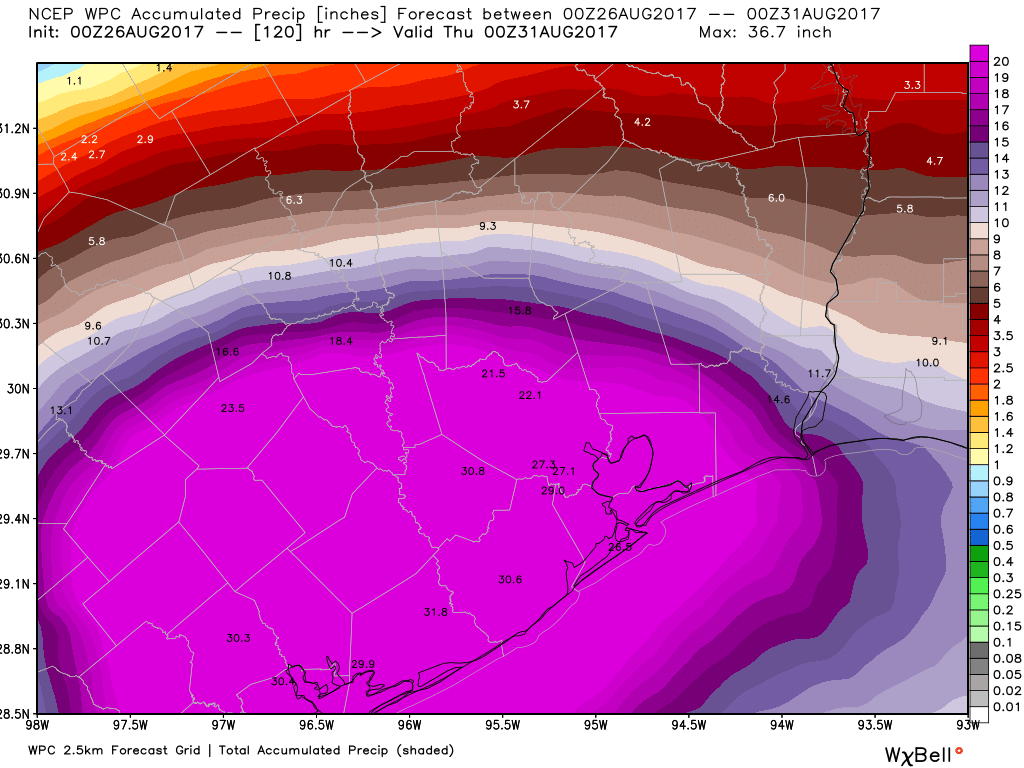 So what's to come. Sadly, this storm is a marathon, not a sprint. We have a very, very long way to go. Here are some forecast thoughts looking ahead to tomorrow, Sunday, and beyond.
Total rainfall forecasts are almost unfathomable, but this is a unique situation. The largest rain totals will be southwest of Houston over the next several days. I personally believe the Victoria area down to Port Lavaca is really going to get inundated with heavy rainfall. This is where the official NHC/WPC rainfall forecast shows a bullseye well over 30 inches.
As each wave of rain in the Houston area drains into the bayou system, flash flooding and possible bayou and creek flooding will become more and more of an issue. Braniff Davis published a good post on inland flooding earlier today and described how rain rates matter. It's impossible for us to peg down exactly where the worst rain rates will be at any given time, but with 10-20″+ of rain falling over the next 4-5 days, we know they will happen in spots and at times.
Weather model data today has indicated that Harvey will stick around (though not in its current form) perhaps for the better part of a week, delivering periods of rain to the Houston area. It won't rain the whole time, and we may even see sunshine from time to time throughout this event. But you'll need to be prepared to deal with travel disruption, inconvenience, changing forecasts, and perhaps cabin fever in some cases. As said above, a marathon, not a sprint, and unfortunately we all have to participate.
Will there be a Harvey reborn Act II? Doubtful. Weather models have pulled back on the awful scenario depicted a couple times in recent days with Harvey hanging offshore as a hurricane or strong tropical storm. That would just compound an already terrible situation. We'll continue to watch, but that's not at the top of the list of concerns at the moment. Flooding and heavy rainfall tops the list.
That said, Harvey will maintain tropical storm status for a long time over land it would seem. No, there won't be constant 40 mph winds buffeting the Houston area. But as some of the heavier rain bands and squalls push through over the next several days, don't be surprised to see 35-45 mph wind gusts and sporadic power outages.
Stay calm, stay put if you can as long as it's safe. Continue to monitor the storm and the forecast via SCW, media, local government, and the National Weather Service.
On a final note, I want to really commend the National Weather Service forecast office in Greater Houston for the job they're doing. Trying to deal with flooding rains, hurricane impacts south, and these quick spin-up tornadoes is so difficult. They're working their rear ends off for all of us, and that's truly commendable. Eric and I will continue to keep you informed through the storm.
Posted at 7:45 PM Friday by Matt