Wednesday, 7:50am CT—It is an absolutely amazing morning in Houston—humidity is low for August, temperatures are in the low 70s, and the sun can be seen as it rises above the eastern horizon. The only trace of our recently departed Hurricane Harvey is some northwesterly winds gusting into the mid-20s. But even those should die down today.
Speaking of Harvey, the storm has made its final landfall this morning, and is now located near Lake Charles, La. The storm continues to lash the Beaumont and Port Arthur area with rains (because clearly Harvey has a seething hatred for all things Texas), and they are seeing similar conditions as Houston earlier this week. Those areas should begin clearing later today too as Harvey moves steadily northeast. Let's discuss the forecast, and also address the concerns some of you have about tropical weather next week.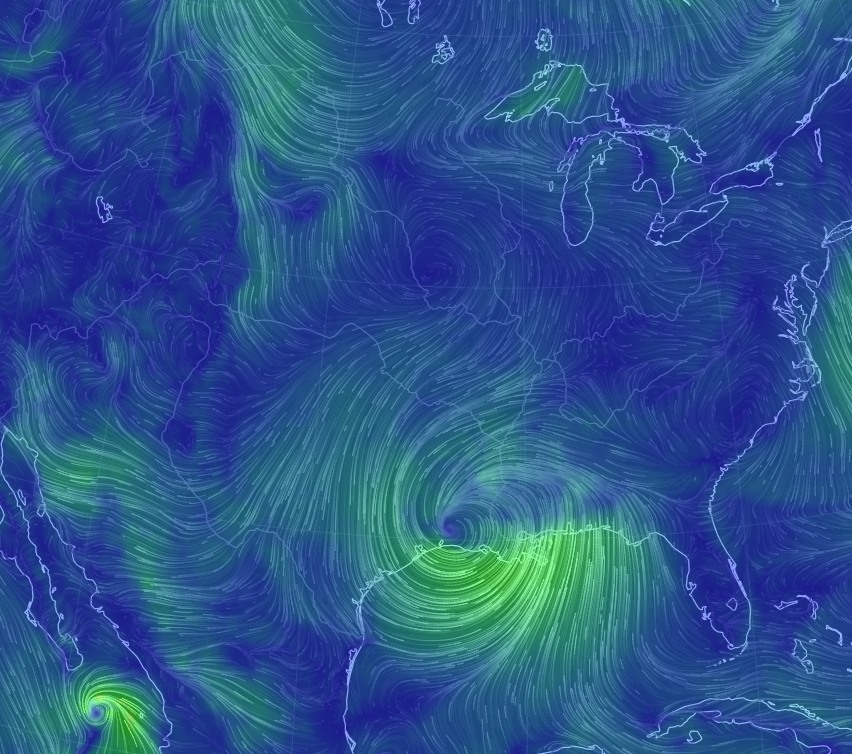 Today
Skies will be partly sunny, and we expect high temperatures to rise into the upper 80s. Rain chances should be near zero. Brisk northwesterly winds will help drain bayous, too.
The National Weather Service this morning urged people not to "sightsee" in damaged areas as the weather improves, and I would echo these sentiments. There are still dangers in some areas—and let's be honest, if your home was destroyed would you want gawkers coming by to survey the damage? Heck no. Respect your fellow citizens, and the first responders taking the first steps to getting our city on the road to recovery.

Thursday through Saturday
Something approaching summer-like weather returns to Houston, with mostly sunny skies, highs in the low 90s (but still pleasant nights in the low 70s). The air will be drier than normal summer in Houston due to the region lying on the back side of Harvey, and enjoying northerly winds through Saturday morning, at least. Honestly, this is about as fine of weather as you could hope for for late August or early September. It's just unfortunate that we had to pay such a terribly high price for it.
Sunday
A bit of a transition day, as a chance of showers returns to the region (but nothing particularly heavy, we think), along with some clouds. Expect highs in the upper 80s.
Next week
Ok, let's address the big issue. The global models are showing the development of a low pressure system in the southern Gulf of Mexico by late Sunday or Monday of next week. Because the feature is in both models, we can say it may very well happen. However after this time there are pretty widely diverging solutions. The GFS model drags the feature up the Texas coast, and between Monday night and Thursday morning soaks the Houston region with about 12 inches of rainfall. However, the generally superior European model keeps the feature offshore, and drags it across the northern Gulf of Mexico toward Florida. Under this scenario, the Houston region would receive about 1 inch or rain, or perhaps less.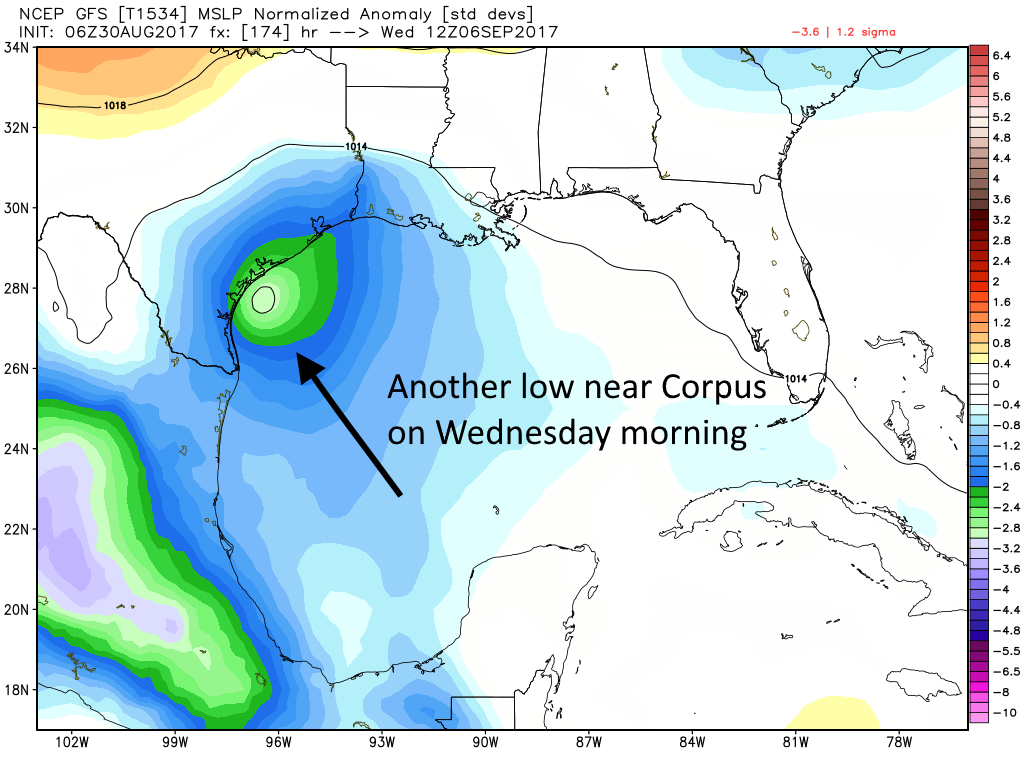 Our advice: Do not fixate on the GFS model. This is the kind of thing that will get a lot of attention on social media, because it's easy to share a graphic from a model run that shows Houston inundated by rainfall, especially when we're all highly sensitized. Be smarter than that—rainfall forecasts at such long range should be considered highly suspect. Although we always need to monitor Gulf lows in August and early September, what we can confidently say about the weather five to seven days from now is that tropical moisture may return to the area, and so we will see an increasing chance of rain beginning on Labor Day. But here's the thing, by then nearly all of the area's bayous will have drained to near-normal levels, and the rivers will be coming down. I am not saying things would be peachy if the region picked up another six or even 10 inches of rain, but we could handle it over a day or two. And I'm betting we don't get nearly that much.
We'll have another post later today about a surprising meteorological record that Harvey broke that wasn't at all rainfall-related.
Posted at 7:50am CT on Wednesday by Eric