Wednesday, 2pm CT—Anyone who walked outside on Tuesday evening—and it sure did feel almost spiritual to see the sun, didn't it?—surely also felt the comfortable temperatures outside. It was, in fact, amazingly cool during the height of Harvey. High temperatures on Sunday (77 degrees), Monday (74) and Tuesday (75) were uncharacteristic to say the least. They were, in fact, record setting.
I checked in with Brian Brettschneider (@climatologist49 on Twitter, and a fun follow), and he came up with the following table. In it, we can see that Monday's high temperature tied August 25, 1966 as the coolest day in the entire month of August, in Houston, in more than 120 years of records. Tuesday's high tied for third.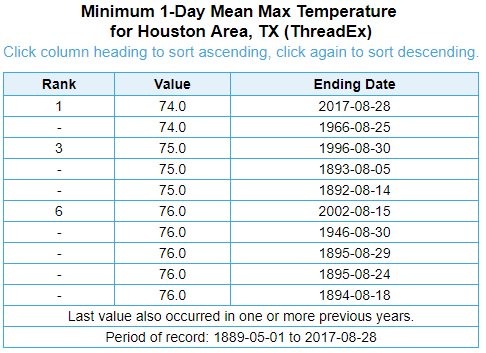 Brian believes the 1966 high temperature of 74 degrees was caused by an early cold front, with lower dewpoints, cloud cover, and an overcast day. This Monday's cooler temperatures were, of course, caused by Harvey, which by that point was drawing northerly winds into Houston, and along with cooler air, this somewhat drier northerly air also allowed for evaporative cooling as the rains fell. This was the only nice thing about Harvey.

The tropics
We've continued to get questions about the tropics, which as we're in the heart of the Atlantic hurricane season remain quite active. While we have some mild concerns about this, it's nothing we feel like you should be worrying about too much. Here's the 1pm CT outlook from the National Hurricane Center: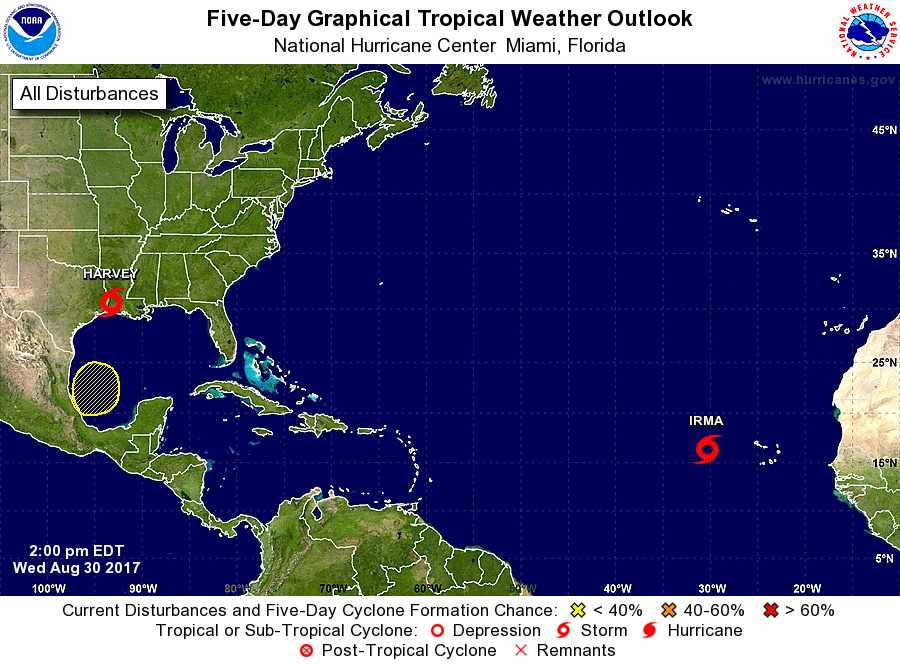 Let's start with that yellow blob close to home. This is the southern Gulf of Mexico system we've been mentioning. Some of the global modeling has been calling for this storm to come up the Texas coast and drop 12 inches of rain on Houston next week, but we explained this morning why that is unlikely. More likely, the system will remain off the coast, and may bring the Houston region 2 to 4 inches of rainfall next week at most, probably spread out over a couple of days. (For what its worth, the GFS model that was bullish on lots of rain next week so predicts there is only about a 30 percent chance Houston will receive 4 or more inches of rain next week). While it is far too early to say anything definitive about this system, and we are certainly watching it, we are not overly troubled by it, and neither should you be.
Rather, we are becoming slightly more confident that the fall season's first cool front will reach Houston during the middle of next week. No guarantees—there never really are with the season's first front making it through—but we think there's a healthy chance of lows in the 60 later next week. This front would, in fact, likely keep that yellow tropical blob south of Houston. So, fingers crossed!
Secondly, there's Tropical Storm Irma way out there on its way to becoming a hurricane. We've addressed Irma too. While this westward-moving storm probably doesn't even make it into the Gulf of Mexico, even if it does come into the Gulf it seems unlikely to track toward Houston. Never say never with systems so far out, but our concern level with Irma, in regard to Texas, is low.
Posted at 2pm CT on Wednesday by Eric