As of 8:00pm CT tonight, a well-organized Hurricane Harvey is moving northwest, toward the Texas coast. It packed 85-mph winds, but forecasters at the National Hurricane Center still expect it to come ashore late Friday night, or Saturday morning as a major hurricane. The most likely landfall location is between Corpus Christi and Port O'Connor. The storm's strong winds and storm surge, likely at least 10 to 12 feet above normal tide levels, will pack a punch along the central Texas coast. For people in low-lying areas from Corpus to Freeport, these are potentially life-threatening conditions, and I urge you to heed the warnings of the Corpus Christi National Weather Service office and local officials.
For tonight's post I wanted to discuss the most likely scenario for immediate effects in Houston, and then reconsider the uncertainty about what comes next. The National Hurricane Center anticipates that sustained winds on Friday night and Saturday morning in Houston and Galveston have about an 80 percent chance of reaching 39 mph, or greater. I think that's possible, and certainly chances are higher southwest of Houston, in places like Sugar Land. However, at this point the available model data indicates that winds will be manageable in the Houston region during Harvey's landfall. This is important for a number of reasons, not the least of which is that minimal tropical storm force-winds are something the region's power grid should be able withstand. Mostly.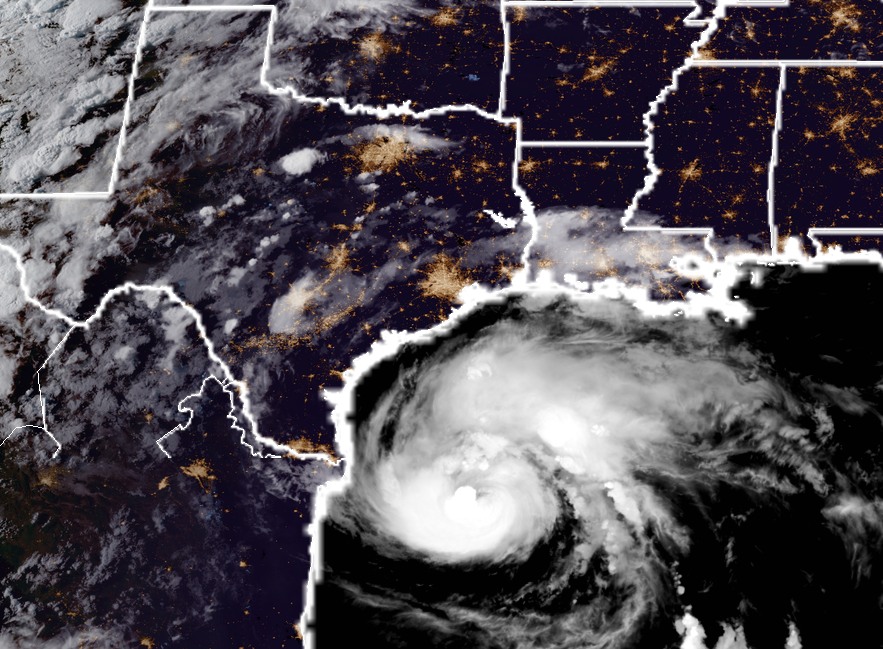 In terms of rainfall, the picture is more grim. It still appears as though the Houston region will see manageable rainfall totals through most of Saturday. That is not to say it won't rain hard at times, and streets may briefly flood. But for the most part I don't expect mobility to be greatly impaired. If this forecast changes, we will of course be all over it.
Now, looking ahead to the period of Sunday through Wednesday, uncertainty in the track forecast reigns. We've hammered this point for a couple of days, but the point remains that we can't be sure where the storm is going to go after it reaches the coast. It's like putting a bowling ball down in the middle of an alley—where will it roll? Harvey is going to be something like that. And unfortunately, for us to really get a good, solid handle on rainfall, we ultimately need to know where the center is going to go. Perhaps the best way to handle this is to spitball some probabilities. So let's discuss three different scenarios.

The Euro special
Odds: 40 percent. Earlier today we discussed the European model solution for Harvey, which brings the storm into the Texas coast, stalls it, then pulls it back over the Gulf of Mexico and eventually into southwestern Louisiana. Under such a scenario, depending upon the track, much of the Houston area would likely get 5 to 25 inches of rainfall, with the greater totals closer to the coast.
The wandering 59 special
Odds: 35 percent. This solution is favored by many members of the GFS model ensemble, in which Harvey comes inland, and wanders around Corpus Christi, and the rest of the Valley until Sunday or Monday. Then it moves up the Highway 59 corridor, into Houston, over Beaumont, and off into Louisiana. Such a scenario would likely bring 10 to 25 inches of rain to much of the Houston metro area, but totals might not necessarily be greatest along the coast.
Dying in the Rio special
Odds: 25 percent. Not all of the GFS ensembles pull Harvey back to the north. Some stay in south Texas and peter out. NOAA's new hurricane model, the HMON, has depicted such a scenario over the last few runs, too. The HMON forecasts that Harvey's remnants burn themselves out in northern Mexico and southern Texas. Under this scenario Houston might get 5 to 10 inches of rain from Harvey—a lot of rain, but certainly manageable. If this happens, amore than a few people will be mad at meteorologists for having stood in line at grocery stores today, and now what they heck are they going to do with all these Pop Tarts?
Key takeaways
A major hurricane is coming to the Central Texas coast. It will have bad consequences for that region. However the best available data as of Thursday night suggests the immediate impacts on Houston won't be extreme.
The unanswered question is what happens to Harvey once it reaches the coast. Where will it go, and will it go fast enough? Houston's rainfall totals over the next five days depend on this, and we just don't know.
Big-time floods are coming to Texas. Certainly the Corpus Christi area and points immediately north and west of there will get too much rain. Flooding will spread to other parts of Texas too, quite possibly Houston. But right now we can't say that for certain. As I've said, it's either going to be pretty bad, or really really bad here.
We'll have a comprehensive update early Friday morning.
Posted by Eric at 8:15pm CT on Thursday by Eric