We are now about 36 hours from the landfall of Hurricane Harvey, which is taking advantage of 87-degree waters in the Gulf of Mexico to intensify today, and may continue to do so right up until landfall late Friday night or Saturday morning. The rapid intensification we've seen today (as of 1pm Harvey had sustained winds of 85 mph) is the reason why meteorologists are so watchful of tropical lows in the Gulf during August and September—in the absence of wind shear, the bath water out there is highly favorable for storms to strengthen.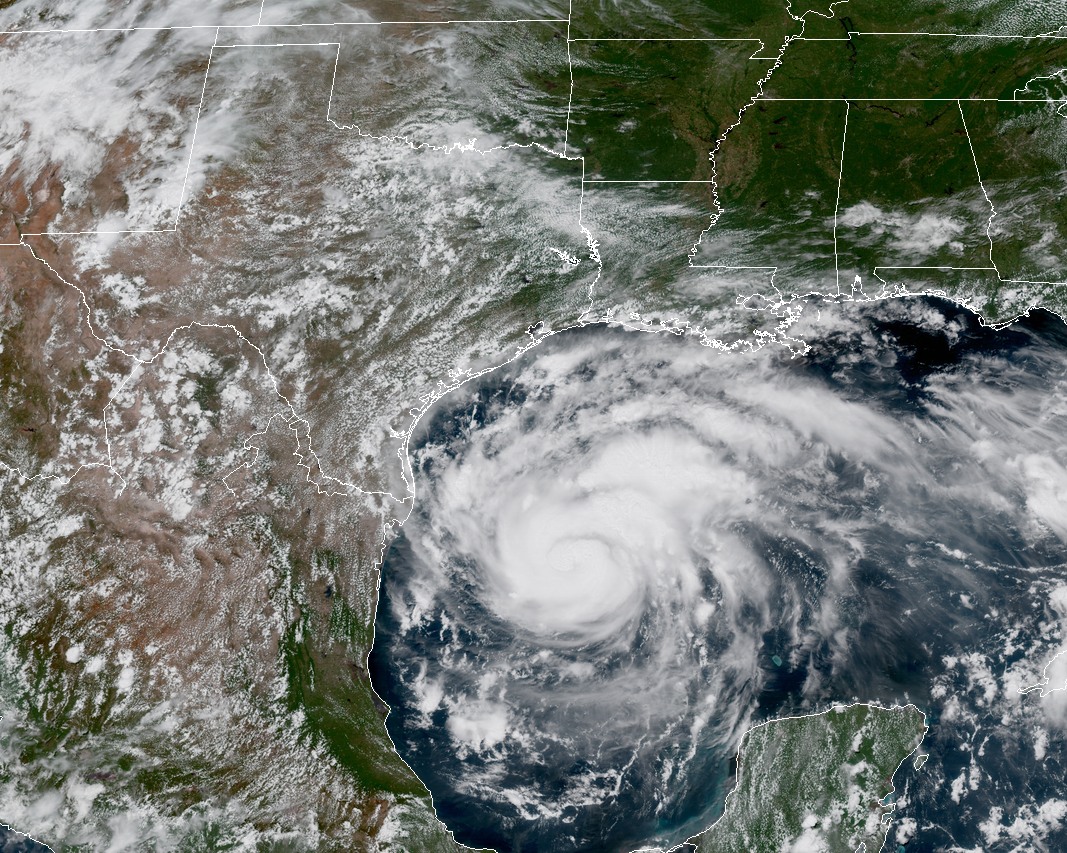 Today's strengthening, and increasingly bullish model forecasts for intensity, have caused the National Hurricane Center to increase its predicted wind speed for Harvey's landfall to 125 mph, just shy of Category 4 hurricane intensity. Although intensity forecasts are imprecise, it seems safe to conclude that a powerful hurricane will be coming to the Texas coast soon.
With a stronger storm, we need to be more concerned about the landfall location. Confidence continues to increase in a landfall between Corpus Christi and Port O'Connor. This obviously will have big implications in terms of wind and storm surge for Corpus Christi (where there is a voluntary evacuation), and points north to Freeport. We will have more about the impacts to Texas in an update later this afternoon or early evening.

European model
For now I want to address the recently completed run of the European forecast model, which is going to be buzzing around the Internet this afternoon. The operational model brings a hurricane to the Texas coast, like other forecast models, between Corpus Christi and Port O'Connor. But instead of carrying the storm inland for about 100 miles, and weakening it, the hurricane stops (running into high pressure) and moves back east, over the Gulf of Mexico. It then runs offshore, up the Texas coast, and into Louisiana.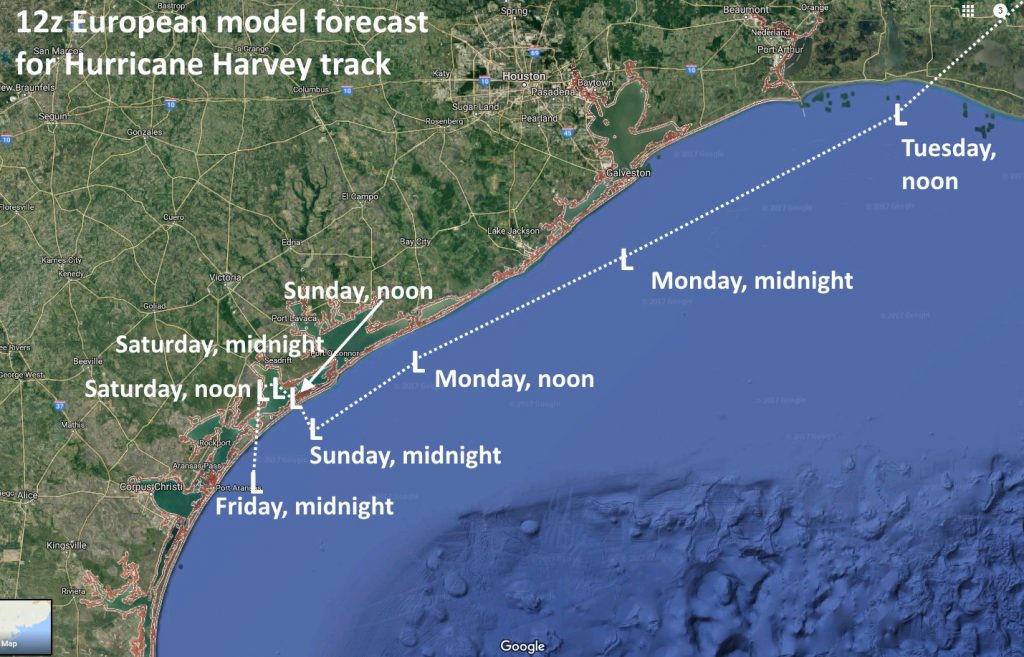 The concern with such a system is that it would have more time over the Gulf, and bring strong winds up the coast. The European model is a very good model, so it's going to get a lot of attention. And this is a plausible scenario, because at some point Harvey is going to run into high pressure to its west, and likely at some point it is going to get pulled back to the northeast.
Key takeaways
It is likely the greater Houston area will see unpleasant, but manageable wind impacts initially from Harvey. Some tropical storm force winds are possible Friday night and Saturday morning. At this time I do not think power outages will be too widespread.
Rainfall remains the primary threat. Saturday afternoon through Tuesday, travel may become difficult to impossible. Some areas will probably be fine, but others deluged. Totals are likely to be higher closer to the coast than for inland parts of the Houston metro area.
For Houston, the heavy rains will probably begin to wind down from Tuesday evening into Wednesday morning, with residual problems into Wednesday.
Flooding concerns will extend from south of Corpus Christi all the way to southwestern Louisiana. Flooding problems will likely be widespread, with potentially huge impacts.
Risk seems to be increasing that Harvey will re-emerge in the Gulf of Mexico early next week, and retain Tropical Storm intensity, or stronger.
People in Galveston, and close to the upper Texas coast should consider preparing for high tides and potential wind issues on Monday and Tuesday, just to be safe. (We really don't know how serious the threat is that Harvey will re-emerge into the Gulf, but it's worth watching.)
We will update again late this afternoon or early evening.
Finally, a note on comments. I have tried to keep up with them, but I have received a couple of hundred today, and I just can't reply to all of them in real time and keep up with my other responsibilities. I will do what I can, but can make no promises. 
Posted by Eric at 2:10pm CT on Thursday