Good morning, everyone. After an overnight lull in strengthening, perhaps caused by some dry air working its way into the circulation of Hurricane Harvey, the storm has begun intensifying again. As of 6am CT it had sustained winds of 110 mph, but with the central pressure continuing to fall, the storm's winds will almost certainly increase. For Texas, there will be two epochs of Harvey: the catastrophic effects from wind and surge during the next day or so for the central Texas coast, and the unfolding, widespread, major flood event from Saturday through the middle of next week for a large swath of the state, including Houston. We will discuss both this morning.
Wind and Surge
We remain confident in the forecast track for Harvey during the next 24 hours, as it moves northwest across the Gulf of Mexico, and comes ashore somewhere near Port Aransas. If you live in, or have property from Rockport to Matagorda, preparations for devastating winds—probably about 120 mph sustained, but maybe higher—should be completed by early this afternoon.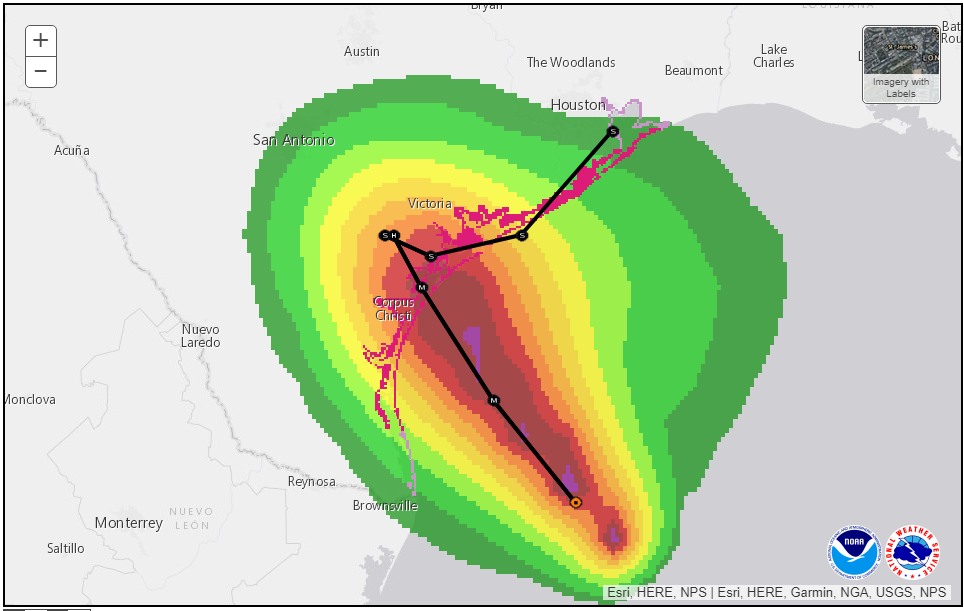 Storm surge will be a major problem for low-lying coastal areas. According to the latest National Hurricane Center storm surge forecast, the following numbers represent the realistic "worst case" inundation. This means the depth of water above the ground. You can visit the site itself to zoom in to any location along the Texas coast.
Mustang Island to Sargent, including Matagorda Bay: 6-12 feet
Sargent to Jamaica Beach: 5-8 ft
Jamaica Beach to High Island: 2-4 ft
Galveston Bay (Seabrook, Shoreacres, Nassau Bay, Kemah, San Leon) 2-4 ft
For Houston, aside from the above surge numbers, the effects from the immediate landfall of Hurricane Harvey will be relatively modest. As we've discussed, winds Friday night and Saturday morning should be manageable, although some areas may briefly see some tropical storm-force winds. The power grid is designed to withstand these conditions—so hopefully most of us will keep the lights on.

Inland flooding
After landfall, Harvey is forecast to move inland perhaps 50 or 100 miles, and then it loses all steering currents for awhile. The most likely scenario is that after wobbling around this weekend, Harvey slowly begins to move to the northeast toward the greater Houston area. It's center may move back over water, or remain over land, but eventually it should get pulled into a trough over the northeastern United States. (Last night I mentioned the slim possibility of the storm stalling out in the Rio Grande Valley, and while I'm not entirely ruling that out, it seems less likely with this morning's model guidance).
All of this wobbling and slow movement and proximity to a warm source of moisture (the Gulf, and its bathwater-like temperatures in the upper 80s) will lead to very heavy rainfall and devastating flooding for much of the Texas coast and inland counties. We can't say exactly where the heaviest rainfall will come (there may be some isolated areas that receive a Tropical Storm Allison-like 35 inches), but we can say with growing confidence that a large region will see 10 to 25 inches of rain between Friday and Wednesday.
The following map represents the best effort by expert forecasters at NOAA to predict where the heaviest rains will fall during that time frame, and indeed it includes much of the greater Houston area. I do not believe it is an exaggeration, nor does it over-hype the threat. Harvey presents a grave threat to the Texas coast from Corpus Christi to Beaumont.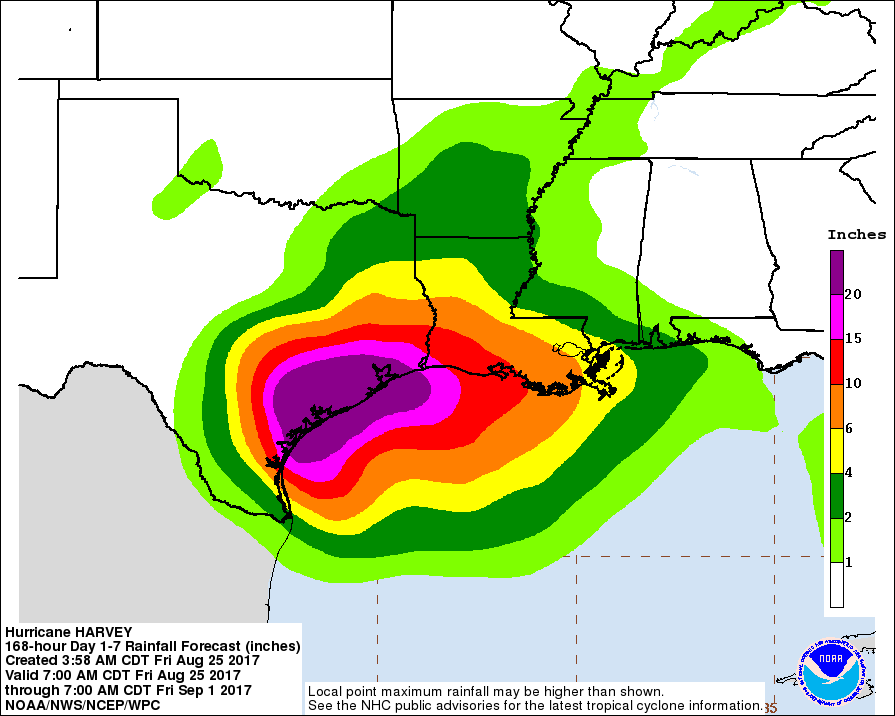 Key takeaways
If you live along the central Texas coast heed evacuation warnings, make final preparations this morning, and prepare to endure what is likely to be the strongest hurricane to strike the region since Hurricane Celia, in 1970, or perhaps even Carla, in 1961.
For Houston, effects from Harvey's landfall today and Saturday morning do not appear likely to be dangerous in terms of wind and surge. If you have to work, or make last minute preparations for flooding, there is still time.
The outer rain bands will bring precipitation to Houston today and Saturday, but as of now the forecast models show nothing too extreme through at least Saturday afternoon. This is likely the calm before the heavier rains move in later on Saturday night, and then in earnest on Sunday and Monday.
The timing and amounts of heavy rain in Houston are not precise. But be prepared for flooding, and tropical deluges from Sunday through Wednesday. Many roads will become impassable. Homes will be flooded. It will be pretty miserable for a lot of people.
We will update again before noon, today. Also, if you're interested, I'll be conducting a Facebook live event in conjunction with the Houston Chronicle at 11:30am. I also spoke with NPR's David Greene early Friday on Morning Edition.
Posted at 6:10am CT on Friday by Eric