Monday, 12:30am CT—Nearly every bayou, river, stream, and waterway in and around Harris County has reached the top of its banks, or exceeded them. Flooding is occurring in multiple neighborhoods across the region, and worse is still to come. It is anything but hyperbole to say this is the most catastrophic flooding event in the city of Houston's history. Tropical Storm Allison, a 500-year-flood, held the title for just 16 years.
This radar image (below) from around midnight shows what the region is up against tonight, and in the coming days. As the center of Tropical Storm Harvey drifts toward Matagorda Bay, it is producing a huge, 400-mile arc of showers that stretches all the way from south of the Texas-Mexico border into The Woodlands. This is an awesome, terrifying feat of nature—a freight train laden with moisture bound for the upper Texas coast.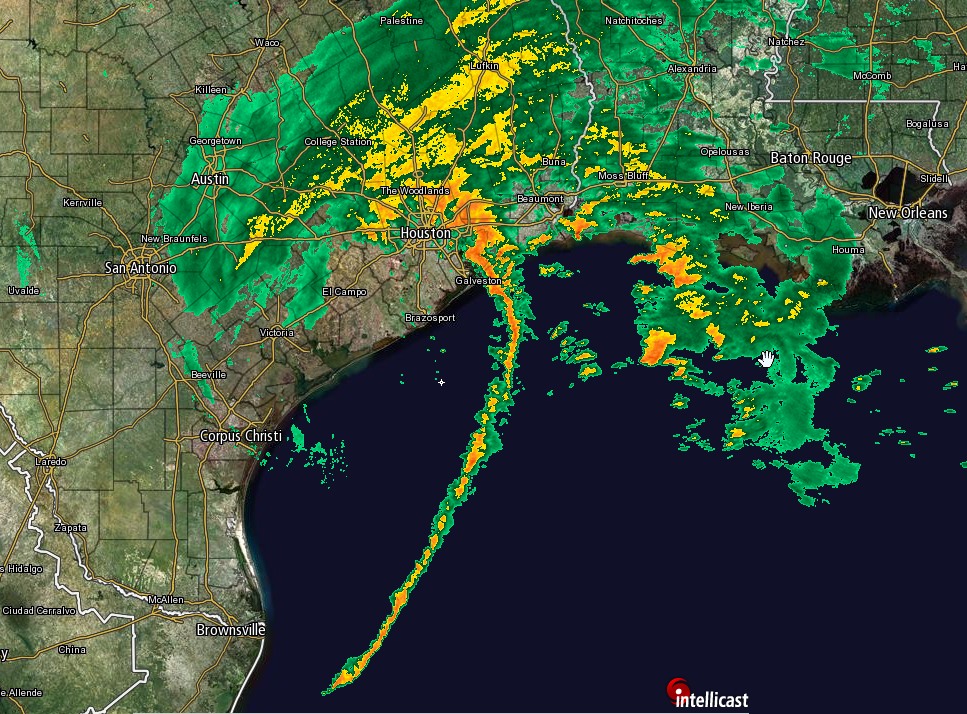 Truthfully, we don't really know what will happen next. Some drier air has moved into the southern half of the region from the west tonight, and this has led to some drying behind the line of showers, from El Campo to Galveston. Some of the short-term, high resolution models suggest the heavier activity will now slowly move off to the northeast of Houston tonight, toward Beaumont and Western Louisiana. (Beaumont is having an historic rain event too, by the way). This may offer a short reprieve for parts of Houston, and truthfully anything is welcome.
But with Harvey's center so close by, we can almost certainly expect more to come. Tonight, western areas of Houston, including Katy, Cinco Ranch and other communities along the Sam Houston Tollway, picked up 7 to 10 inches of rain in just six hours. Who will be hit so hard next? We probably will have to worry about these mega-rain-bombs for another two or three days, perhaps into Wednesday, or Wednesday night. And what will that mean for Houston, its bayous, and its increasingly beleaguered citizenry?
Truly, we don't know what happens next. This is uncharted territory for Houston in terms of flooding and potential disruption to our communities. Certainly, some help is on the way from the state and federal government. But in the meantime, be kind to your neighbors. We have seen incredible acts of valor and bravery and heroism during these last 36 hours from common, ordinary people. We have saved lives, and made the lives of others just that tiniest bit easier. We will need much more of this to make it out the other side.
Posted by Eric at 12:30am CT on Monday by Eric