Good morning. Since about midnight, while it has continued to rain, totals have been held down a bit. Most of Harris County has seen less than an inch in that time, while a few spots west of Harris County and to the northeast, especially into Chambers and Liberty Counties have seen 1-3″ of rain. No rain helps, but these sorts of rains don't hurt quite as badly.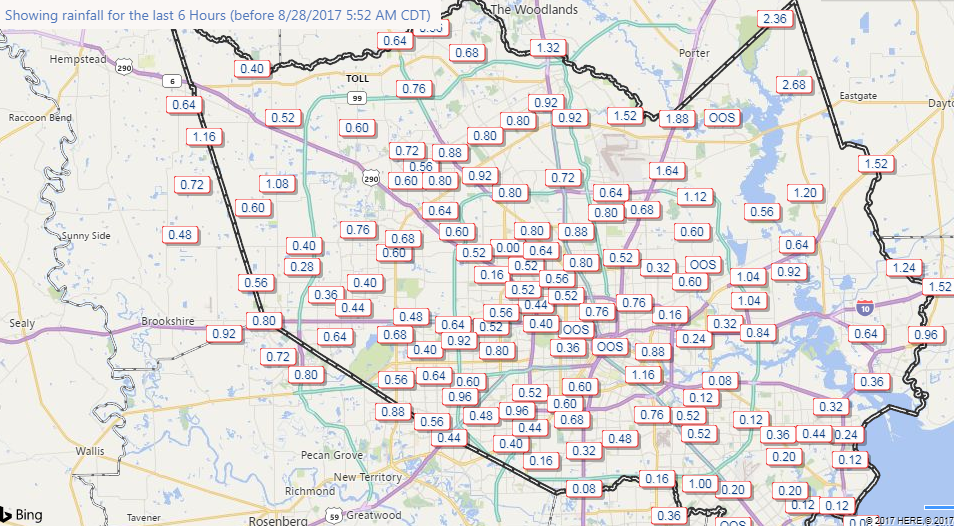 Now
Radar this morning is opening up on a mostly positive note for us. Yes, again, more rain in the area, but a better view than 24 hours ago, and much better than some forecast models had indicated even 8-12 hours ago.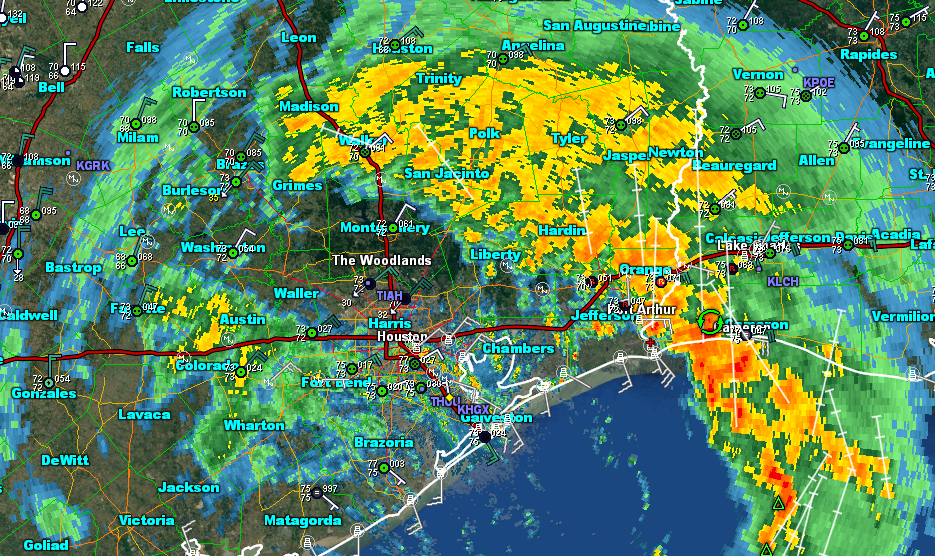 Scattered showers persist west of Houston and in other parts of the area.
Monday
Harvey has re-emerged in the Gulf near Matagorda. We, along with the National Hurricane Center, continue to believe that while Harvey will travel over the Gulf the next couple days, only modest re-organization is expected. Eric covered this in detail last night, and I see no reason things have changed much overnight. We don't want you worrying about that, and everyone's focus should continue to be on the rainfall forecast and ongoing flooding.
So what about rain today. Radar isn't too alarming this morning, but we do expect rains to fill back in a bit as the day progresses. This is certainly not what folks want to hear, but I do believe that in most cases, the rainfall *rates* will be manageable enough to limit substantial new problems from occurring. What this will likely do is lead to some rises again on area bayous that have crested and are dropping now. Those that haven't crested will continue to rise, albeit hopefully at a slower pace, despite new rains.
Tonight & Tuesday
As we go into tonight and tomorrow, expect continued periods of rain. Most of the time, rates should continue to be manageable so that things don't worsen, but I can't entirely rule out some heavier rainfall at times until Harvey comes ashore in Louisiana again on Tuesday night or Wednesday morning.
We figured this would be at least a four or five-day event for Houston, with the worst rains front-loaded in the first two or three days. Today begins day three, so we're past the halfway point, and hopefully past most of the worst of the rains. That's not to say we don't have additional problems ahead, but our hope is that we can manage what is to come. We'll have more for you a bit later this morning.
Posted at 6:20 AM Monday by Matt