Monday, 6:15pm CT—It's been a wet day across an already waterlogged Houston, and unfortunately we can probably expect similar conditions to continue through the night. During the day we have seen a lot of dry enter into Harvey's circulation along its eastern side, but unfortunately this has yet to substantially affect the convection on Harvey's northwest side—which just happens to be continuously dumping rainfall on Houston.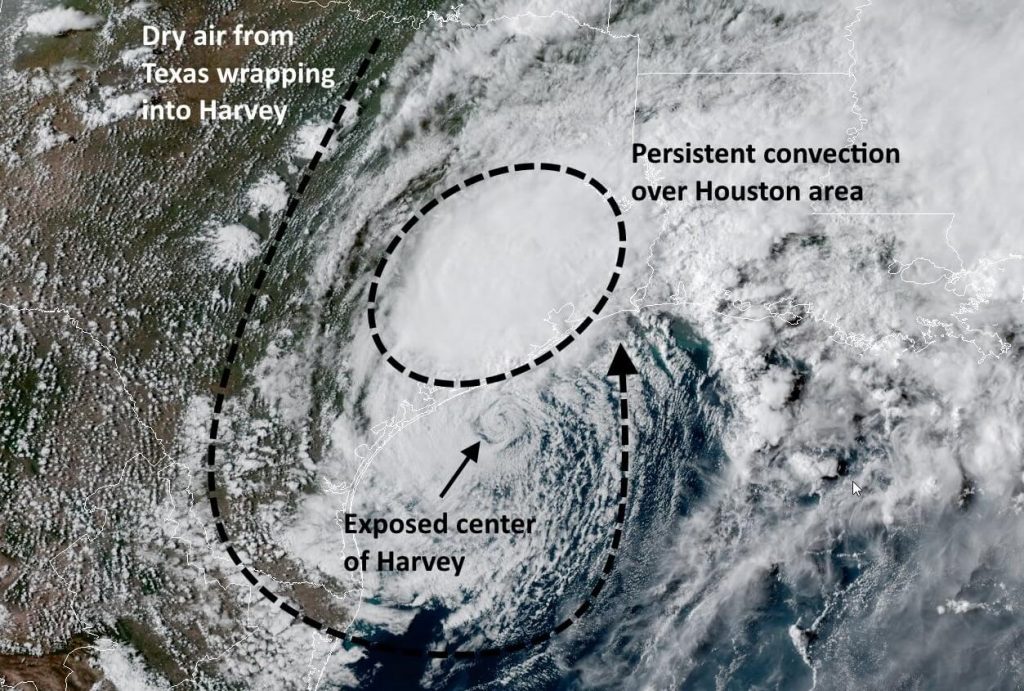 This pattern has allowed Harvey to drop 3 to 8 inches of rain across most of the Houston metro area during daylight hours today, with the heaviest rains in northern Brazoria County and Southern Harris County.
Because Harvey is only moving to the east-southeast very slowly, about at the pace of a slow walk, we can probably expect this pattern to continue for tonight, and into Tuesday morning. For the most part these aren't excessively heavy rains, but even rainfall rates of 1 inch an hour will cause bayous and floodwaters to rise if they persist long enough. Therefore, while we don't expect floodwaters to rise rapidly tonight, steady, moderate rains could cause slow rises in bayous. This is about exactly what the Houston region doesn't need right now.
As far as accumulations, the National Weather Service predicts that the following areas of Houston could get as much rainfall as the amounts shown in this graphic during the next 24 hours, through 7pm Tuesday. I'm hoping these totals are little high, but we can't rule them out.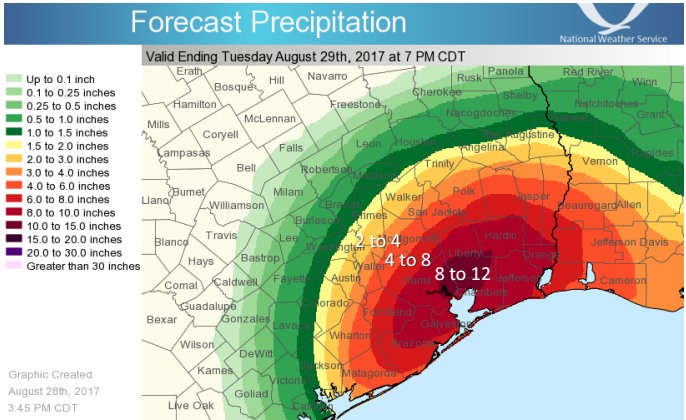 Looking for some good news? We have a little bit of that. The favorable area for tornado formation is moving to the east, so we should have fewer tornado warnings tonight, and then fewer to none on Tuesday. Also, we feel fairly confident that the potential for prolonged, heavy rainfall will end sometime on Wednesday, during the afternoon or evening hours.
Matt will have another update later tonight.
Posted by Eric at 6:15pm CT on Monday