Before getting into the forecast, let me just say that Harvey remains an unpredictable system in terms of intensity before landfall, and especially its track after landfall. This creates considerable uncertainty in the forecast. What you'll find below is our best attempt, but conditions will change, and so will the forecast. As always, we'll remain on top of it as best we can—because like you, we're making critical decisions about travel, our families, and our property.
Harvey has improved its satellite appearance markedly this morning, and a reconnaissance aircraft found the storm's central pressure had dropped considerably. The system now has 65-mph winds, and as it passes over warm water there is little to slow down intensification of the system prior to landfall. Because the storm has gotten its act together, and still has about 36 hours over water, the National Hurricane Center has amped up its wind speed forecast considerably. Harvey is now anticipated to come ashore with 115-mph winds, just over the threshold of Category-3, or major hurricane status. Here's the 10am CT track update from the hurricane center: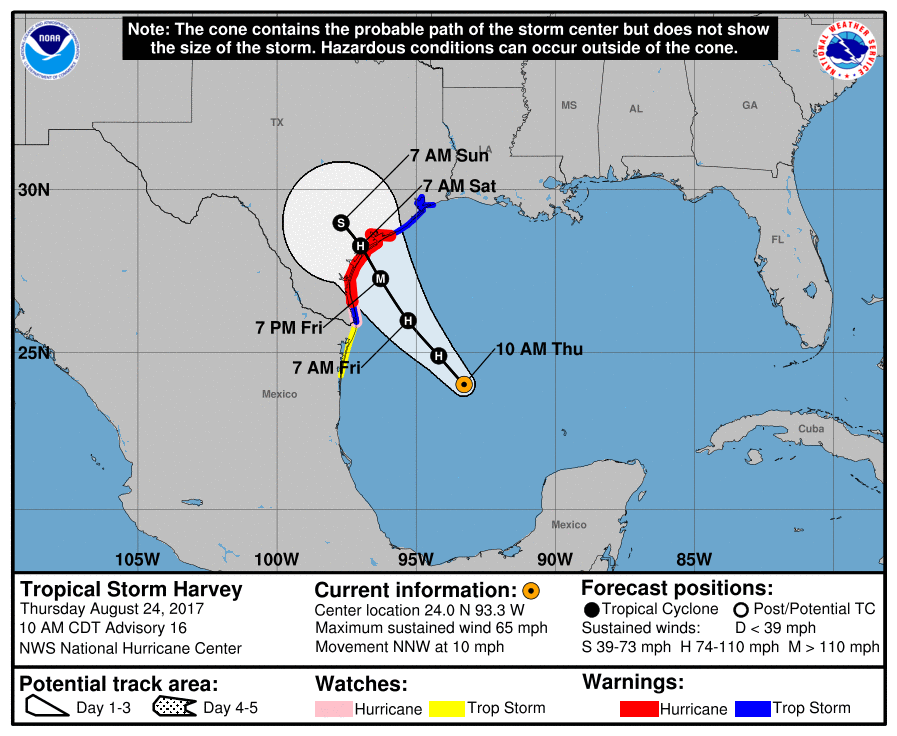 Winds
Now that Harvey appears to be rapidly strengthening, we need to carefully consider the wind impacts of the storm. Winds are always highest on the right side of a hurricane, where the counter-clockwise rotation drives wind and storm surge inland for maximum effect. Therefore the location of the storm's landfall is critical. Right now the hurricane center forecast predicts a landfall between Port Mansfield and just north of Matagorda. Such a landfall location translates to the following probabilities for sustained, tropical storm-force winds: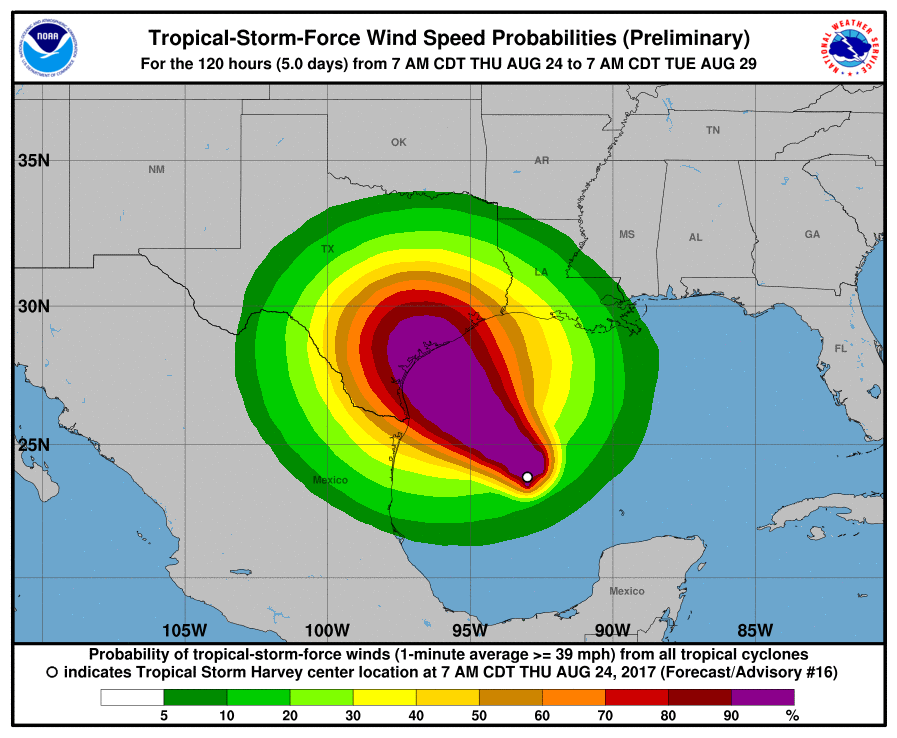 For the greater Houston area, this translates to about a 70 percent chance of TS-force winds, 39 mph or greater. This probability has increased due to the strengthening of Harvey, and it would increase further if Harvey takes a more northerly track toward Matagorda. The current probability of hurricane-force winds in Houston and Galveston is presently less than 20 percent, so I'm hopeful we won't see anything too extreme.
As for timing, we can expect these winds to arrive late Friday night or Saturday morning, but certainly both days will probably be gusty for the region. After Harvey moves inland on Saturday morning, the winds should slacken some over Houston.

Surge
As Harvey strengthens, it also becomes more capable of producing a significant storm surge, which is dependent upon both the size and intensity of a tropical system. The National Hurricane Center has posted a storm surge warning for the following areas of Texas. The greater Houston area is under a watch, which means storm surge flooding is possible. I think we can at least expect low-lying areas, including Bolivar Peninsula, to be threatened during the next 48 hours. Obviously, should Harvey takes a more northerly track, we'll need to be more concerned about storm surge for the Houston area.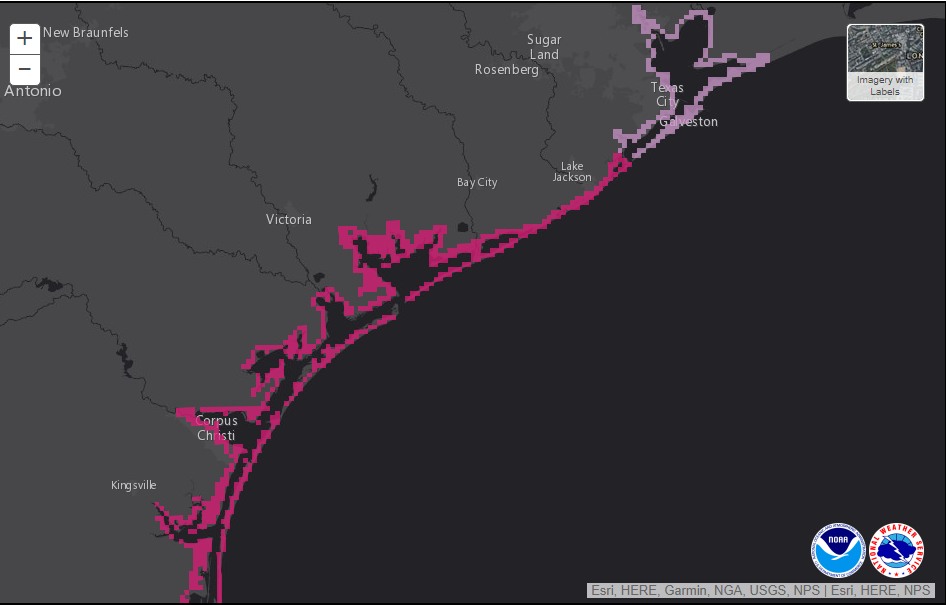 Rains
Long term, of course, inland rain and significant flooding remain the dominant concern for Texas, including the Houston area, as Harvey is expected to stall once inland. We've been reluctant to post rainfall forecasts from individual models, because some of the totals have been really extreme (and it's best not to trust individual model runs). But now NOAA's Weather Prediction Center has started to put out accumulated precipitation forecasts to reflect the threat between now and next Wednesday. Here's their latest forecast for Houston: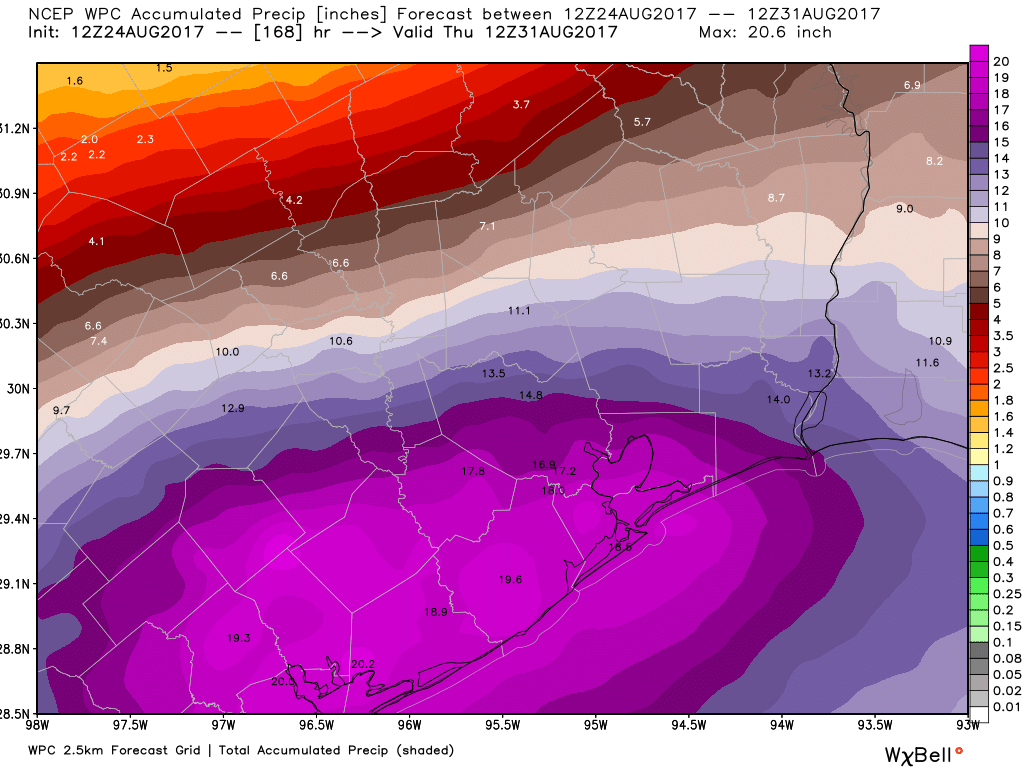 And here's the same forecast for the greater Rio Grande Valley area: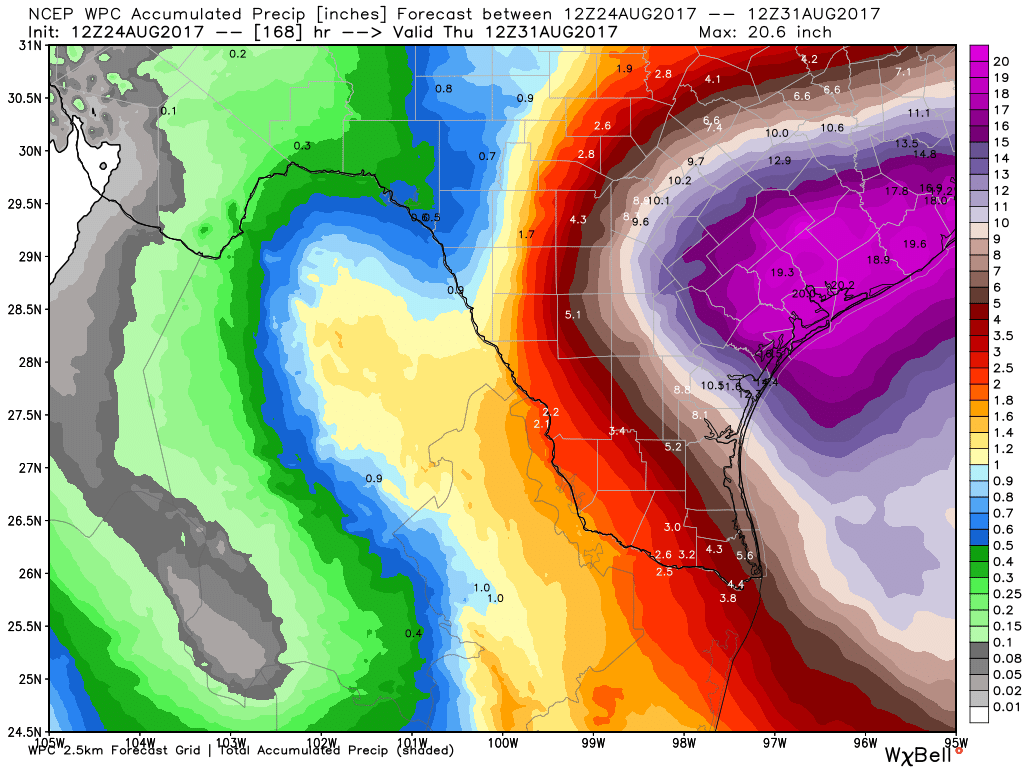 What you need to know is that these maps are far from gospel, and the forecast is likely going to change. But they're nonetheless illustrative of the kind of very serious flooding threat that coast Texas faces over the next week. Also worth noting: Some areas will probably receive greater rainfall totals than those displayed on these maps.
Key takeaways
Harvey is rapidly intensifying, and now poses a significant storm surge threat to the central Texas Gulf coast.
Tropical Storm force winds are possible in Houston on Friday night and Saturday morning
The strongest rains from Harvey probably won't reach Houston until later on Saturday or Sunday
Although there's considerable uncertainty still, most of the Texas coast, including the Houston-Galveston area, faces a significant flood threat over the next six days.
We will update again at around 2:30pm CT.
Posted at 10:30am CT on Thursday by Eric