Tuesday, 11am CT—There is some good news in the latest update from the National Hurricane Center on Harvey's position and movement—the storm is off the coast to the southeast of Galveston, and it is moving a bit faster (5 mph) to the east northeast. This means it is definitively moving away from the greater Houston area, and the rains are going to end. But we're not across the finish line yet. This post will also take a quick look at some area waterways, and address rumors about "another hurricane."
Forecast
Steady moderate to heavy rains are falling over the eastern half of the Houston area, especially for coastal areas including Galveston and Texas City. These should continue throughout the day, on and off, as Harvey slowly lifts away from the region. This updated rainfall forecast map from the National Weather Service shows that, from this point forward Harvey is far more likely to affect the eastern half of the region (3 to 8 inches more) than the western half of the region (1 to 3 inches at the most).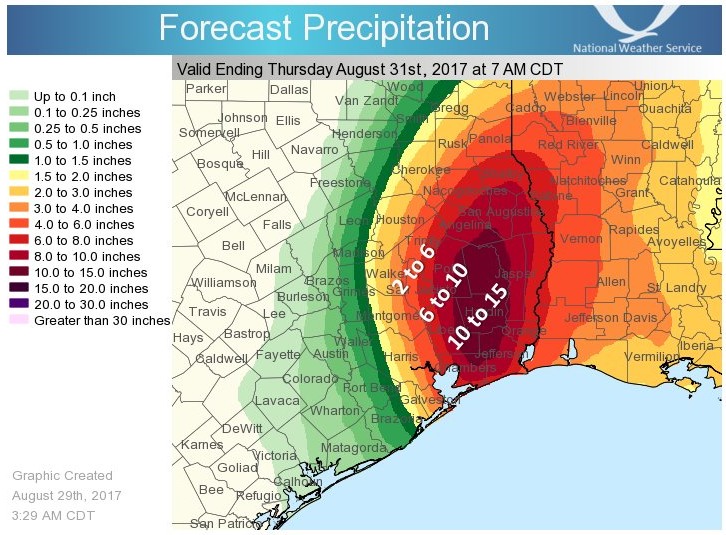 We are probably about 24 hours away from a general cessation of rainfall, including for most of the eastern half of the Houston area. It's been an absolutely miserable four or five days, but it's almost over

Bayous
During the height of Harvey's rains, the most concern has been focused on bayous, which back up into neighborhoods during storms, and flood homes. However, once the rains stop, it will not take long for most of the area's bayous to fall, and (most) neighborhoods should drain quickly. The concern will turn toward rivers and reservoirs, and neighborhoods near them. We address some of those areas of longer-term concern here.
Addicks reservoir (west of Houston): At maximum capacity
Addicks continues to take in water to the point that the levels have just reached the top of the spillway for the first time on record. Impacts from this sort of unknown at this point, but as releases continue and runoff continues with rains lightening up west of Houston, the suspicion is that runoff should slow gradually. After the Tax Day floods, runoff continued for about a week before the level stabilized and began to drop. Runoffs will take longer this time.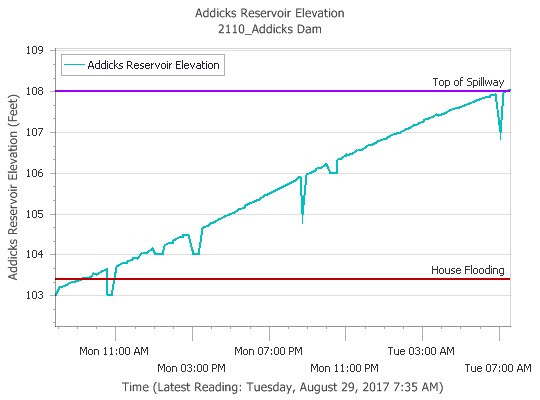 Barker (west of Houston): Worsening
The gage at Barker has flooded and there's no data to report this morning, but the assumption is that we're approaching a few feet from the spillway here also. They will attempt to put in a new gage today.
Brazos River (southwest of Houston, Richmond, Sugar Land): Worsening
The forecast has changed a bit this morning, with a slightly later crest at 57.5 feet record levels, and a slow decline back below the old record this weekend.
San Jacinto River (Conroe-Humble): Steady to worsening
Record crests ongoing at Conroe and Humble on the San Jacinto River.

Neches River (Beaumont area): Worsening
Near record levels expected later this week.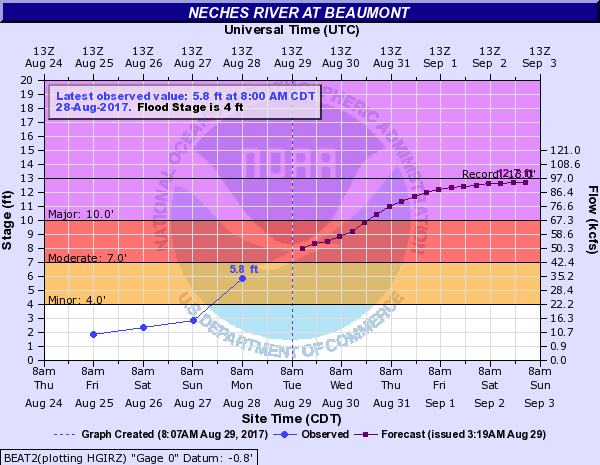 Lake Conroe: Improving
Lake Conroe levels are dropping and back down to 204 feet as of this morning. A slow drop will continue.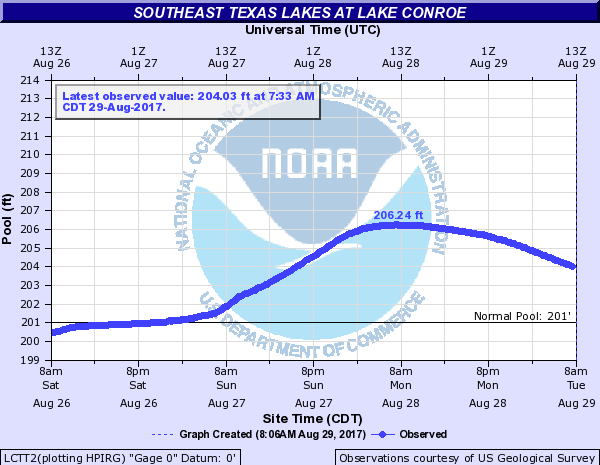 Another hurricane?
Finally, we're starting to see chatter on social media about another hurricane coming to Texas. This is because there is an area of low pressure near the Cape Verde Islands (thousands of miles away) that is likely to develop into a tropical storm and then a hurricane during this week.
Some long-range global models have suggested this system may work its way into the Gulf of Mexico in 10 to 12 days time. Frankly, although it's possible, we don't think that's likely to happen. And even if it were to make it into the Gulf of Mexico, the odds are that it won't affect Houston in a significant way.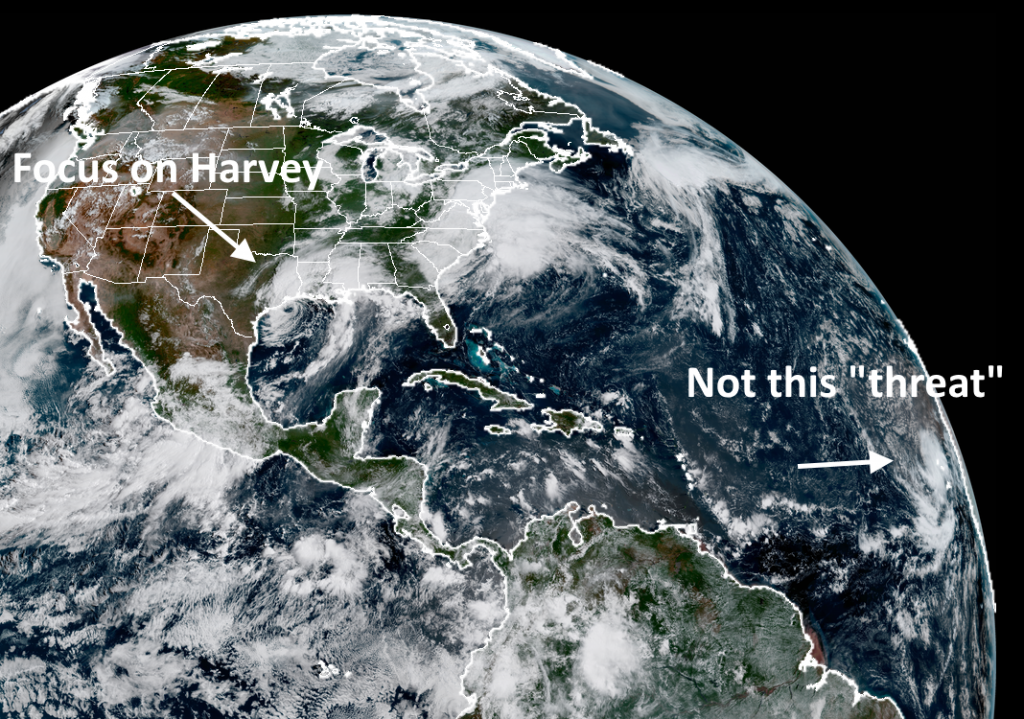 Here's our advice: Focus on the here and now, heavy rains, historic flooding, your family, and your property. There's always a risk of additional hurricanes in Texas during the first few weeks of September, but you shouldn't be more concerned right now just because there's a tropical wave nearly one quarter of the way around the world. It's probably not coming here.
Posted at 11am CT on Tuesday by Eric