Tuesday, 2:05pm CT— Good afternoon. Another dreary day across much of the region as Harvey (finally!) begins to slowly pick up some speed and pull away. Thankfully the Houston area has seen minimal additional rains today, with most places across the hardest hit spots earlier in the week at or below one inch of new rain. Today's hardest hit location is clearly Galveston.
Now and Tonight
Harvey is a shell of what it once was, but it's trying to take up a new lease on life as it leaves our area.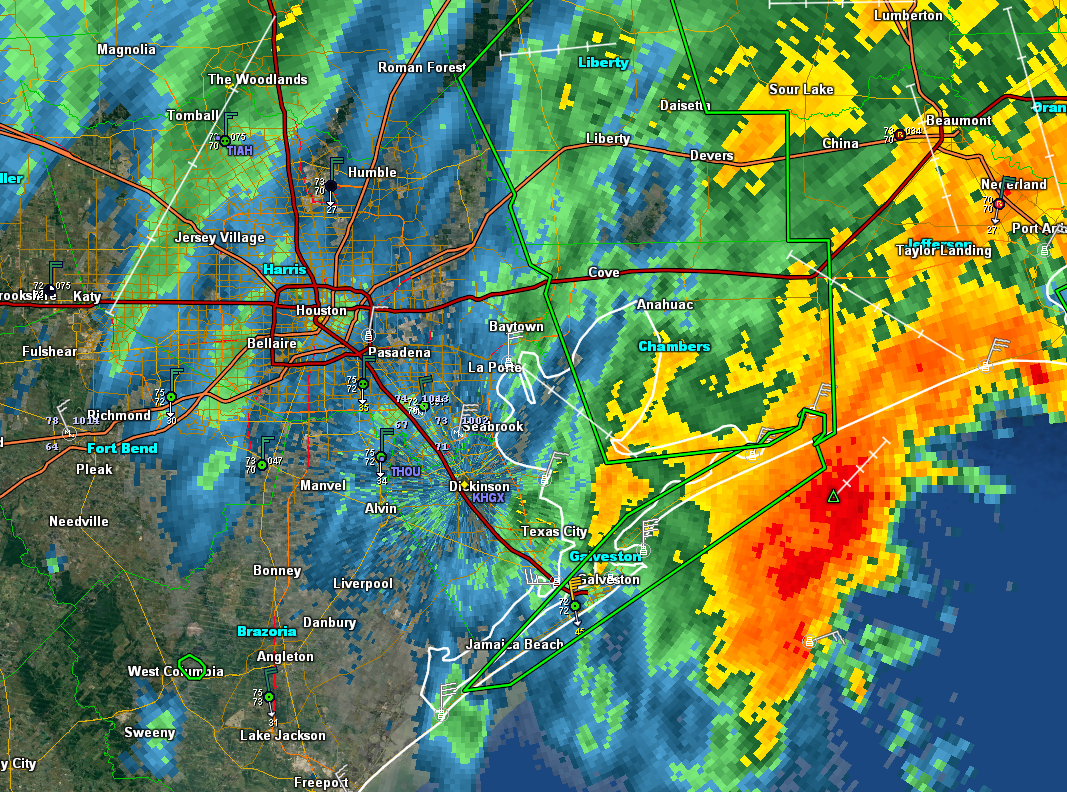 Harvey has been hammering Galveston all morning with heavy rain over 7″ total today, along with strong winds. Gusts over 50 mph have occurred at times on the island. This will continue as Harvey pulls away, but with a slight downward trend eventually.
Rains have really cut back around Houston, which is great news for us. Our neighbors to the east are unfortunately now in a serious predicament with extremely heavy rain pointed at the Beaumont and Port Arthur area. These areas have been similarly battered by rainfall since the weekend. Heavy rains will lash that area through this evening, worsening a bad situation. Some additional rains may redevelop tonight over Houston, but around the city, rain totals today will be the lowest they've been since at least Saturday.
Tomorrow and Beyond
Harvey is on its way, and it will make landfall late tonight or tomorrow morning likely in Cameron Parish, LA or near Port Arthur. We should see rain risk trend downward tomorrow with just a few showers, mostly in the morning and amounts should be mainly inconsequential as it relates to flooding. Skies may not clear out completely, but many of you will see sunshine tomorrow I project. We will stay dry into the weekend before at least some rain chances (hopefully mostly scattered stuff and nothing too organized) returns to the picture after Labor Day. We'll have more on that once we dust ourselves off after Harvey's exit.
Posted at 2:05 PM Tuesday by Matt