This post will provide a brief update on Hurricane Harvey's official forecast track, and discuss what we've seen so far from the storm's rains in Houston, and what to expect for the rest of the day. We're still at the "manageable" stage in terms of rainfall, but it won't take too much to push us into unmanageable.
Harvey
In its 10am CT update, the National Hurricane Center says Harvey remains a hurricane—but only barely so with 75mph winds. It is weakening, but in the process it has thrashed the central Texas coast, from Corpus Christi to Freeport, and inland areas such as Victoria for most of the last day.
From here on out, the official forecast track is basically summarized as follows: ¯\_(ツ)_/¯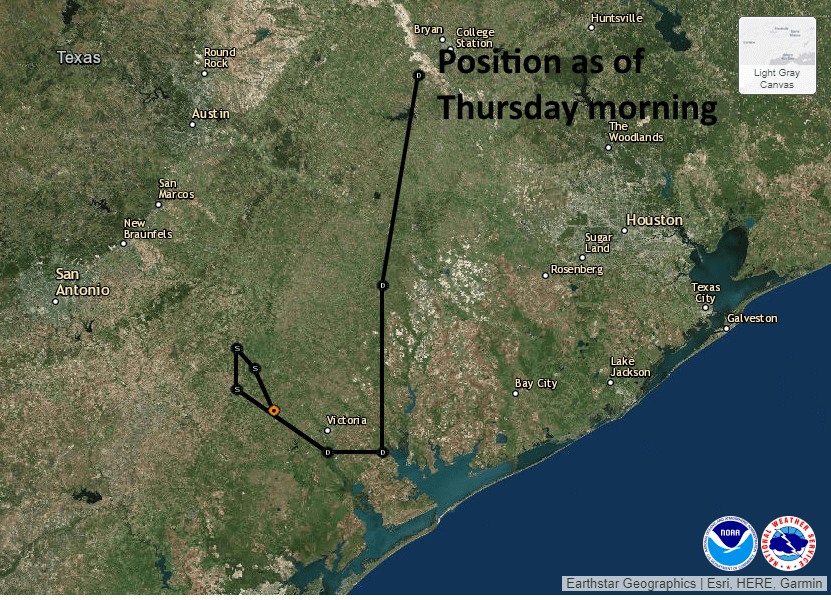 In their discussion, forecasters at the hurricane center wrote, "Based on this pattern, Harvey could easily meander for the next 4 to 5 days over southeast Texas as indicated in the NHC forecast. The only agreement among the track guidance is that Harvey is certainly not going anywhere fast."
We discussed several scenarios for Harvey's evolution in a post last night, and that thinking more or less holds up (here the National Hurricane Center is following "The Wandering 59 special") But theirs is, frankly, a low-confidence track forecast. We will provide a comprehensive update on what we can say about Harvey's track, and its implications for Texas rainfall early next week, by around 2pm CT today. Basically, our weather for Sunday and beyond depends on where Harvey goes.

Houston rains today
During the overnight hours and into this morning, Harvey produced some impressive totals across the Houston area, with greatest amounts over Fort Bend County (more than 9 inches in locations near Fulshear and Richmond), and Brazoria County (near Alvin). The National Weather Service has a full rundown here.
This morning, Harvey's heaviest rainfall band has been draped across Houston, but it has slowly been lifting through the area, so that the pain has been spread across the city. Although there have been a few exceptions (near Pasadena and Baytown), rainfall rates have generally been in the manageable range, below 2 inches per hour.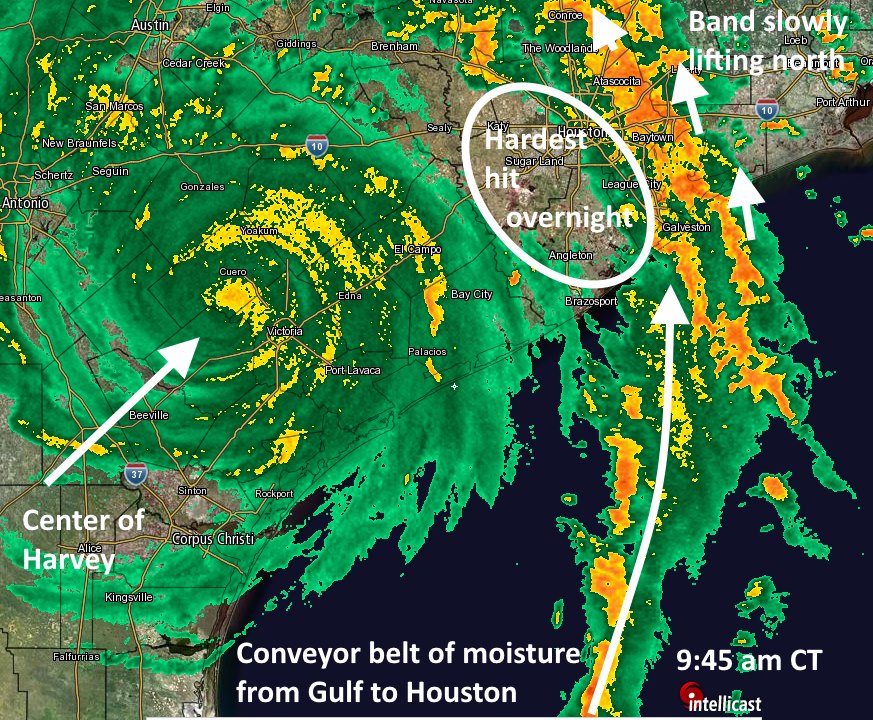 The story for the rest of our day will be the movement of this band, which is continually pulling moisture from the Gulf of Mexico into the greater Houston area like a giant conveyor belt. For most of this morning it has slowly been progressing northward. If it continues to move around, the region is probably OK for now. If it parks over a particular area today, that area is going to flood. We'll see. The pattern is probably going to be hammered, then lull, hammered, then lull. Over time this is going to cause bayous to rise, and if continues for a couple of days they will invariably top their banks. We cannot say with confidence which regions will be hardest hit over the next 24 hours.
Tornadoes will remain a concern, with one confirmed touchdown in Sienna Plantation today. But for the most part these should be short-lived.
We've had lots of questions today about travel. There have been some delays and ground stops at the major airport terminals, and dozens of cancellations. But both facilities are doing the best they can and some flights are getting in and out. With regard to driving, our advice is to basically not travel unless you have to. Conditions can change quickly if you're directly under that rain band, and with the rain that's fallen so far the region is growing increasingly vulnerable to lesser downpours leading to street flooding. Making a quick trip to the H-E-B around the corner? Great. Trying to go from Katy to Memorial City? Maybe not.
We'll have a comprehensive post on Harvey's track forecast for you by around 2pm CT today.
Posted at 10am CT on Saturday by Eric