This afternoon's post will focus on now-Tropical Storm Harvey's inland track. Where the center goes from here is going to make a big difference in terms of whether Houston sees widespread flooding—or not. Unfortunately, the track forecast has remained something of a mess.
But before that discussion, just a quick update on the state of rains in Houston. The heavy band we were concerned about this morning has slowly moved north-northeast of the central Houston area, and this has allowed the city and its bayous to dry out a bit. This is good, because we expect more rain bands to move into the area later today and especially tonight. For now travel is mostly safe, but try to stay off the roads unless you really need to go out, and complete any trips before dark. Also, if you're wandering around outside, be careful of wildlife. It, too, is looking for shelter from rising waters.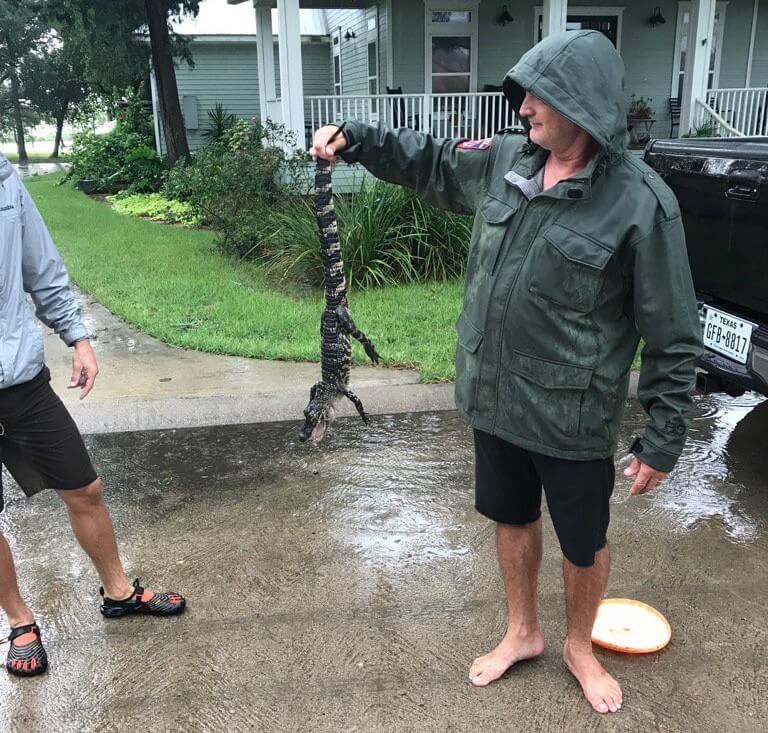 Harvey's track
The big question is where Harvey's center (and its outer rain bands) will go over the next few days. While 10 to 15 inches over three or four days is a lot of rain, for most of Houston it is manageable. However, 20 inches or more will cause widespread problems.
What I think I know today is that there's a chance the Houston region escapes catastrophic flooding. I feel better than I did yesterday at this time, when the forecast was almost completely grim. Let me explain why.
Both the GFS and European model runs have Harvey wobbling around south Texas, and the central-Texas coast today through Monday, and then they bring the center back out into the Gulf of Mexico near the point where it made landfall late Friday night. But neither model keeps it offshore for long, and at this time I don't think significant re-intensification is a major threat. No, the long-term worry for Houston, the Texas coast, and much of southern and southeast Texas remains rainfall.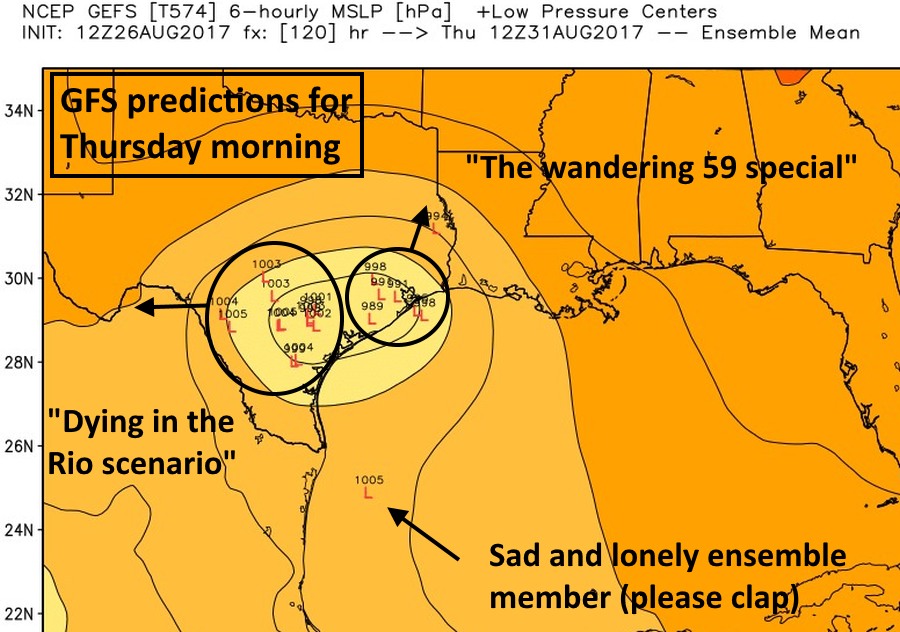 By Wednesday night and Thursday morning the GFS model ensemble solutions (shown above) start to diverge, with a slight majority dragging Harvey toward the Rio Grande and ultimately toward lower pressures over northern Mexico. This is a good scenario (Dying in the Rio) for Houston because it ultimately limits rainfall potential over the area. The remainder bring the storm north toward Houston (The Wandering 59 special). This results in more rainfall for Houston during the middle of next week, when we certainly will already be waterlogged.

Rainfall forecasts
The other hopeful trend is that the GFS model has backed off some of its extreme rainfall amounts for the greater Houston area. For example, in this afternoon's GFS ensembles, there appears to be only about a 50 percent chance that most of Houston receives 10 inches, or more, of rainfall over the next five days. However, the European model is still pretty bullish, with widespread totals of 15 to 20 inches over the next five days. (One key test of this will come tonight—if we pick up 5 or more inches, we'll know we're on track to the higher end totals).
Finally, it is worth noting that both of the models are much more aggressive about rainfall totals down the coast, with various forecasts showing 25 to 40 inches of rainfall over Victoria, El Campo, Palacios, and other locations near and around Matagorda Bay over the next five days. Obviously these would create devastating floods for an area that has already coped with damaging winds and storm surge.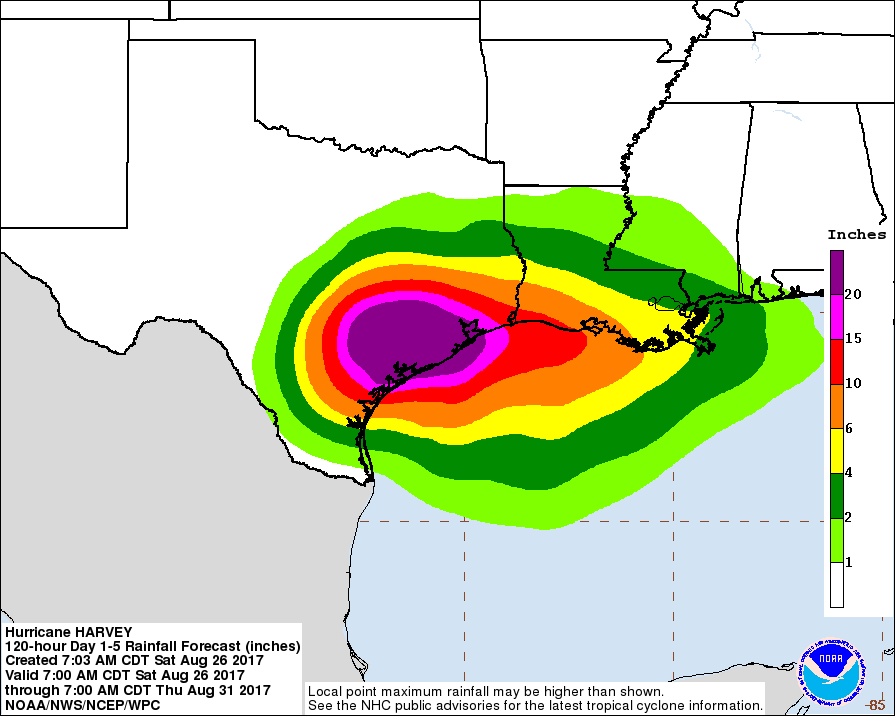 Bottom line with rainfall: There's a ton of potential here with a low-level circulation (Harvey or its remnants) and proximity to the Gulf of Mexico. The greater Houston region has sustained 4 to 8 inches during the last 24 hours from Harvey, and come through pretty well. One or two more days with those totals in the wrong places, however, will be pretty bad.
Key takeaways
Texas is absorbing major rainfall from Tropical Storm Harvey, and will continue to do so through at least the early part of next week. We will see major flooding in the vicinity of the storm. It is not certain where.
Houston remains at high risk for significant flooding through the early to middle parts of next week, but I don't think it is a guarantee that we will see extreme conditions
For much of Houston there is something of a lull in storms on Saturday afternoon. This is a good time to shore up property, or make other preparations required for additional rains in the coming days.
We have some concerns about heavier rainfall returning tonight across Harris County, and will discuss those in a posting later this evening if the threat becomes more clear.
We will update by, or before 7pm CT today. I will also have my nightly wrap-up around 10pm tonight.
Posted at 1:45pm CT Saturday by Eric