During Hurricane Harvey, I think we did a good job making pretty clear that our focus was to be on flooding. And ultimately, the majority of the damage and devastation wrought by Harvey as it moved through our region came via water. But one of the most surprising and occasionally unsettling aspects about Harvey's impacts on Southeast Texas were the tornadoes. The warnings came fast, they came furious, and a number of them were confirmed.
The @NWSHouston has issued 157 tornado warnings since the event began. That's more tornado warnings in 5 days than the last 5 years combined pic.twitter.com/xPgfou57Ka

— Kathryn Prociv (@KathrynProciv) August 30, 2017
The fine folks over at U.S. Tornadoes put together a really nice summary of this event, which likely ranks Harvey close to or in the top ten for most prolific tornado-producing tropical systems in the United States.
The Houston National Weather Service forecast office issued over 150 warnings for tornadoes through the storm. During that hellacious Saturday night and Sunday morning, over 30 tornado warnings were issued, most of them overlapping with flash flood warnings. We strongly encouraged people to keep their phone alerts on that night because the frequency of tornadoes was almost shocking (and because of numerous videos of an actual tornado in northwest Harris County late that Saturday afternoon that sort of drove home the point). That, coupled with the flooding likely lead to a long, sleepless night for many in the area. I'll have some comments about the phone alerting issue at the end of the post.
The early tornadoes
First, let's recap some of the tornadoes that actually occurred. The NWS Houston office has confirmed nearly 30 tornadoes as of September 14th, all of them either EF-0 or EF-1 strength. Here's a look at some of the tornadoes.

A couple quick notes on radar images and phraseology that follows: In the radar images we're sharing, the image on the left or top is the more "traditional" weather radar view you see, either on your phone, online, or on television. This is called base reflectivity. It shows basically where it's raining. The image on the right or bottom is the base velocity image from radar. Green or blue represents winds that are moving toward the radar, and red or pink indicates winds moving away from the radar. We often look to see the greens bumping up against the reds to indicate an area of rotation (often referred to as a "couplet."). It's much more complicated than that, but in general, that's what you'd be looking for.
Another note: Given that all this data is preliminary, and the NWS is still assessing radar data and reports, consider this post preliminary also. If there are updates or clarifications, we'll also update the post.
The first tornado we'll look at occurred on Friday afternoon, the 25th. It was rated an EF-0, came off the Gulf, and knocked over part of the McDonald's sign on Seawall Blvd. at the east end.
M-less @McDonalds due to reported tornado caused by #Harvey yesterday here on Galveston island pic.twitter.com/CRMNunChQF

— Keri Blakinger (@keribla) August 26, 2017
On radar, you could see pretty clearly that something was possible here.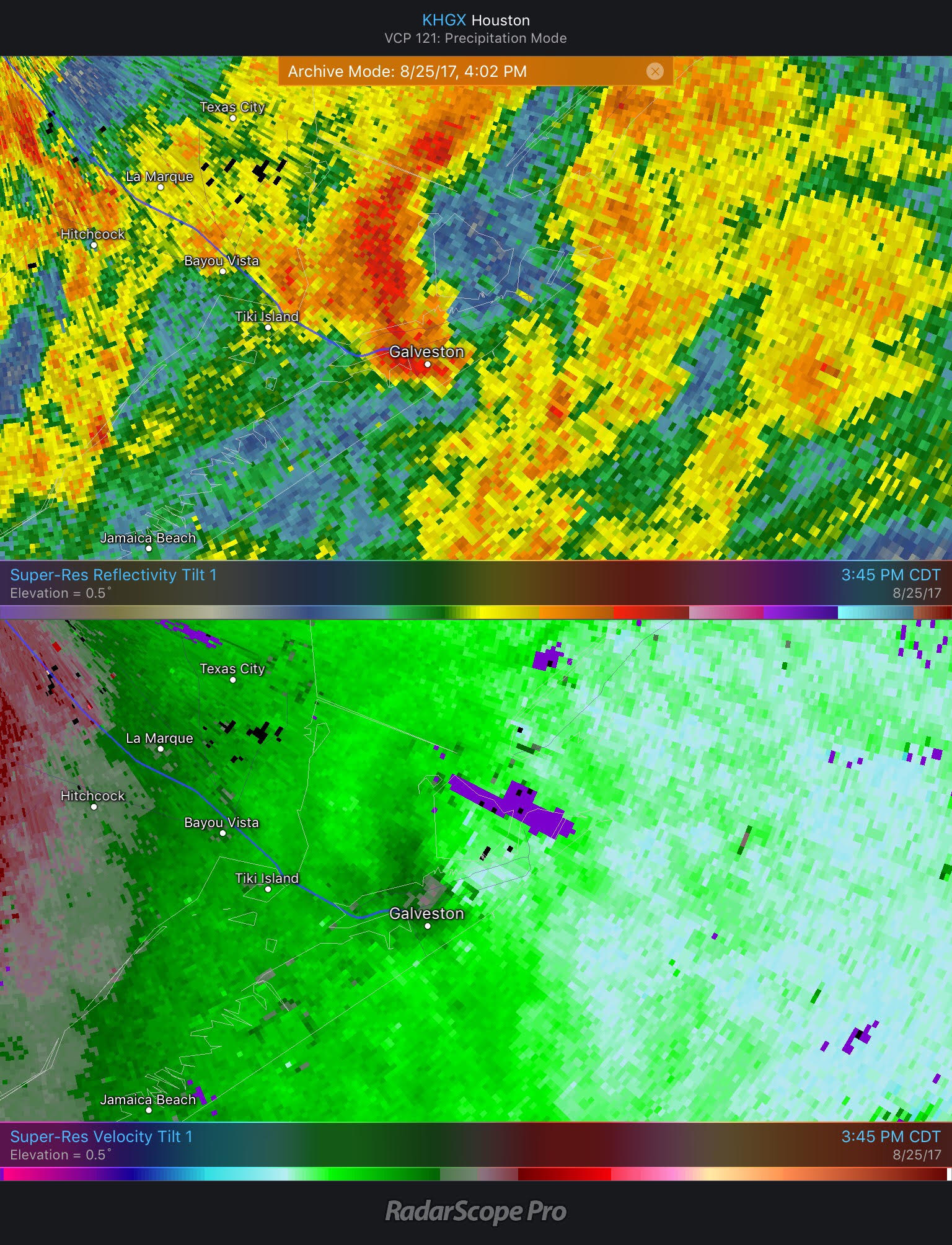 Right over Galveston, you can see on the bottom velocity panel, where there is a weak couplet. The signature disappeared quite quickly as the storm approached Bayou Vista, and ultimately it only looked like it could produce a tornado for about 15 minutes.
Next up, we'll go to Brazoria County. This tornado occurred near Danbury around 9:45 PM during the Friday night that Harvey arrived. This one was originally listed as an EF-1, but it has been reduced to an EF-0 as of the September 14th update.
This tornado damaged a barn off County Road 207, crossed Highway 35, moved over an open field, knocked down some trees along County Road 45, and then lifted just east of 288 near Crocodile Encounter.
Sienna Plantation
Our next tornado was one of the more damaging ones of the outbreak. This is the one that rocked Sienna Plantation just before 1 AM on Saturday morning.
Strong winds––a possible tornado––heavily damaged some homes in Sienna Plantation overnight https://t.co/UjDGUrym1z #HurricaneHarvey pic.twitter.com/s9mQH6kerG

— Matt Keyser (@bymattkeyser) August 26, 2017
https://twitter.com/FotiABC13/status/901455935771734016
Debris left by tornado that touched down last night in Sienna Plantation, Missouri City pic.twitter.com/oJvjLRRX12

— Dylan Baddour (@DylanBaddour) August 26, 2017
We'll walk through this one, as it seemed to last a bit. Here's an animation you can reference.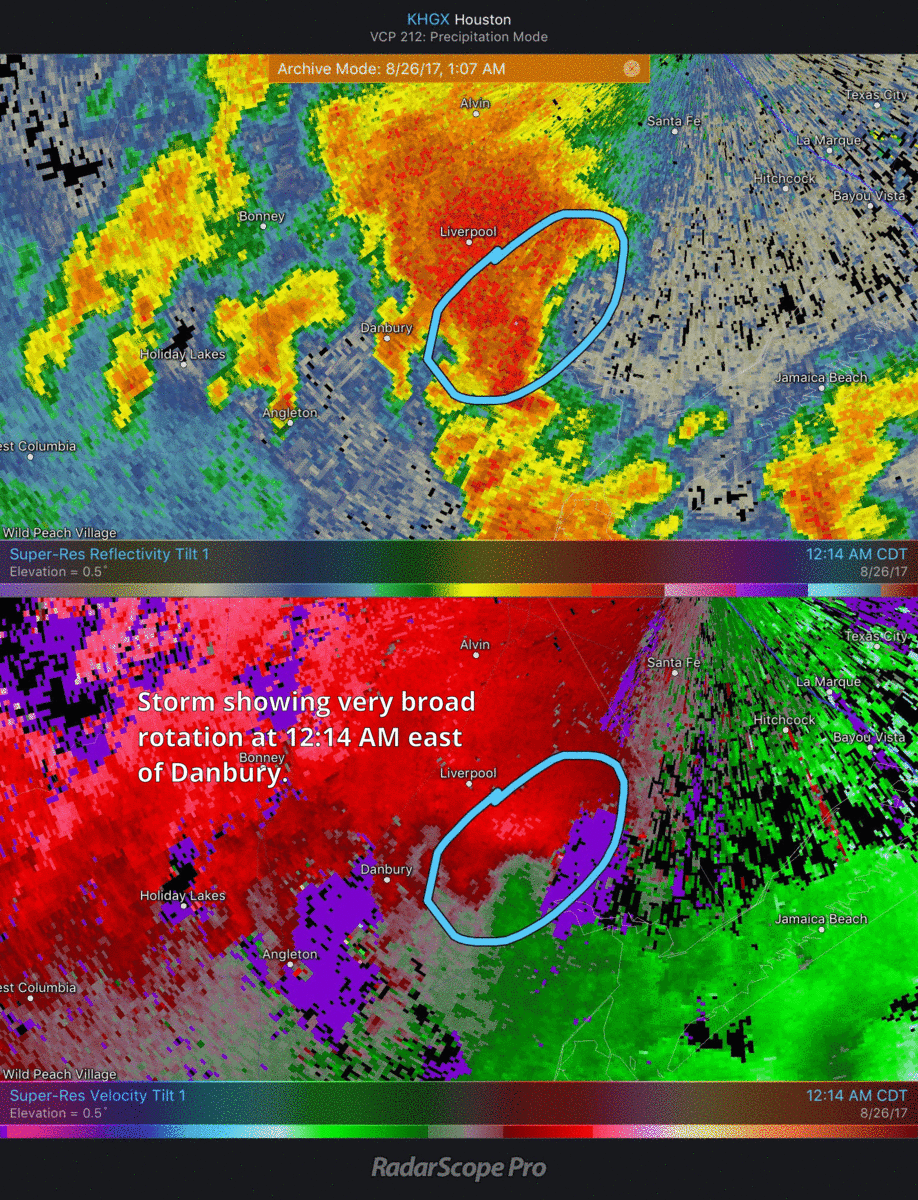 This storm was an interesting one. You can see how it evolved from broad rotation near Danbury to occasionally tightening up south of Alvin to a clear tornado around Sienna Plantation to a wind-producing storm just southwest of Missouri City.
Going deep into the meteorological weeds here: You can also use the dual-pol function of the radar to essentially "confirm" the tornado. Co-located with the reflectivity "hook" and quasi-couplet in the velocity are low correlation coefficients (CC) and ZDR (differential reflectivity) values.
The combination of low CC, low ZDR, high reflectivity, and a velocity couplet or tornado signature indicates that the radar is picking up debris. Thus, you can essentially confirm a tornado on radar without actually visually seeing it. Want to see more examples of how to use all the tools of radar available to you to confirm tornadoes? My colleague, Ryan Hanrahan up in Connecticut does a really good job explaining various radar-confirmed tornadoes in his blog.
One other view: Here's the Sienna Plantation tornado from the Hobby Airport Terminal Doppler Radar (TDWR).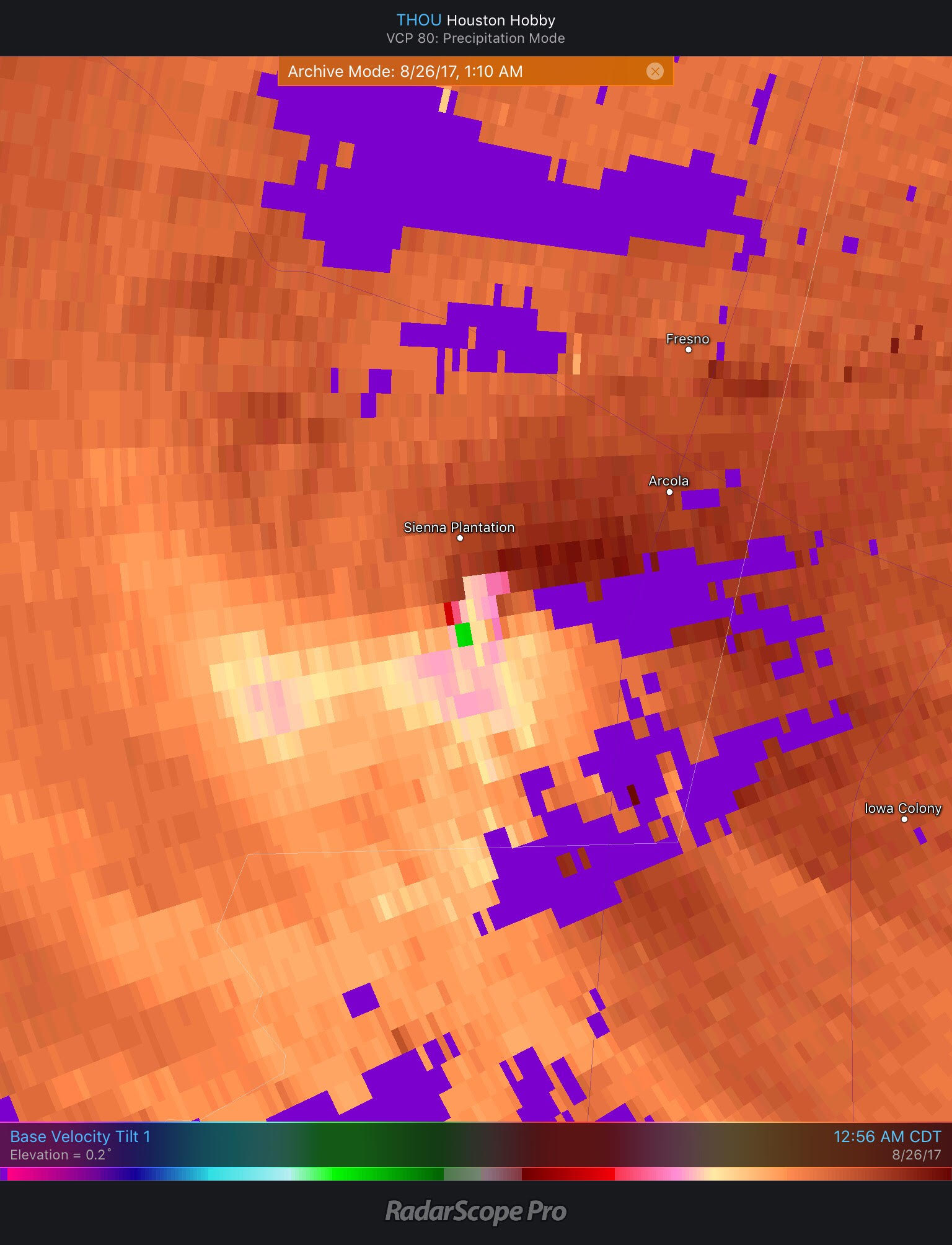 The color scheme is a little messy here (as it can occasionally be with TDWRs around here), but you can clearly see a likely tornado in there, moving right into Sienna Plantation. TDWR data covers a smaller geographic area, but it's a bit higher resolution and updates every minute, which can certainly be advantageous.
Katy
Another EF-1 twister occurred in Katy before 5 AM on Saturday.
Damage to an RV and boat storage business in Houston suburb of Katy from suspected tornado. #Harvey pic.twitter.com/1FeEiQsSQW

— Juan Lozano (@juanlozano70) August 26, 2017
En la Interestatal 10 & FM 1463 Katy Area, consecuencias de lo que se presume fue un tornado esta madrugada #HuracánHarvey pic.twitter.com/5Z1ZkaOwd3

— Crishtbel Mora (@crishtbel_mora) August 26, 2017
Photos: Possible tornado damage in Katy area https://t.co/gBgjK5H1f0 #KHOU #HurricaneHarvey pic.twitter.com/HjiN5SrebZ

— KHOU 11 News Houston (@KHOU) August 26, 2017
This tornado hit near the intersection of I-10 and FM 1463 just south of Old Katy. This had some of the more dramatic damage footage of the tornadoes during Harvey, as it scored a direct hit on a boat storage and RV business on the south side of I-10. This is very close to the new Buc-ee's that's slated to open off I-10 west. The tornado continued across I-10 extending the damage path to the Pepperl facility behind the Buc-ee's.
What was wild about the Katy tornado is that it formed within a band of thunderstorms that had multiple circulations. I'll interject here for a moment. Communicating these short-fused tropical tornadoes is incredibly challenging. These usually form very subtly. They form quickly, and they dissipate quickly usually too (This tornado was on the ground for approximately 8 minutes according to NWS). So when forecasters at the National Weather Service have to warn on these, it becomes incredibly difficult to do.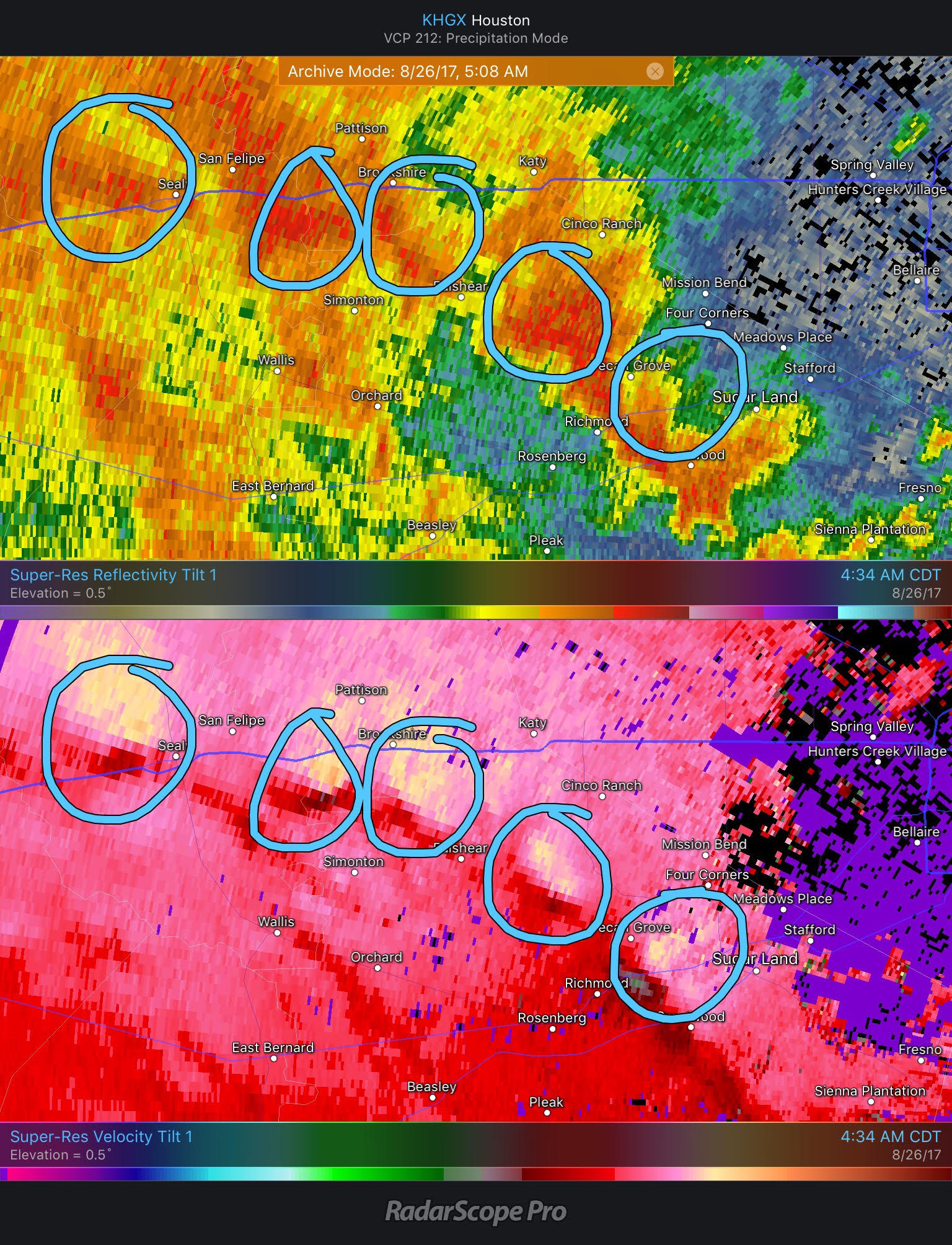 I mean, look at the image above and explain to me what you do with that? Any one of those could produce a 30 second to 15 minute long tornado. The one to the south probably looks the best at this point (and ultimately that would be the one to survive and produce the Katy tornado). But put yourself in their shoes for a second. This is truly a difficult to impossible challenge.
Anyway, the circulation near Richmond is the one that took over, and by the time it got to Katy, there's almost no question this was producing a tornado, just before 5 AM.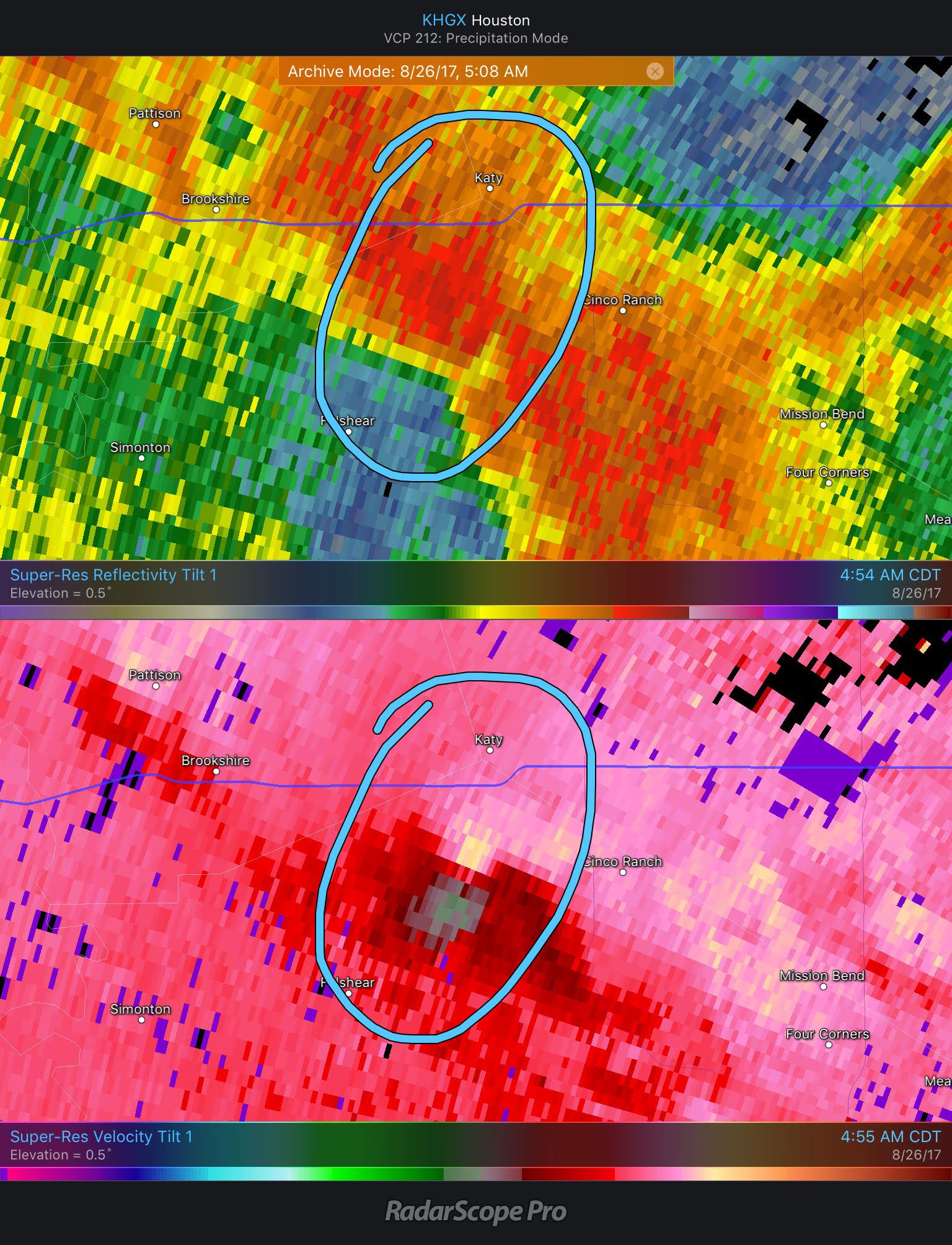 Also worth noting: There's not a clearly defined "hook" in the reflectivity imagery here. Tornadoes are difficult sometimes.
Cypress Tornadoes
We had a bit of a break through the morning and afternoon, at least from stronger tornadoes. By evening, round two cranked up in a big way as our flooding event began to take shape.
Two tornadoes were reported in Northwest Harris County after 4 PM on Saturday. If the Katy tornadoes had the most eye-popping damage, then the Cypress one(s) produced the craziest video.
#cypress #tornado #hurricaneharvey tornado hit my neighborhood near barker cypress and tuckerton. Thankful that everyone is ok! pic.twitter.com/UXK35ocRpF

— Nicole (@honeybfly81) August 27, 2017
Harvey spawns another tornado in #Houston-area. This one is in #Cypress. Credit: Sandra Judge #HarveyStorm #Harvey #khou11 pic.twitter.com/Gg8JN7z0bB

— Tiffany Craig KHOU (@TiffanyKHOU) August 26, 2017
The dirty CYP😬 pic.twitter.com/7AFroZTll4

— Tactful (@tactful__) August 26, 2017
Surveillance video shows tornado tear through Cypress neighborhood @KPRC2 #Harvey #Harvey2017 pic.twitter.com/BVxeXtBZIB

— KPRC2 Rose-Ann Aragon (@KPRC2RoseAnn) August 27, 2017
We found another angle of the #HurricaneHarvey tornado that whipped through the @BerryCenter parking lot on Aug. 26, and it's pretty crazy. pic.twitter.com/hsi5JMmPIb

— Cypress-Fairbanks ISD (@CyFairISD) September 13, 2017
The first tornado was likely the one shown in the above pictures and videos. It began slowly forming probably near I-10 and Highway 6 around 3:30 PM. It traveled just west of due north and quickly became better defined by about 3:35-3:40 PM. By 3:45 there was almost certainly a tornado with this one. I've included a radar image around the time the videos from near the Berry Center (the building Emoji on the map below) were recorded.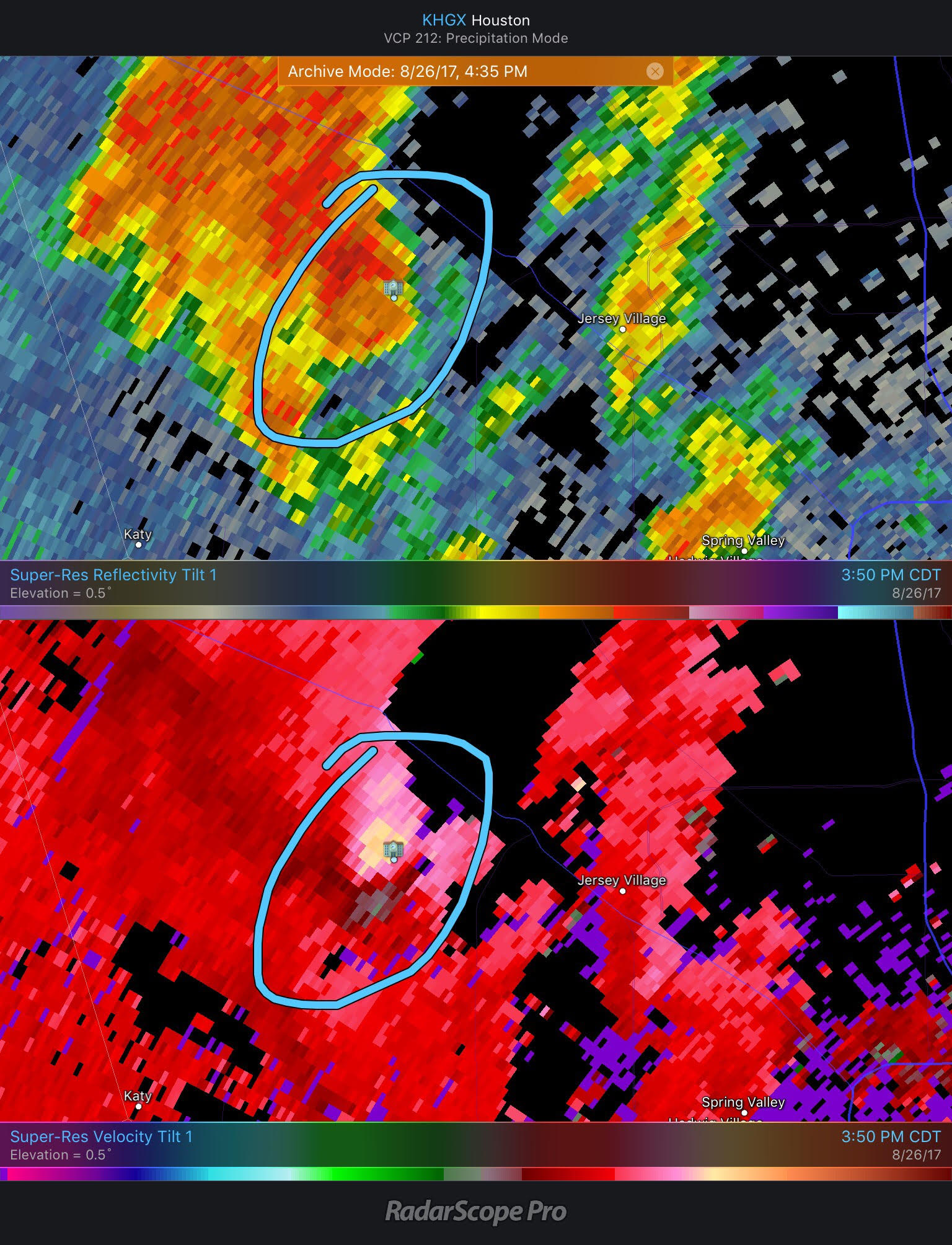 Using the dual-pol features as described earlier in the post, you can see we could probably confirm a tornado based on radar using correlation coefficients (top), but maybe not differential reflectivity.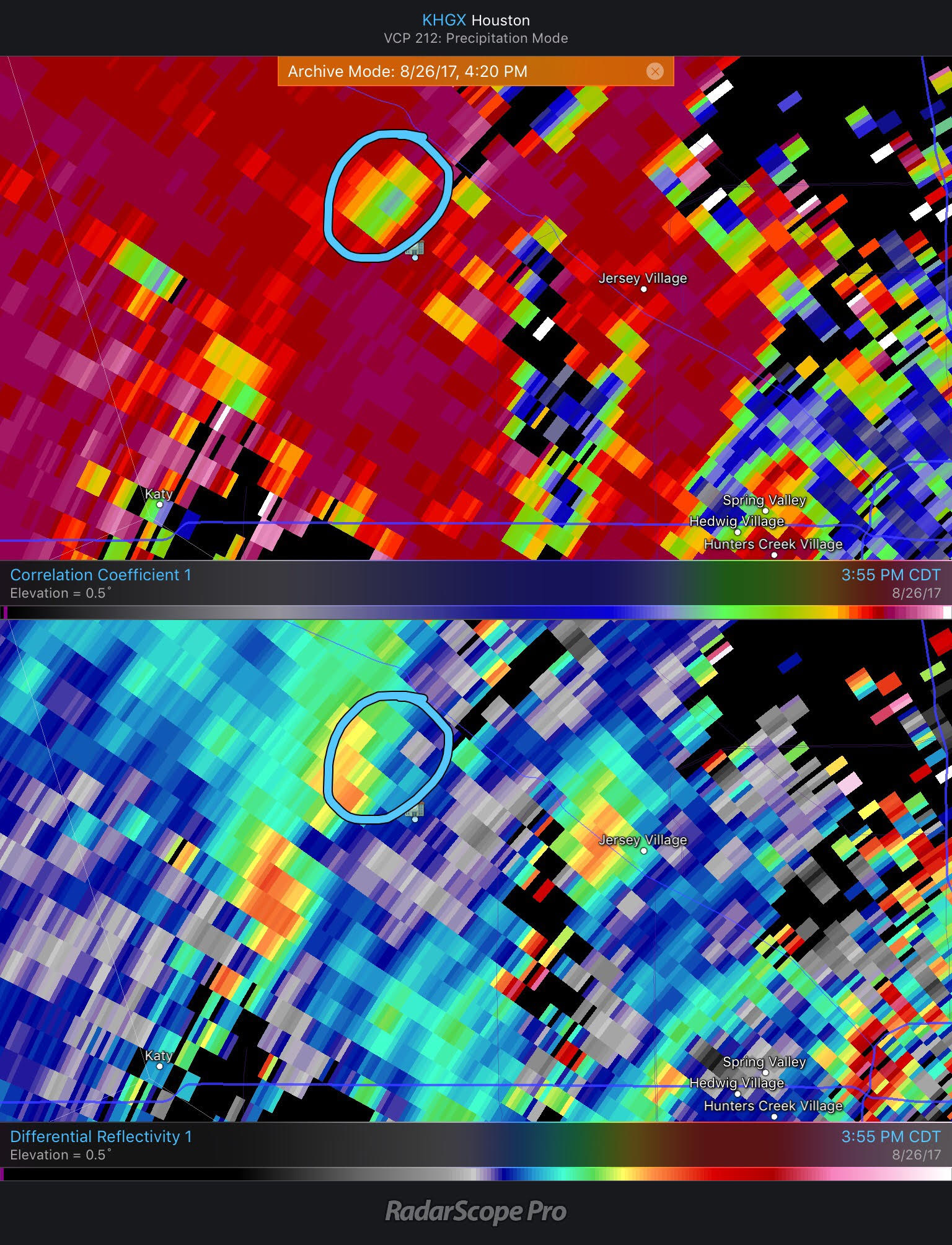 That first tornado was pretty impressive. It was followed up by a slightly less impressive second tornado, but it occurred quickly in the wake of the first. Here's a look at radar at 4:17 PM, only about 20 minutes after the first tornado.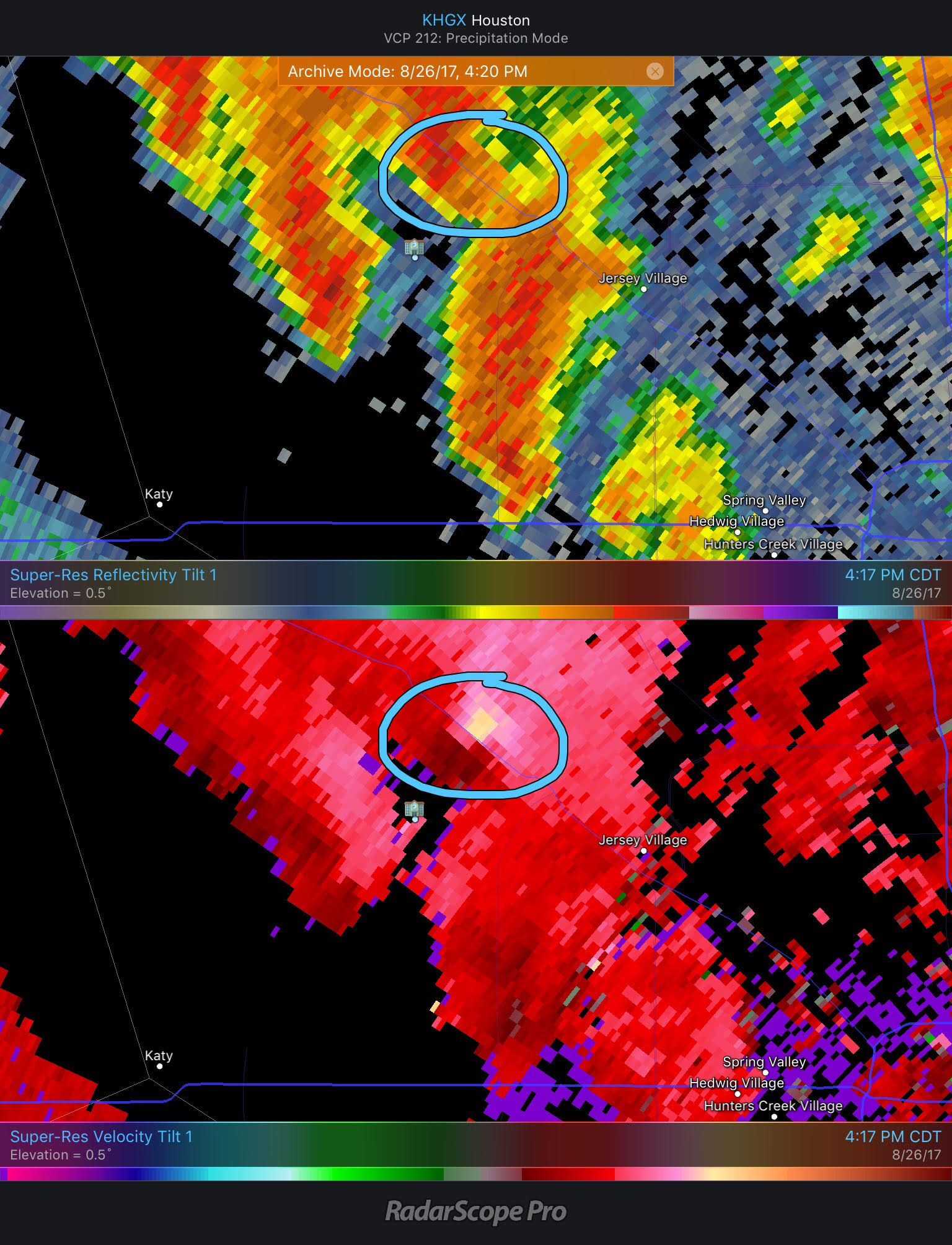 I don't believe we have video or pictures of the second tornado. This one was shorter-fused than the first one (which had a radar signature for about 30 minutes). In this instance, there was really only a good signature on radar for about 10 to 15 minutes.
Either way, the video of the Cypress tornado will be the one that probably outlasts any other tornado memories from Harvey.
Stafford/Missouri City
Another EF-1 occurred in Fort Bend County and damaged 28 homes near Missouri City, along with numerous businesses. This one may have been the strongest tornado of Harvey here in the Houston area. The damage was fairly extensive.
Missouri City tornado damages shopping centers along Texas Parkway. "King Dollar" took a hit. pic.twitter.com/gputBbpqae

— Jacob Rascon (@KPRC2Jacob) August 27, 2017
Tornado hit in Missouri City, Texas. 🌪. #hurricaneHarvey #houstonflood #hurricaneharvery pic.twitter.com/BNOqNC2qU0

— JASON (@Jaysito777) August 27, 2017
Tornado damage in Stafford/Missouri City, Texas. I didn't venture further but 1 street is full of trees. #Harvey #SoOverHim #PleaseLeaveNow pic.twitter.com/9dz4WNvsxG

— Amanda (@TXgirl48) August 27, 2017
Here's some of the pic from the Missouri city , tornado pic.twitter.com/KNzsC78A8B

— JOSE (@JOSEGARCIAZ06) August 27, 2017
Around 8:05 PM, if you look at radar, you see a very broad area of rotation showing up north of Sienna Plantation.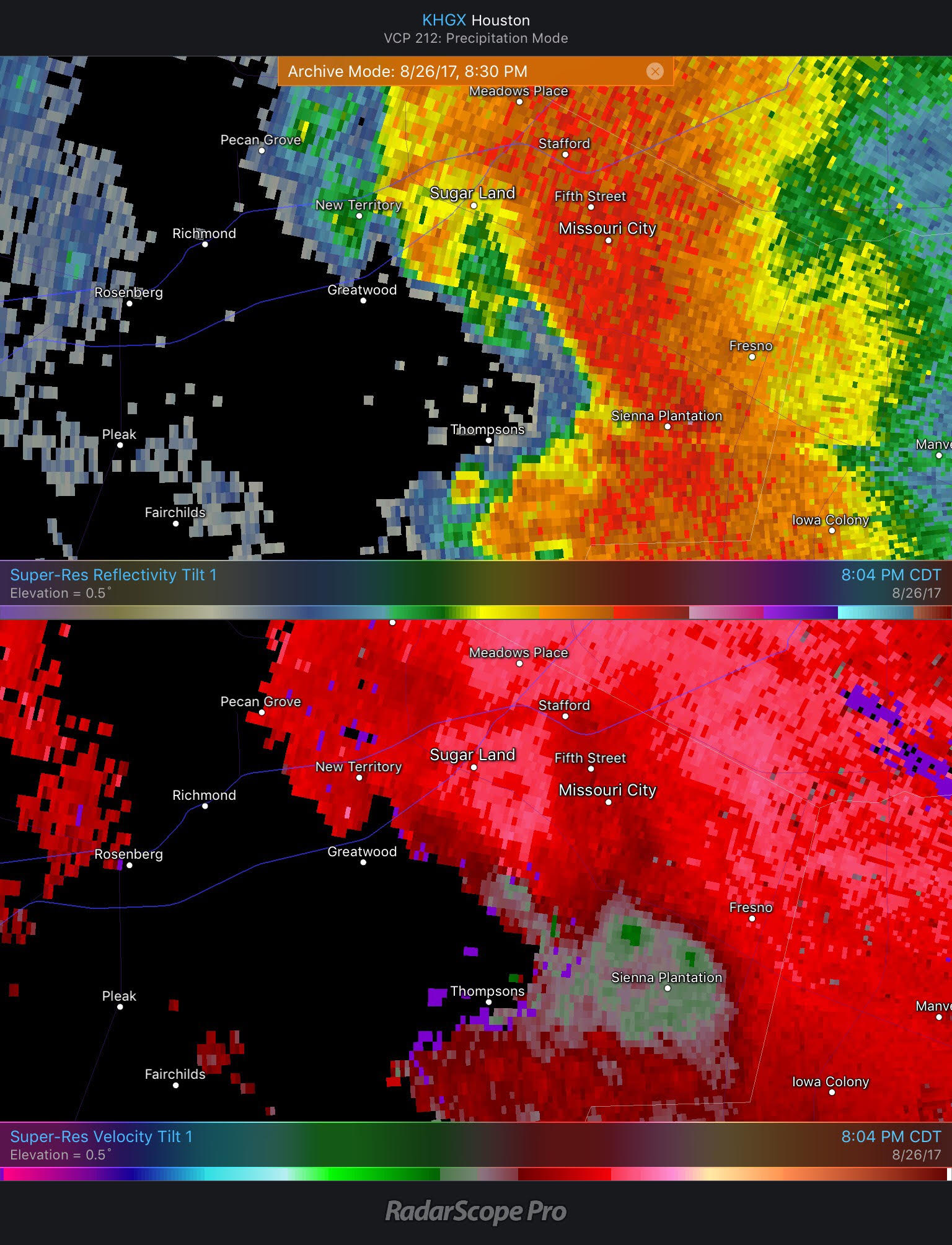 About 10 minutes later, you can see the rotation slowly tightening up near Missouri City.
Just beyond this point is likely when the Wingstop on FM 2234/Texas Parkway in the video above was hit by the tornado.
We can fast forward another eight minutes and see the tornado likely still on the ground, doing damage just south of Alt-Highway 90 in Missouri City.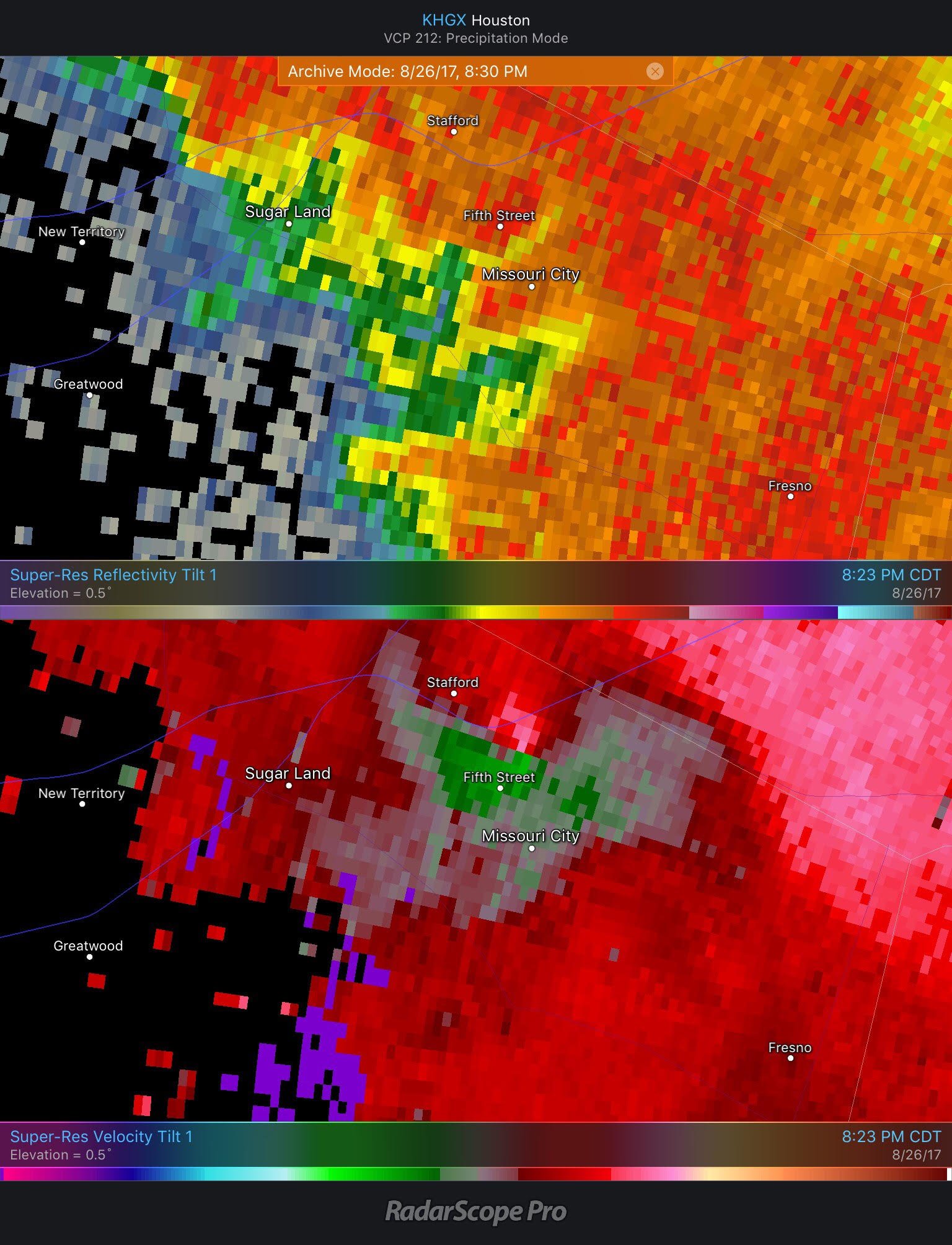 In addition to the traditional radar, you can again use the dual pol tools to see that this is likely also a radar confirmed tornado.
Looking back at #Harvey tornadoes. Tornado Damage Signature for MoCity EF1. Vel couplet UR,low corr coeff LL, low ZDR LR->tumbling debris pic.twitter.com/G8AaCa8mld

— Dan Reilly (@DReillyWx) September 12, 2017
The bottom left panel on the above image shows it best, with the little green/yellow blob showing up near Missouri City. If no one had been there, meteorologists would still be able to confirm the tornado.
By about 8:30, the tornado is dissipating as it approaches the Southwest Freeway, if it hasn't already lifted.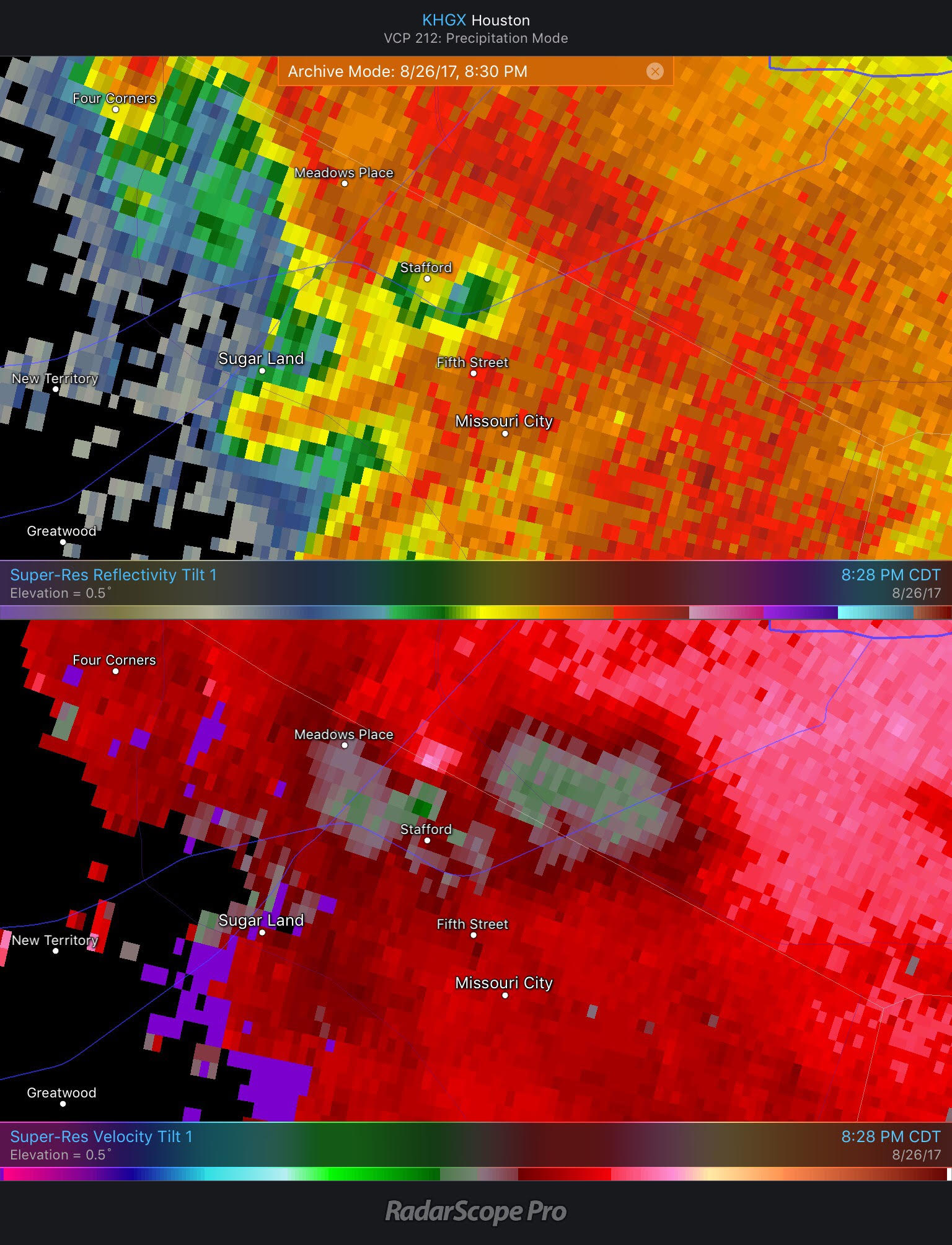 East Bernard
The last of our confirmed EF-1 tornadoes occurred around 5:30 PM Saturday near the Wharton and Fort Bend County lines west of Houston. According to the NWS post-Harvey report, the tornado started as an EF-0 near Downtown East Bernard, then moved across Alt-Highway 90, strengthened into an EF-1, snapped some trees and damaged the brick facade of a home.
The photos below are from August 27th, so I'm not sure if this is from *this* particular tornado or not, but they are from East Bernard.
@Fox26Houston Tornado damage in East Bernard Tx. Hit at 1:30am pic.twitter.com/M5WGEJgMj4

— Lori Middleton (@Footballmum77) August 27, 2017
@Fox26Houston More tornado damage East Bernard Tx pic.twitter.com/nYpBoy6FLy

— Lori Middleton (@Footballmum77) August 27, 2017
@Fox26Houston More tornado damage East Bernard Tx pic.twitter.com/dvMxQcOgcl

— Lori Middleton (@Footballmum77) August 27, 2017
Anyway, on radar, this tornado formed just after 5 PM on Saturday. It showed a decent radar signature just west of Kendleton, along Highway 60 in Wharton County.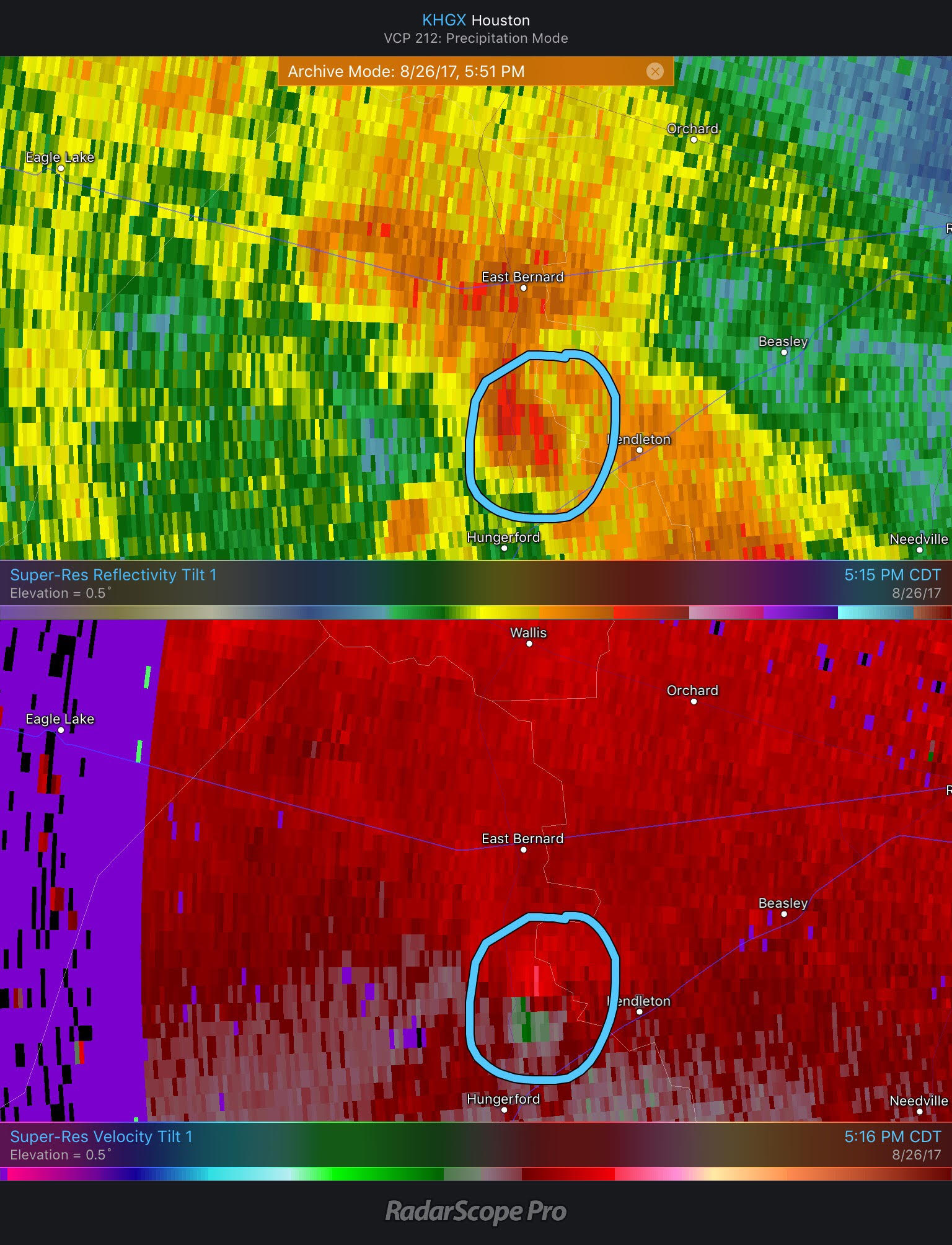 Around 10 minutes later, you can see the tornado has moved north into East Bernard. The signature is actually a little less impressive here, but this is where it did some damage.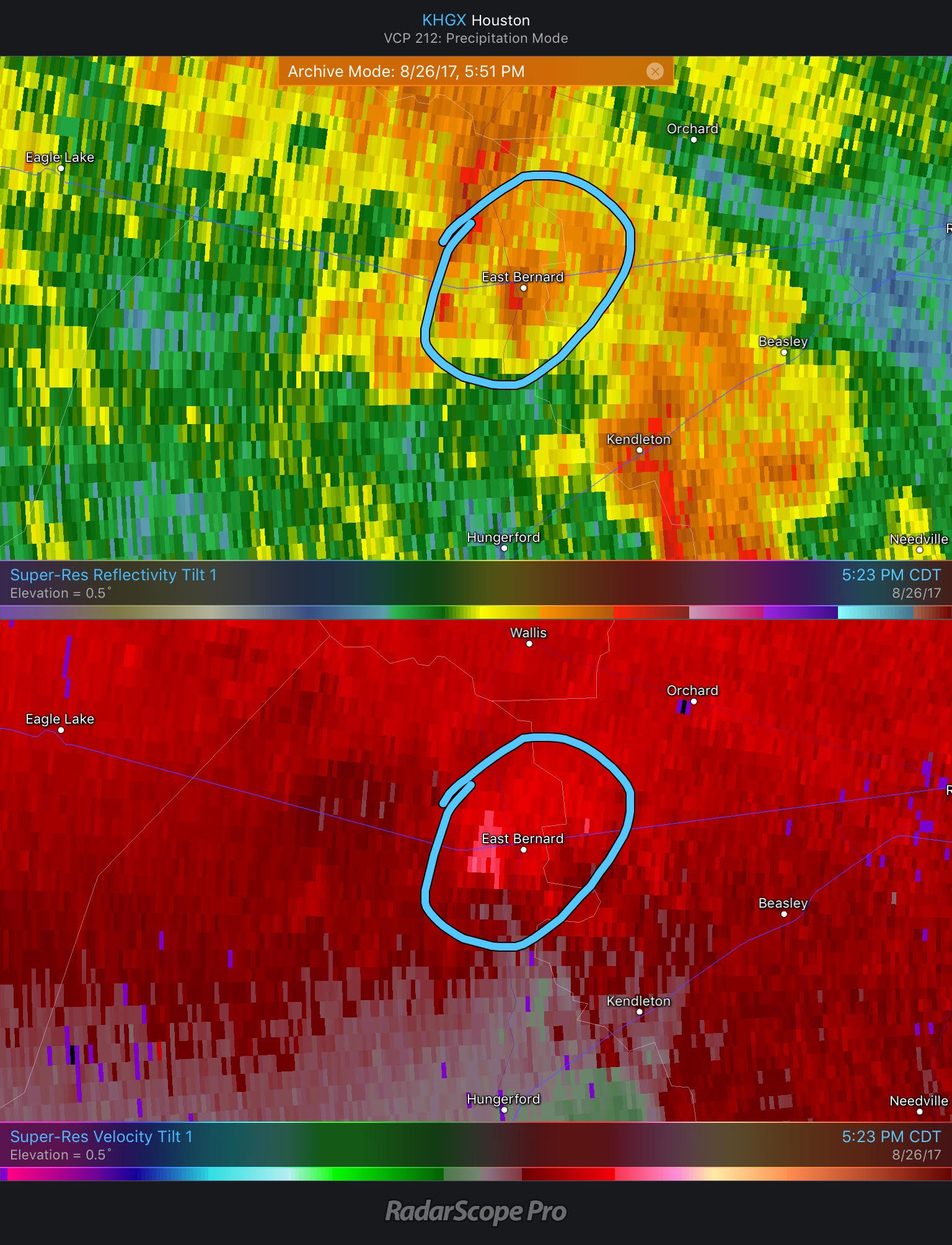 Around five or ten minutes after this, the signature dissipated, and the tornado had certainly lifted. Either way, just another short-lived, tricky tornado to peg down.
Final comments
I know a lot of people were shaken and, at times, frustrated with the number of warnings that kept popping off on their cell phones throughout the event. If there's one thing I hope you can take away from this post, it's that warning on tornadoes is very difficult in a normal situation. In a situation like this, where storms are racing and producing very quick, very short-lived tornadoes (that can cause serious damage), the folks at the National Weather Service, who are obligated to warn for these things have an overwhelmingly difficult job to do.
If I could present one criticism it would be this: I would like to see a situation where weather alerts on your cell phone can be broken down by warning type. For example, while the flash flood warnings were critical (and well handled) in this event, a lot of you knew it was flooding, and perhaps your nerves would have been less rattled if your phone only went off for tornado warnings. It's a very difficult problem for which there is no real good solution. But I think everyone should be able to have some flexibility in what they're being warned about.
An argument I've heard from some in the meteorology community about over-warning on tornadoes is that we should "only warn for the bigger ones" in situations like this. To that, I'd say, look at photos of the damage in Missouri City or Sienna Plantation and videos of the Cypress tornadoes. These were EF-1 tornadoes, or "weak" tornadoes. But there was enough damage in a few of those instances to injure or kill someone. So I do not think that's the answer here. At the same time, we really need to understand that some people will begin to tune warnings out if they get too many and nothing happens to them. So trying to find a balance is important. I just don't know exactly what that balance is. Maybe the reality is just that systems like Harvey are unique. Perhaps it's up to everyone to be understanding through the event and realize that the warnings aren't being issued to annoy us but to protect us. It's a tough pill to swallow, but then again, Harvey was a really tough storm to go through. There aren't concrete answers here, but there are topics that merit further conversation.