On December 3, 1933 Hobby Airport reached 85°, making it the warmest December day on record, a record that held for 88 years and finally fell yesterday when Hobby topped off at 87°. The City of Houston officially hit 84° on that December 1933 day, a record that stood until December 3, 1995, when Bush Airport hit 85°. Yesterday, for the first time since that 1995 day, Bush Airport hit 85° in December. Yesterday was most likely the warmest December afternoon on record in the Houston area. It's not impossible to think today could be equally hot.
Today
After watching my Rutgers Scarlet Knights men's basketball team upend #1 Purdue last night, it was tough to come down from that high. Then I opened the door this morning. We all have opinions about warm weather in winter ranging from "This is amazing" to "I hate everything." I don't personally care for it, but alas, here we are. Today will be another scorcher by December standards. We will have a mix of clouds & sun with highs likely in the mid-80s.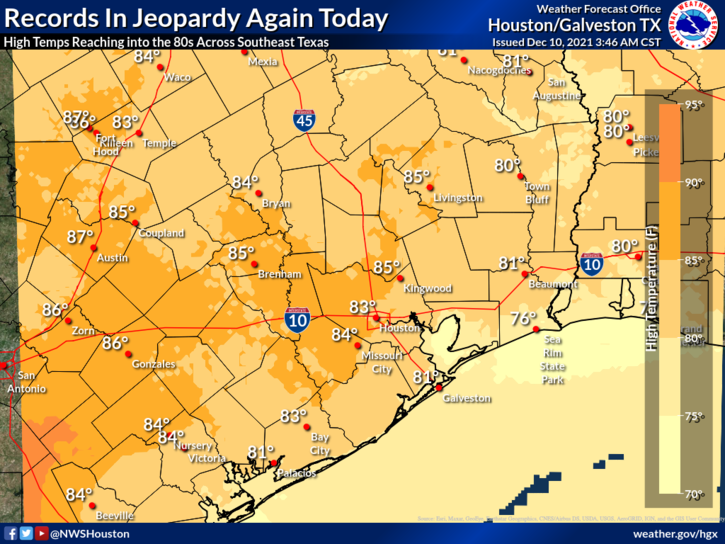 Coastal fog has been mitigated some by a breeze overnight. We could see fog attempt to develop in Galveston and coastal locations at any point today though, particularly if winds lighten up some late. A stray shower or some drizzle is also possible today.
Tonight & Saturday
For those sick of the hotter weather, you may bask in the weekend. We will continue quite warm and humid tonight. Temperatures will not go very far, with steady readings in the 70s likely into the early morning hours. The cold front will arrive with authority after 4 A.M. on Saturday in central Houston, an hour or two sooner northwest of the city and an hour or two later southeast. By sunrise, the front will be offshore. Look for temperatures to plunge from the mid-70s into the 50s, where they likely will stay for most of Saturday.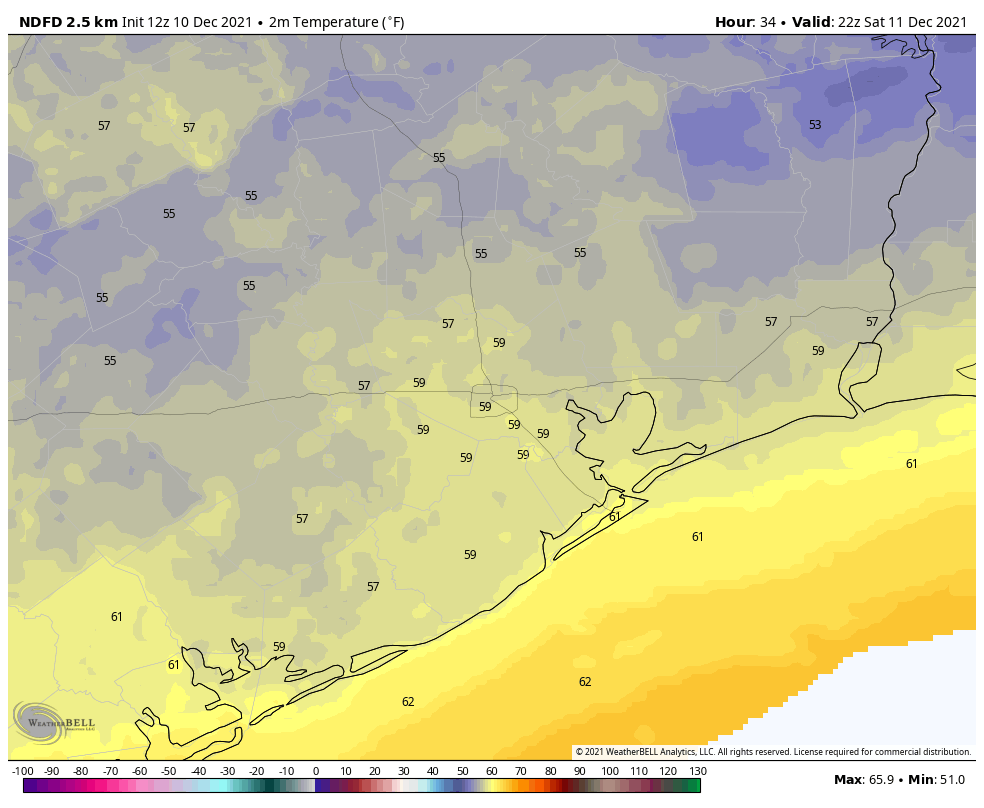 In addition to a change of seasons, this front will come with some showers and storms. Look for a narrow but potentially noisy line of brief storms after 2 or 3 AM on Saturday, ending around sunrise. This will be followed by clouds, along with some light rain or a few showers perhaps. Wind gusts of 20 to 25 mph will accompany all this, just to add to the autumnal ambiance. I don't expect us to see much sunshine on Saturday until perhaps late in the day.
Sunday
As skies clear out late Saturday evening and winds back down some, temperatures will fall as well. Look for Sunday morning to begin in the low to mid-40s in most places, with some 30s likely outside the city. Sunday itself looks gorgeous. Expect sunshine and highs a bit above 60 degrees.
Next week
The return to autumn or early winter weather will be brief. We warm up a little beginning Monday, with morning lows in the upper-40s and daytime highs in the low-70s under sunshine. Monday actually looks spectacular, although clouds may increase through the afternoon.
By Tuesday, onshore flow will begin to exert more influence. This will warm us and bump back up the humidity. Look for highs well into the 70s and lows in the 60s. More of this on Wednesday and Thursday is expected. Yes, we could hit 80 degrees again one or multiple times into late next week. In addition to all this, the usual suspects that typically accompany these December warm ups (clouds, scattered showers, and fog) will join us again as well.
When will we see another cold front? As of this morning, the Euro has one around Sunday next weekend, while the GFS is more like the Monday or Tuesday the week of Christmas. Keep the shorts handy a little longer.