Good morning. This is the second week of our annual fundraiser, and you can purchase merchandise or make a donation here. Readers will often email us in the middle of summer asking if they can buy a t-shirt, but we only do this in November, when the weather is typically benign. So don't miss out!
After a fall-like weekend our temperatures will be on the upswing to start this week before a front arrives sometime around Wednesday night. There don't appear to be any fireworks with this front, but it should set the stage for a pleasant second half of the week. At the end of this post I'm also taking a stab at the Thanksgiving forecast—unfortunately right now it's not one to relish. The only sure thing about the forecast for the next 10 days it that it will be stuffed with puns.
Monday
Low temperatures this morning have fallen to about 60 degrees, and with mostly sunny skies we'll likely see highs reach about 80 degrees this afternoon, give or take. Winds will be light, out of the south, and as a result dewpoints will continue to inch upward. Overnight lows should again drop down to around 60 degrees in Houston, with warmer conditions along the coast, and moderately cooler ones inland.
Tuesday and Wednesday
These should be more fairly warm days, for November, with highs in the vicinity of 80 degrees, moderately humid air, and mostly sunny skies. Some time after midnight on Wednesday, and sunrise on Thursday, the region's next front should arrive. This may bring some very scattered showers and thunderstorms as it passes through, but right now the overall setup does not appear to favor much rainfall. This will usher a drier and cooler air mass into the region.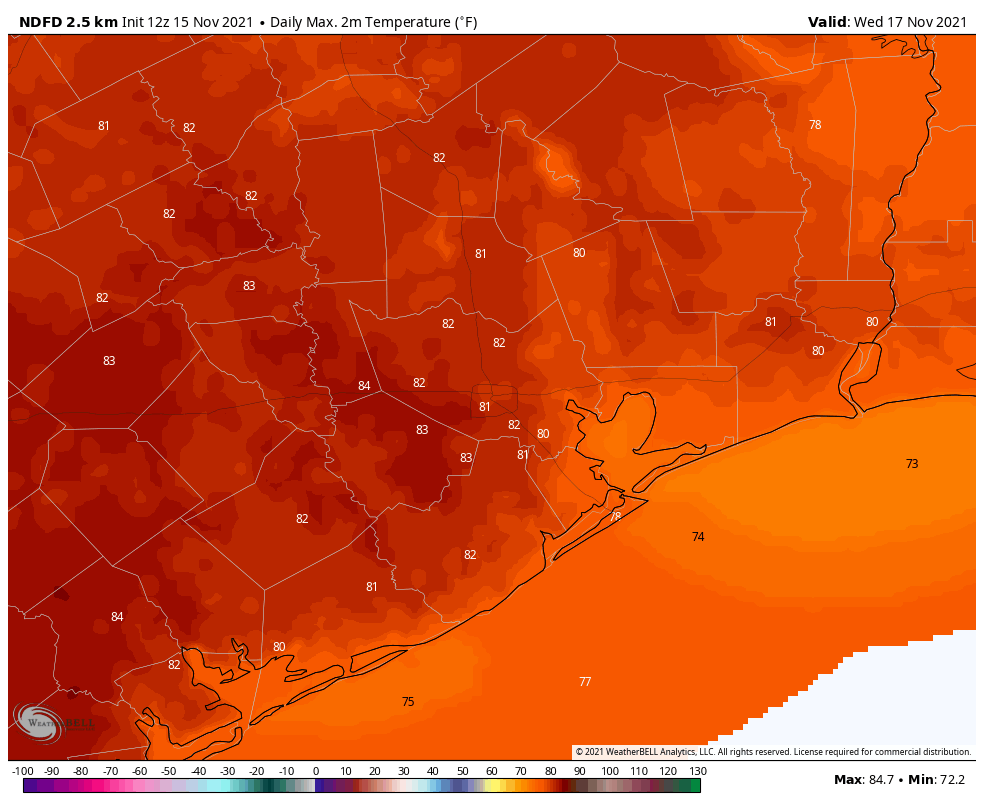 Thursday
Skies will be mostly cloudy to start the day, with some sunshine probably mixing in during the afternoon hours. For inland locations, highs may not reach 70 degrees, with the immediate coast likely seeing highs in the low 70s. Winds will be moderate, out of the north at 10 to 15 mph. Thursday night should see temperatures drop to 50 degrees or just below in the city, with 40s for other inland areas, 50s closer to the water.
Friday
This will be a clear and sunny day with highs likely in the mid-60s. Expect another night with similar temperatures to Thursday night, as lows drop to around 50 degrees in Houston.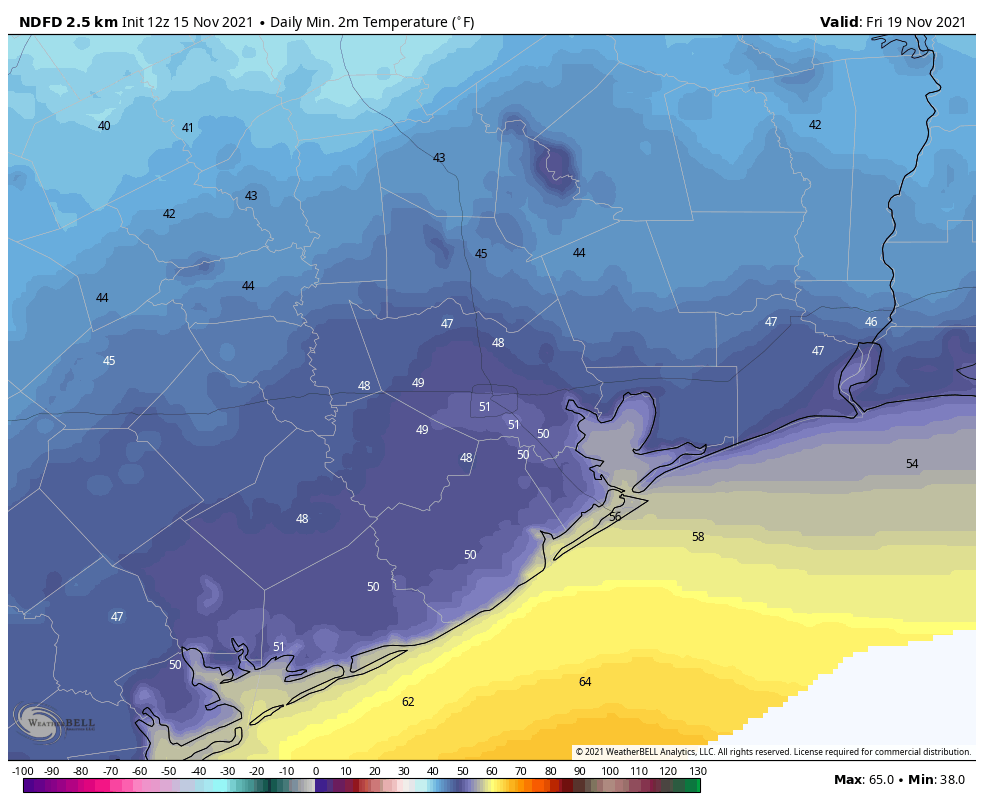 Saturday and Sunday
We should see another pleasant fall weekend—at least to start. With sunny skies, highs on Saturday should max out in the low 70s. Overnight lows will be a bit warmer than the previous two nights, likely dropping to around 60 degrees. Sunday should be warmer, perhaps in the mid- to upper-70s, with increasing clouds. Another front is slated to move through later on Sunday or Monday, and this could generate some rain showers on Sunday and Monday. The details are to be determined, both about the amount of rain, and strength of the front.
Thanksgiving week
We've been in a general pattern for awhile now of getting a front, seeing things cool down for a couple of days, subsequently warm up again, and then seeing another front. I think this pattern will continue, and this would put us in line for a warming trend in the middle of next week, around Wednesday, Nov. 24. The question then becomes how quickly the next cold front comes through, and right now the medium-range models are suggesting a possible frontal passage on Thanksgiving, plus or minus day. Some of the models also suggest there will be enough moisture for some decent rainfall. So my best guess is that Thanksgiving starts out fairly warm, but may cool down later with a wet frontal passage.
It's still a long way to go, however. We still have 10 days to go before Thanksgiving. So hopefully this is a turkey of a forecast.