Good morning. As it often does during the fall, Houston is riding the roller coaster, with temperatures plunging after a front moves through, bottoming out over a period of one or two nights, and then beginning to rise again. We're now in the middle of the pattern during which we're rising again. Temperatures will peak on Wednesday, in the low- to mid-80s, before we drop again Thursday. Make sure your seat belts are fastened!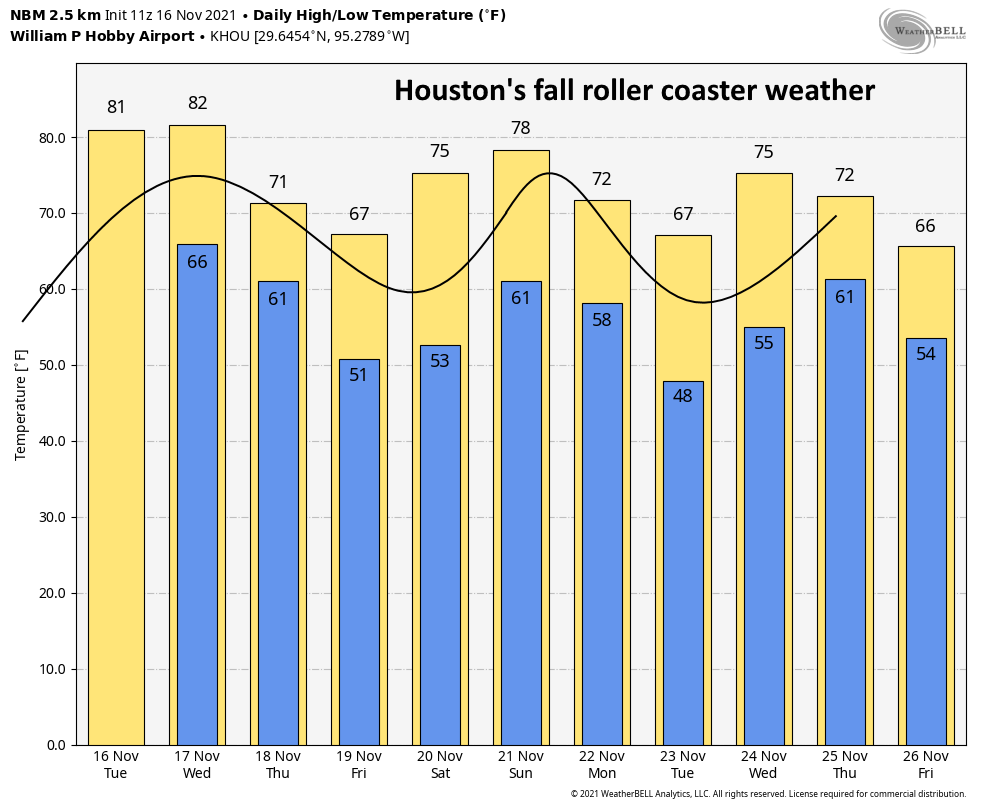 Tuesday
There is some patchy fog across Houston this morning, but it will burn off quickly. Skies will otherwise be mostly sunny, with southerly winds of 5 to 10 mph. Highs will climb to about 80 degrees in Houston, with slightly warmer conditions west and southwest of the city, and slightly cooler right along the coast. Lows tonight will not drop too far, likely only into the upper 60s.
Wednesday
This will be another day an awful lot like Tuesday, albeit with temperatures possibly a degree or two warmer still. Fortunately, for those who would like to see some November-like weather in November, a front remains on track for Wednesday night. In terms of timing, it's likely to reach the College Station area around midnight, push into the city a couple of hours later, and reach the coast around sunrise or shortly before hand. A broken line of light to moderate showers may accompany the front, but right now accumulations are likely to be less than a quarter of an inch for nearly all of us.
Thursday
In the front's wake, skies should be mostly cloudy Thursday morning, although we should see some clearing during the afternoon hours. Highs will reach about 70 degrees, and northerly winds will be bringing drier air in throughout the day. Lows Thursday night should bottom out in the upper 40s in Houston, with cooler conditions inland, and warmer near the coast.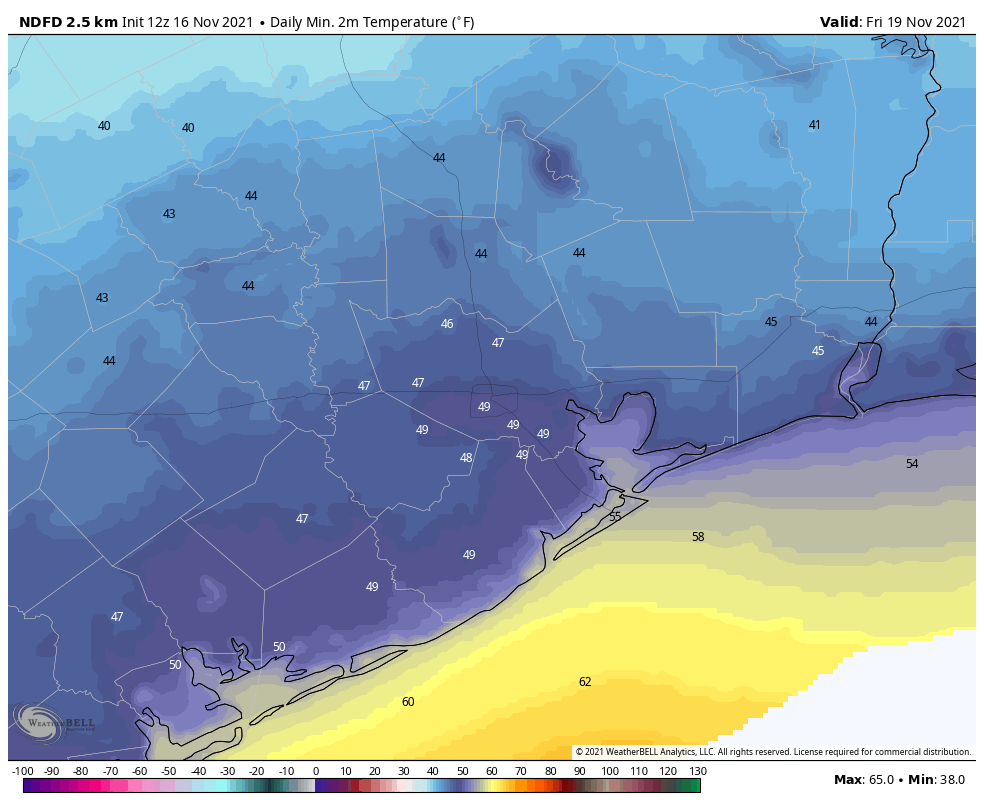 Friday
This will be a cool, but beautiful day with sunny skies and highs in the mid- to upper-60s. Lows Friday night will probably be a couple of degrees warmer than Thursday.
Saturday and Sunday
The first half of the weekend should see continued mostly sunny skies, although highs will probably push back up into the mid-70s. This will be a fine day for outdoor activities. Sunday should be a few degrees warmer, and will likely see more clouds. It looks as though another front will arrive later on Sunday or Monday, and this will introduce a chance of showers later on Sunday, although the timing is to be determined.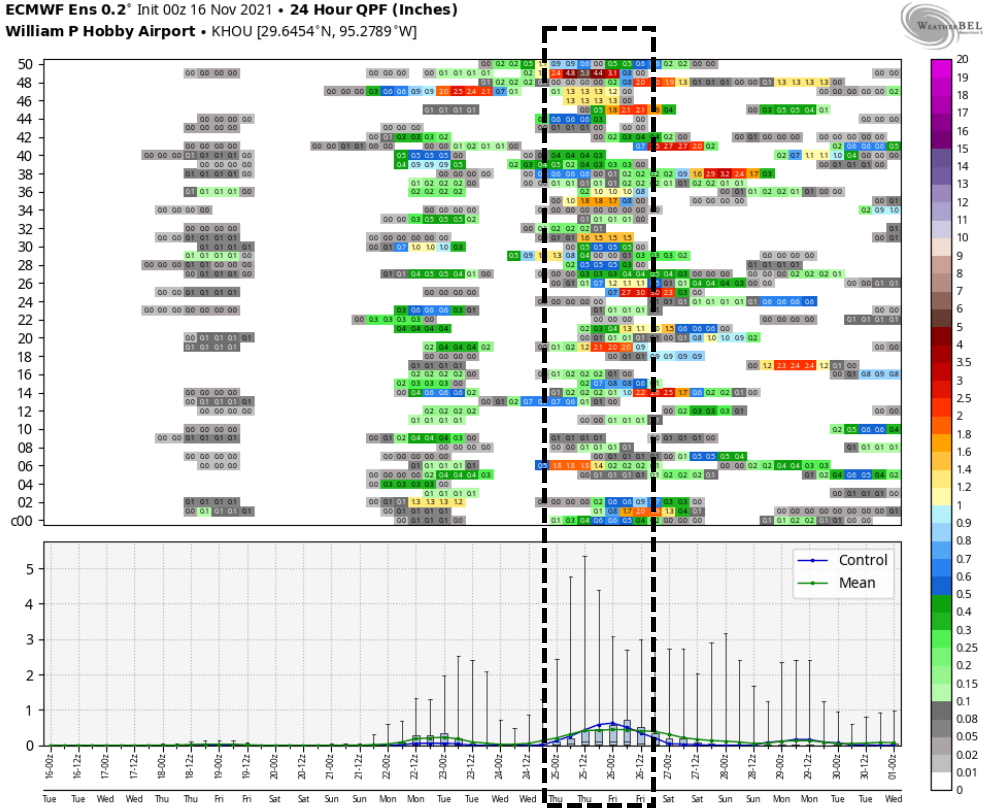 Next week
The front should usher somewhat cooler and sunnier weather into the forecast for the early part of next week before a warming trend begins—the roller coaster, remember? I mentioned yesterday that models were hinting at the arrival of yet another front around Thanksgiving Day, and it still looks like this could be the case. All of the caveats for a long-range forecast apply here, but it still seems possible to me that we could see a wet front passage sometime on Thanksgiving Day or night.
Fundraiser
We're smack dab in the middle of our annual fundraiser, during which we're raising money to support the site, our weather app, and more. You can buy merchandise or donate here. Thanks for your generous support so far!