Good morning. Before jumping in to the forecast, I wanted to spend just a moment discussing why some areas of the region will see snow on Sunday night and Monday, and others sleet or freezing rain. It has to do with the temperature in the column of air above the surface, through which precipitation falls.
Snowflakes form high in the atmosphere, and if the temperature remains below 32 degrees as they fall thousands of feet to the surface, they remain snow. However, if there are pockets of warmer air and then sub-freezing temperatures again, sleet will form as snowflakes, melt, and then re-freeze as small ice pellets. And finally, if there is warmer air near the surface, but not at the surface, we'll get freezing rain. The graphic below helps depict these processes.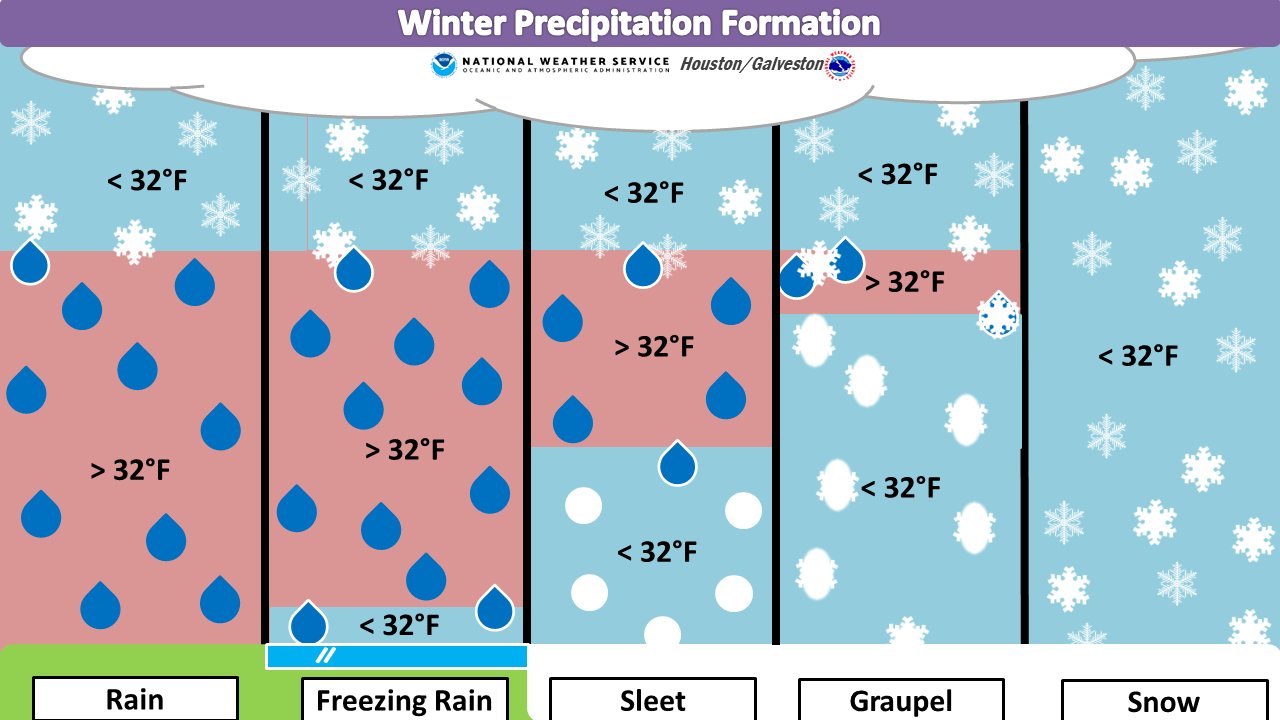 This is the primary reason we think freezing rain is most likely near the coast—where the Arctic air mass will be most modified by the warmer Gulf of Mexico near the surface—and snow most likely over areas well inland. In terms of roads and potentially power lines, freezing rain is most problematic because it only takes a little to stick to roads and make them icy, and not that much more to accrue on power lines and weigh them down, or become more susceptible to blowing winds.
We're starting to get closer to Monday, so higher resolution models are beginning to come into our forecasts, and as they do so confidence in which types of winter precipitation, and how much will fall, will increase.
Saturday
Temperatures are above freezing across the Houston area this morning, but only barely. They won't rise a whole lot today, likely only reaching the upper 30s in Houston, and near 40 degrees along the coast. Buy hey, that's better than freezing, right? In terms of wintry precipitation, our concerns now begin tonight for parts of the metro area northwest of a line from Katy to Tomball to Conroe. This is because lows for those areas are now expected to fall to about 30 degrees. This, in concert with light precipitation, could lead to some icing on elevated roads and bridges.
Sunday
Highs on Sunday should get into the mid-30s for even these inland areas, and warmer in Houston itself, so traveling across the metro area after mid-morning on Sunday should be fine. But the further west and north you go, you're still going to run into freezing conditions.
Conditions begin to deteriorate by around sunset on Sunday in Houston. This is when we expect widespread precipitation to move into the area, and temperatures to begin to fall below 32 degrees. Some inland areas won't see above freezing temperatures again until Wednesday.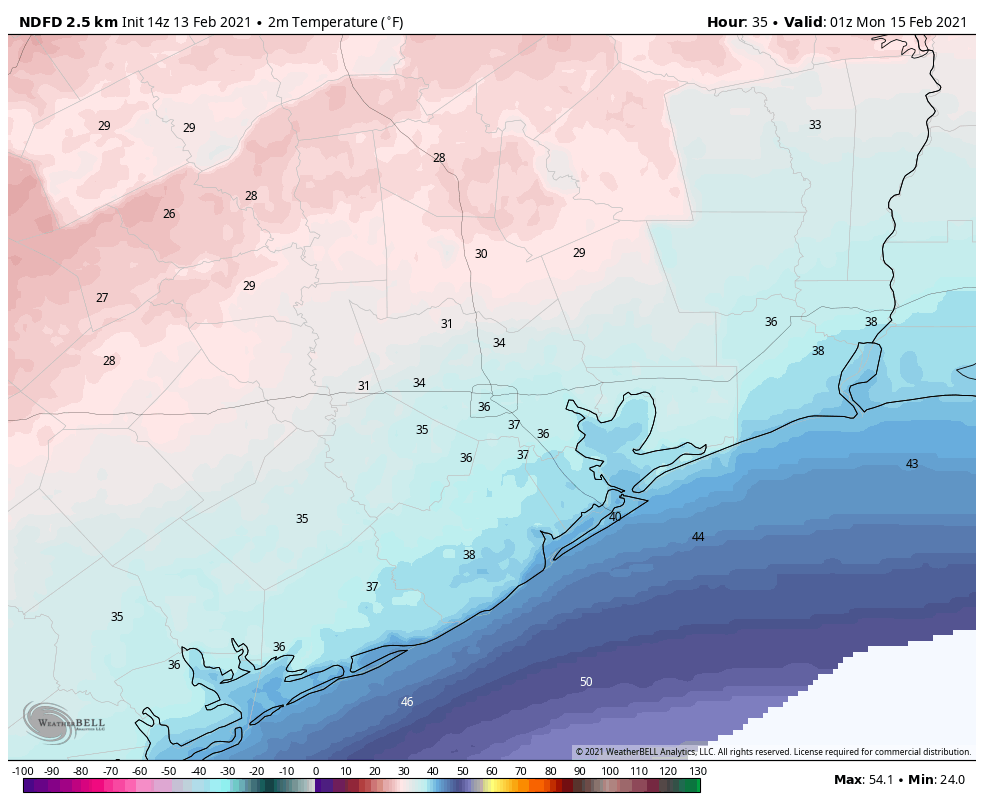 Sunday night and Monday
This is when conditions on area roadways will become treacherous. As noted above, we expect snow to fall across inland areas where temperatures are the coldest, but we don't know where snow will switch to sleet, only that this line will likely be somewhat north of Interstate 10. In terms of accumulations, here is our best forecast at this time, but it remains highly subject to change as additional high-resolution forecast models enter the picture.
Snowfall: For areas that receive it, about 1 inch, with 2 or more inches possible for Conroe and areas north of there.
Sleet: About 1 inch for central parts of the Houston metro area, with less north (where there will be more snow) and south (where freezing rain is more likely).
Freezing rain: About one-quarter inch for areas along and south of Interstate 10.
It now appears likely that precipitation will wrap up by around Noon on Monday, if not shortly before. Unfortunately, because temperatures at that time will probably only be in the low 20s for most of the area, whatever falls on the roads is not going anywhere. Moreover, with winds gusting out of the north above 30 mph, especially along the coast, it will feel like 10 degrees or below. Finally, these winds could play havoc with iced over power lines. So yeah, Monday is a day to stay home and hunker down.
Tuesday
After the precipitation ends, skies may begin to clear overnight. With extremely cold air in place, this will allow for ideal cooling conditions heading into Tuesday morning. And it will be exceptionally cold for Houston. Areas where there is snow on the ground, well west and north of Houston, may see temperatures of 5 to 10 degrees, and the coast will only be marginally warmer, in the low 20s. (The all-time record low for Houston is 5 degrees, set in 1930.)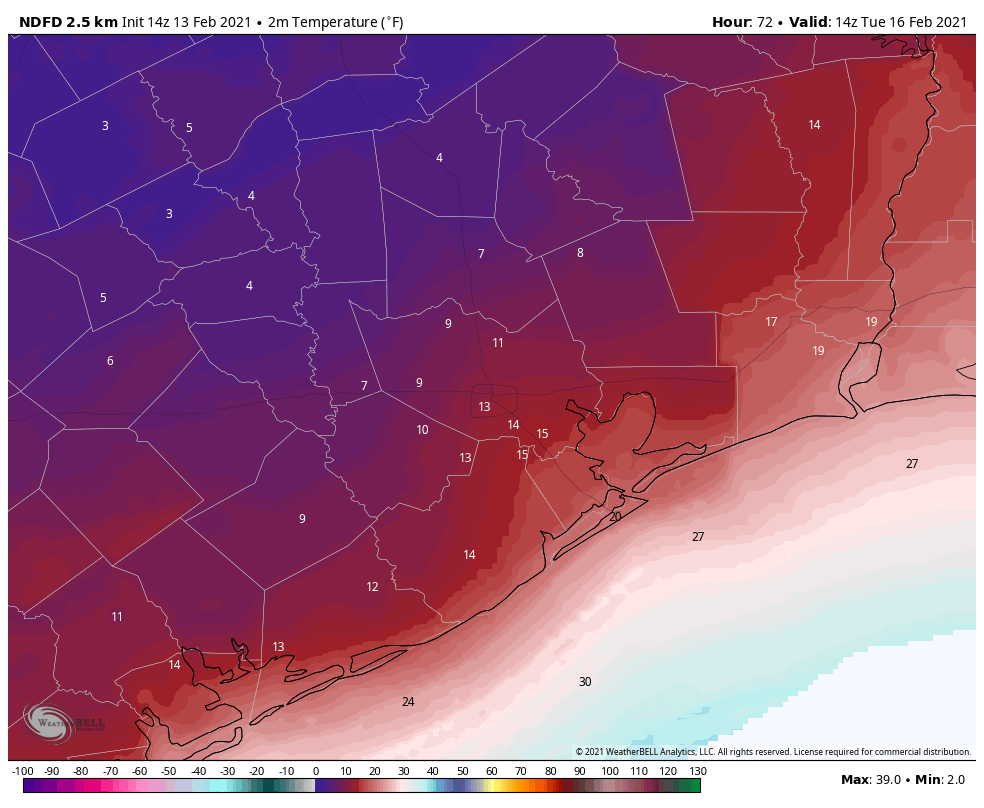 Temperatures should reach above freezing, if barely, for areas south of Interstate 10 on Tuesday. But areas north of that line may continue to see freezing temperatures throughout Tuesday and Tuesday night. Lows will not fall much Tuesday night.
What this all means for roadways in the Houston for Tuesday morning and beyond is unclear. It will depend on how much precipitation falls Monday, in what form, and whether efforts to de-ice roadways are effective. I can offer no good predictions here, sorry.
Wednesday, Thursday, and Friday
Unfortunately, another round of precipitation is likely on Wednesday, as moisture moves inland from the Gulf of Mexico, and another front approaches. This will fall as rain on Wednesday, but for inland areas at least it could turn into sleet or freezing rain on Wednesday night—at least for areas along and north of Interstate 10.
The details of this are still very much in flux, but there's a chance for more icy roads on Wednesday night and Thursday morning. At this time we do anticipate less impact than we're likely to experience on Monday. Lows drop into the 20s on Thursday night, probably, before finally warming well above freezing on Friday.
And that's the end. Saturday should get into the 50s or so, and by Sunday we're back to highs in the 60s. Until then, it's going to be absolutely frigid. Stay safe, y'all.
Matt will have a brief update on the forecast later today, and also take a first stab at historical significance of this kind of winter event for Houston.