Good evening. The overall forecast picture has not changed much today. We still expect a winter storm on Monday, with widespread problems on area roadways, followed by an extremely cold night and frigid Tuesday. Matt's post from this morning still holds up well, but I just wanted to add a few more things that are becoming clearer as we get closer to the hard freeze.
There is still time to prepare
Conditions have fallen below freezing across much of the state, but most of the Houston metro area should remain above freezing until Sunday evening. That's not to say it will be pleasant this weekend—highs are unlikely to rise above the low 40s, and there will be a chance of drizzle or light rain, especially Saturday night.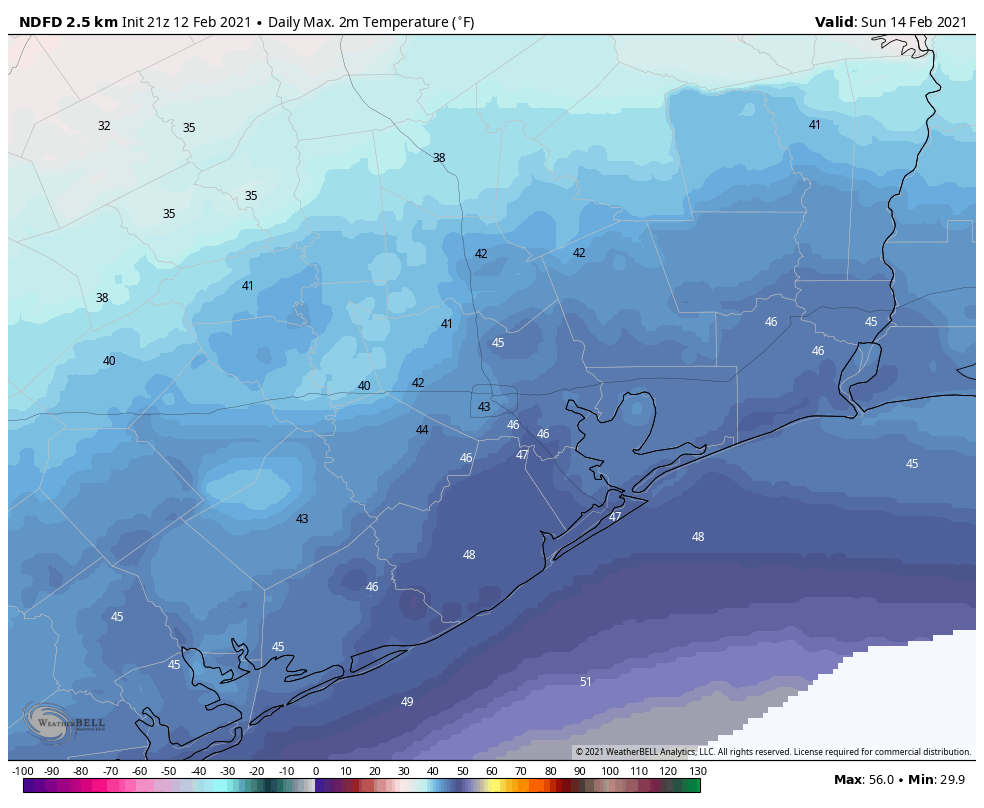 However, that means you still have the weekend to prepare for the winter storm, from wrapping your pipes or covering your garden for a hard freeze, to running to the grocery store. However, it now seems likely that by as early as Sunday evening light rain could turn to freezing precipitation. This means you should plan to be home, or wherever you're going to hunker down, by around sunset on Sunday.
Monday looks pretty bad
Temperatures will fall below freezing Sunday night, and stay there for all of Monday, with the possible exception of Galveston and other beach locations. By tomorrow the higher resolution models should provide us more clarity on exactly what type of freezing precipitation will fall in Houston. But for the most part, we expect a mix of freezing rain and sleet in the city, with a greater likelihood of snow north of Houston.
Freezing rain would be the worst outcome, because as little as one-tenth of an inch will be enough to glaze over roadways. As more falls, it starts to accumulate on power lines, and that could eventually lead to power outages. Some recent models are leaning more toward sleet (ice pellets) than freezing rain, which would be good. We expect precipitation to end by early Monday afternoon, but with temperatures below freezing the ice isn't going anywhere.
The bottom line: many if not all roads will be a mess either way, and you should stay home. If you're an employer, you should at the very least tell employees to come in late on Monday, pending a final call. By early Monday morning we should have a better sense of just how bad things will get.
Models have trended slightly colder
If anything, the major models have trended slightly colder with lows on Monday night and into Tuesday morning. It now seems possible that areas of west Houston (i.e. Katy or Sugar Land) could see temperatures drop to around 10 degrees, with central Houston at about 15 degrees.
This is extraordinary cold. The all-time record low temperature for Houston is 5 degrees, set in 1930.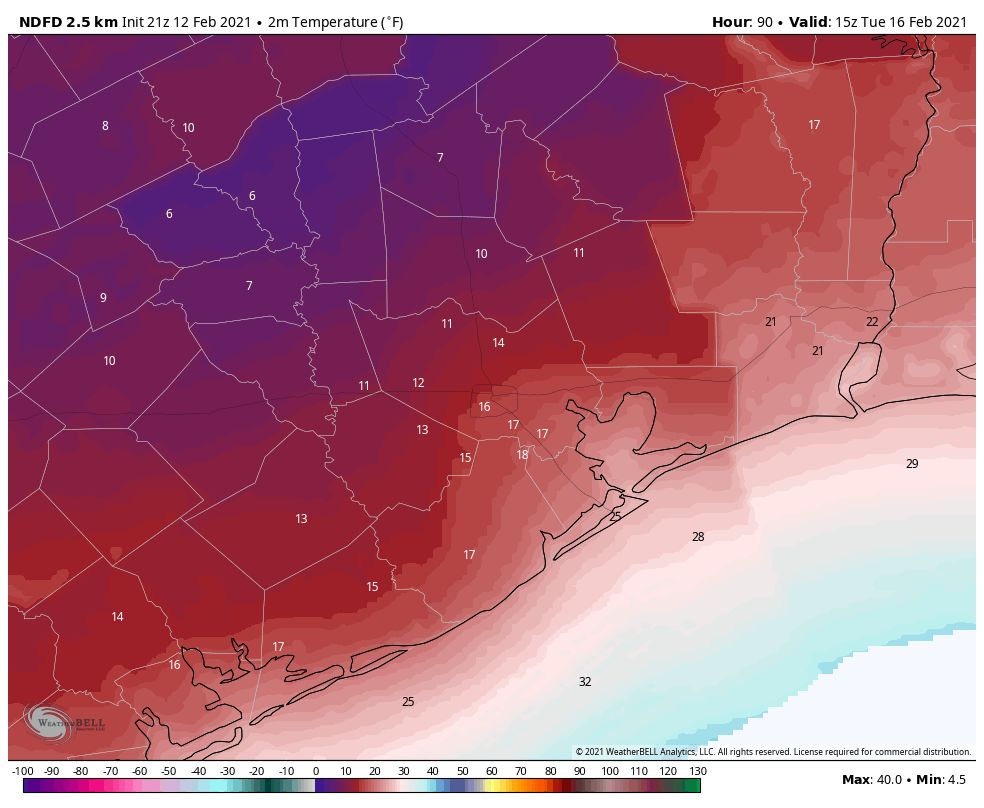 I would caution that there is still some wiggle room in the temperature forecast. There are a couple of factors that will ultimately determine lows on Tuesday: extent of snow cover, if any; whether clouds clear out before sunrise, and how calm winds become. But we are highly confident in a very hard freeze for the entire area.
When does this end?
Something else we're trying to track is when this mess ends. It now seems pretty clear that any roads iced over will remain so through Tuesday night given the cold temperatures. The big question is whether temperatures will warm up enough on Tuesday to melt any icy or snowy roads.
There is not much agreement on this in the forecast models, but for now I think at the very least areas along Interstate 69, and closer to the coast, will warm to above freezing levels. I'm less certain about west and northwest parts of the metro area. Wednesday should bring above-freezing temperatures back to the area.
However, yet another front will bring more Arctic air into the region toward the end of the work week. We think there is a chance of yet another hard freeze on Thursday or Friday morning, and we can't preclude more of a wintry mix on Wednesday or Thursday. We are reasonably confident that temperatures will recover by next weekend. So if you're looking for an end to the winter madness, it's likely coming about seven days from right now.
We'll have a full update on the forecast on Saturday morning.