Good morning, Houston. The overall picture remains the same for Houston, with hot and mostly sunny weather ahead. We'll see a pair a slightly drier nights on Wednesday and Thursday, and a low-ish chance of rain on Saturday, but mostly it is just going to feel like mid-summer in Houston.
The good news is that, with this pattern, we should see mostly clear skies on Sunday evening, when there will be a lunar eclipse. From 10:29 pm CT through 11:54 pm the Earth will move between the Sun and the Moon, casting a reddish light on our satellite. Such total eclipses of the Moon are relatively rare during the evening hours, so you should definitely check it out.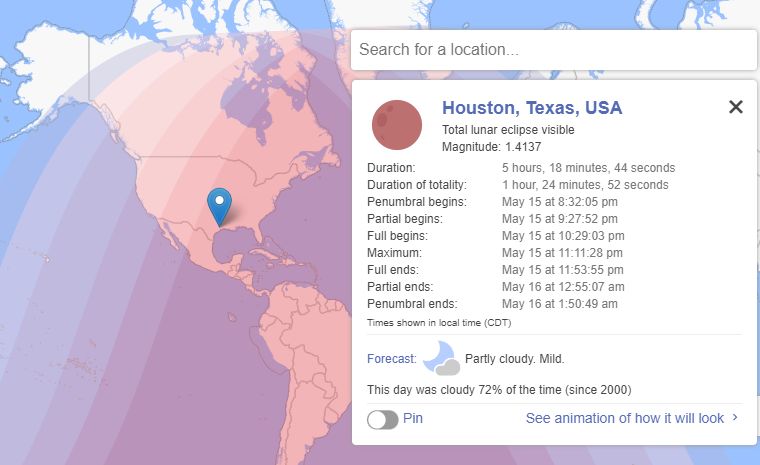 Wednesday
High temperatures today will reach about 90 degrees for Houston, with slightly warmer temperatures possible for inland areas. Winds will blow out of the southeast at 5 to 10 mph, with occasional gusts to 20 mph. A slight slackening in this southerly flow tonight will allow for tiny dip in temperatures and humidity tonight and Thursday morning, with lows falling to around 70 degrees in Houston.
Thursday
Look for hot and sunny weather, with high temperatures in the low- to mid-90s. Dewpoints "bottom out" on Thursday afternoon and evening, dropping into the low 60s. This won't be much, but it will be something as you venture outside on Thursday evening. Lows Thursday night have a chance to drop into the upper 60s for parts of Houston.
Friday
Look for hot and mostly sunny weather, with light southerly winds, and highs likely in the mid-90s.
Saturday and Sunday
Most of the weekend looks hot, sunny, and humid with highs in the mid-90s. The exception to this will come on Saturday afternoon, evening, and overnight when the atmosphere is perturbed by some passing disturbances. For now I'll go with a 20 percent chance of rain west of Interstate 45, and a 30 percent chance to the east. Accumulations will be slight, likely only a tenth of an inch of rain, or two.
Next week
I'm afraid there's likely to not be much of a change in this overall pattern through much of next week, which looks downright hot for mid-May, with highs generally in the mid-90s. The next real chance of rain after this Saturday probably comes next weekend, in the May 21 to May 23 time frame, as high pressure continues to dominate the central United States. We'll be on the lookout for a pattern change, but I'm afraid the middle of May in Houston is going to feel more like the middle of June or even July.