In my own mind I like to break summer in Houston into four phases. We can do this in Houston because "summer" season lasts so long, typically about five months. This is contrast to meteorological summer, which runs from June through August, and "solstice" summer, which runs from June 21 through September 22 this year. For me, Houston's summer typically runs from about mid-May through mid-October. Here are the four phases:
Early summer: When we first start to see 90-degree temperatures with regularity, but some nights in the 60s are still possible, and there's still the thinnest hope of a weak front
Mid summer: When highs run from 90 to 95 degrees, and nights are sultry, but you know it could still get worse
High summer: Somewhere between late July and early September there's a period where temperatures reach the upper 90s to low 100s and you realize, "Ok, this really is the worst."
Late summer: This is the period in September and early October when days grow shorter and we usually see the first front or two of the season. But most of the time it's still hot.
This year, of course, Early Summer came about two weeks early. Here's hoping Late Summer ends about two weeks early. But that's not usually how things work, I'm afraid.
Tuesday
Today will be hot and sunny, with high temperatures around 90 degrees, or a touch warmer for inland areas. Winds will be out of the south at 10 to 15 mph with occasional gusts to 20 mph. Lows tonight will drop into the mid-70s, only.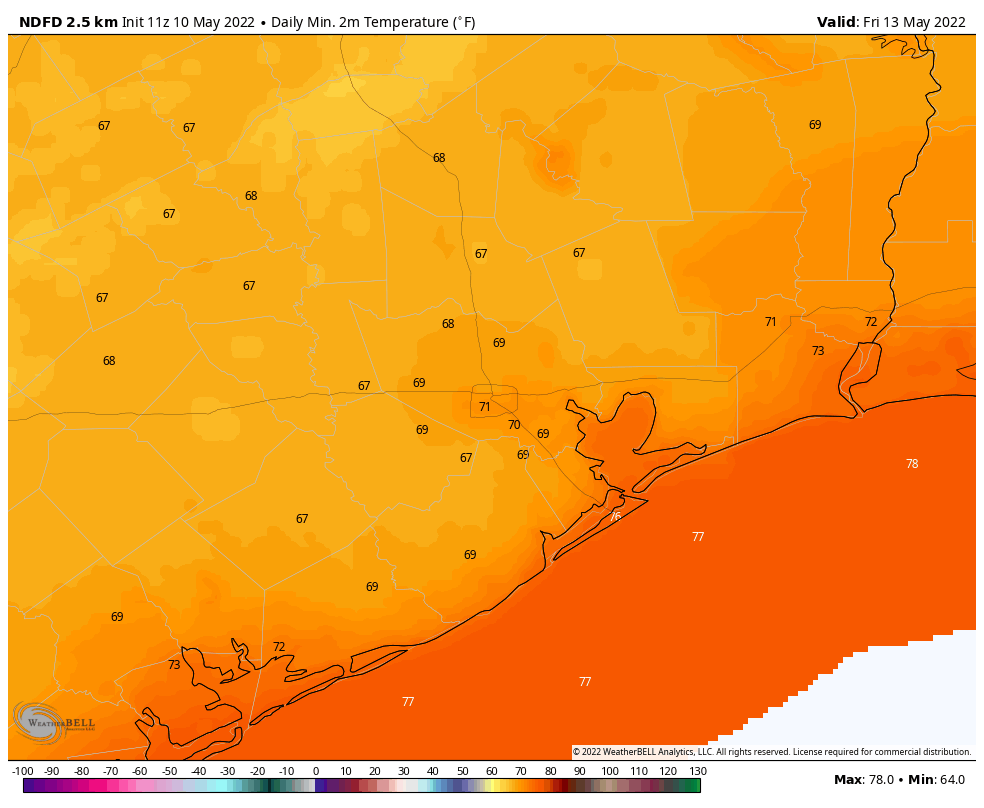 Wednesday and Thursday
These days will also be hot, with daytime temperatures in the low 90s. But as high pressure shifts a little bit overhead, it will essentially weaken our southerly flow. This will diminish winds and very slightly turn down the spigot of humidity. So overnight temperatures may drop into the upper 60s for inland areas on Wednesday and Thursday nights, with slightly less daytime humidity. It isn't much, but it's something.
Friday
Look for highs in the low 90s with mostly sunny skies.
Saturday and Sunday
We're still looking at very modest rain chances this weekend, primarily on Saturday and Saturday night. However I'd say the chance for most of Houston is probably about 20 percent, with areas east of Interstate 45 probably reaching 30 percent. Any accumulations look slight. Otherwise look for mostly sunny and hot days, with highs in the mid-90s.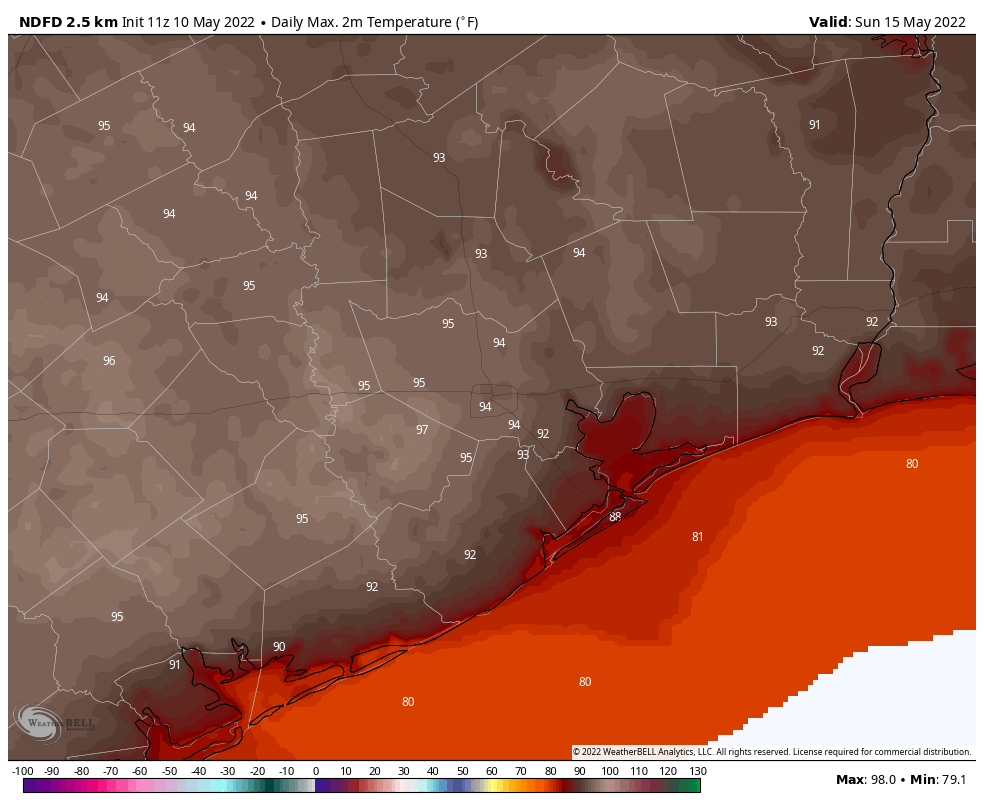 Next week's big question
Is a pattern change coming to bring an end to this Early Summer heat wave next week?
Next week's big answer
No.