To set expectations for next week's heavy rains, we plan on implementing a Stage 2 flood alert on our flood scale, and anticipate this warning will be in effect from Sunday evening through Wednesday. This is what we mean by Stage 2 on our five-point flood scale:
Events falling into this category may cause significant, widespread street flooding across large swaths of the area, flooding numerous cars. Other examples of what we would consider stage 2 events are ones that flood dozens of homes in small, targeted areas or specific neighborhoods. These events are either moderate impact over a large area or high impact over a relatively small area.
A couple of notes on this before we jump into the forecast. First of all, it is quite early to be calling for this, as heavy rain is unlikely to arrive before Sunday night at the earliest. However, since most people probably will check out over the weekend—much of which will be sunny and pleasant—we wanted to give our readers a heads up now. Second, since we are issuing this flood alert early, it is very much subject to change. And finally, the area of greatest risk lies south and east of Houston, so that's where we think Stage-2 like effects are most likely.
As to the overall forecast, not a whole lot has changed. There remain a number of meteorological variables that we can't yet predict with great precision, and so the forecast models are struggling with rainfall totals. For example, a model might forecast 15 inches of rain for a location in one run, and drop to 5 inches the next run.
There is fairly good consistency, however, on the overall setup favoring heavy rainfall somewhere in Texas or Louisiana. (Or both!) So if you live within 50 miles of the coast, between Corpus Christi and Lake Charles, you're potentially under the gun. In terms of accumulations, we anticipate 2 to 6 inches for most locations, but what we're concerned about is potential bullseyes of 10+ inches. It looks like the most likely period for heavy rainfall will run from Monday through Wednesday.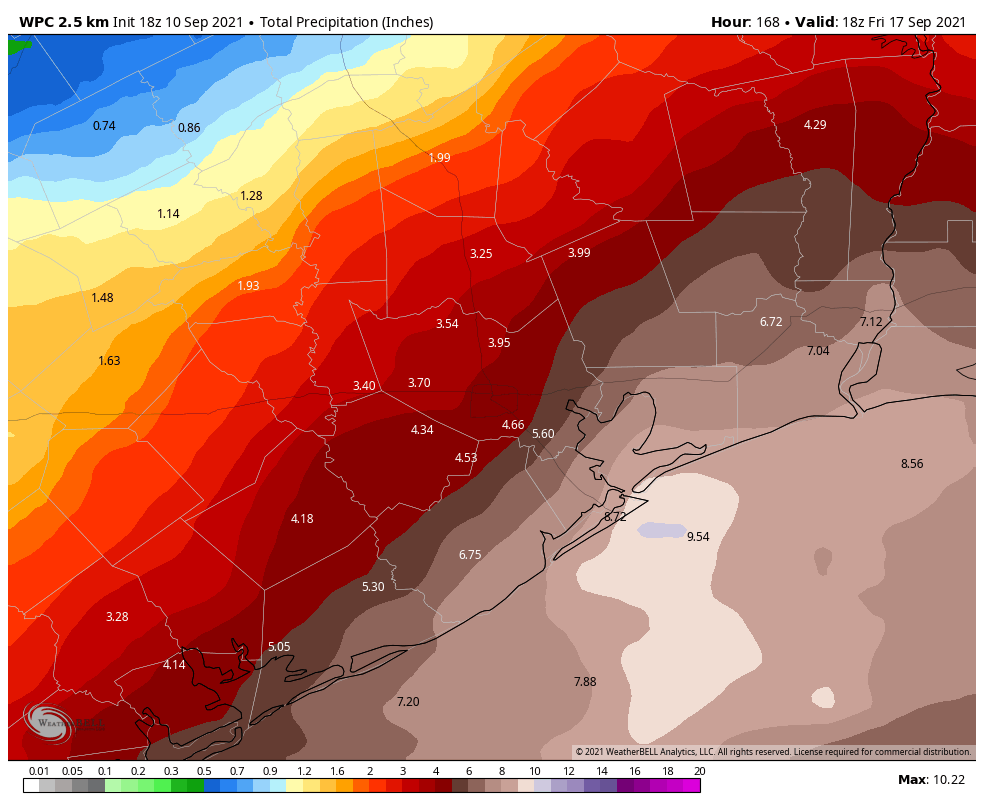 The bottom line is this: Enjoy your weekend, but also be prepared for the possibility of heavy and potentially disruptive rainfall early next week.
We'll update on Saturday and Sunday with the latest.