Good morning. It's going to be a beautiful Saturday in Houston, in early September. We totally understand that people are focused on 9/11 remembrances, family gatherings, or other activities today. But there is a potentially serious weather situation developing in the Gulf of Mexico that you need to keep one eye on this weekend. I say potentially because there are some scenarios in which Houston sees only moderate rainfall, and there are others in which we get drenched.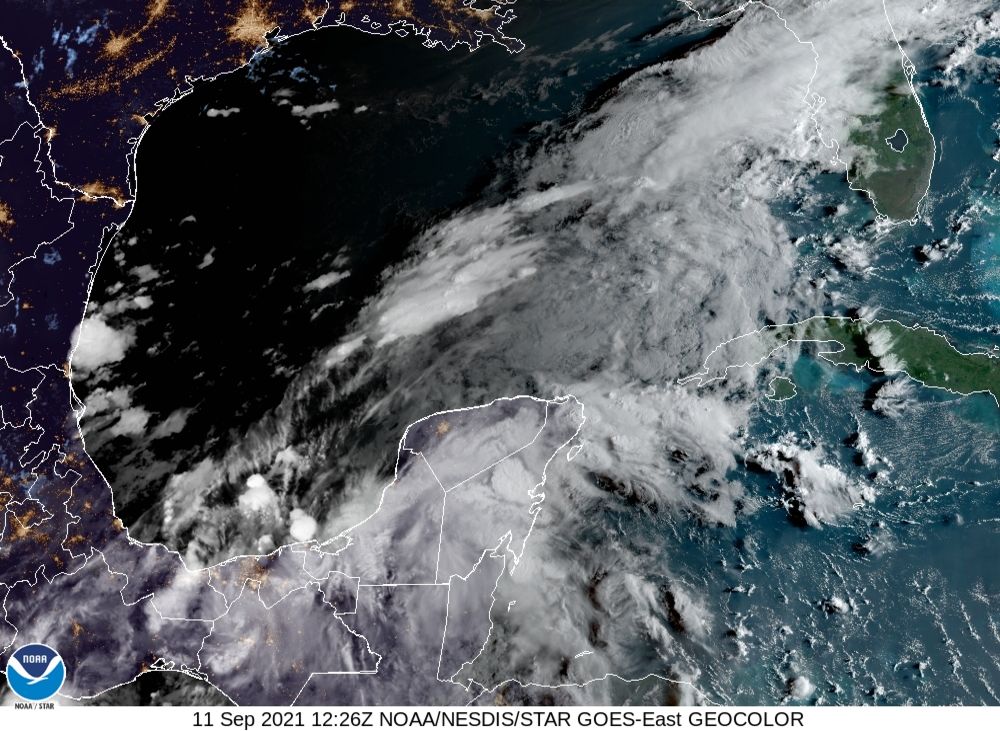 Here's what we know for sure: It is highly likely that a tropical depression or storm will form over the southwestern Gulf of Mexico within a day or two. This extremely moist system will bring heavy rains, winds, and high seas to the Texas coast beginning late on Sunday. But it's the details that matter, and we can't pin those down yet. Based upon the latest modeling and the atmospheric setup, I want to present three plausible scenarios for the next week. As we will discuss, the effects range from mild to extreme, and that's one reason why it is so difficult to provide an accurate forecast at this time.
Three scenarios
The map below shows the European model's ensemble forecast for the evolution of the tropical system, which has been designated Invest 94L. It shows tracks from Friday night through Tuesday evening, and I've boxed what I consider three of the most likely possibilities. Let's discuss each of them.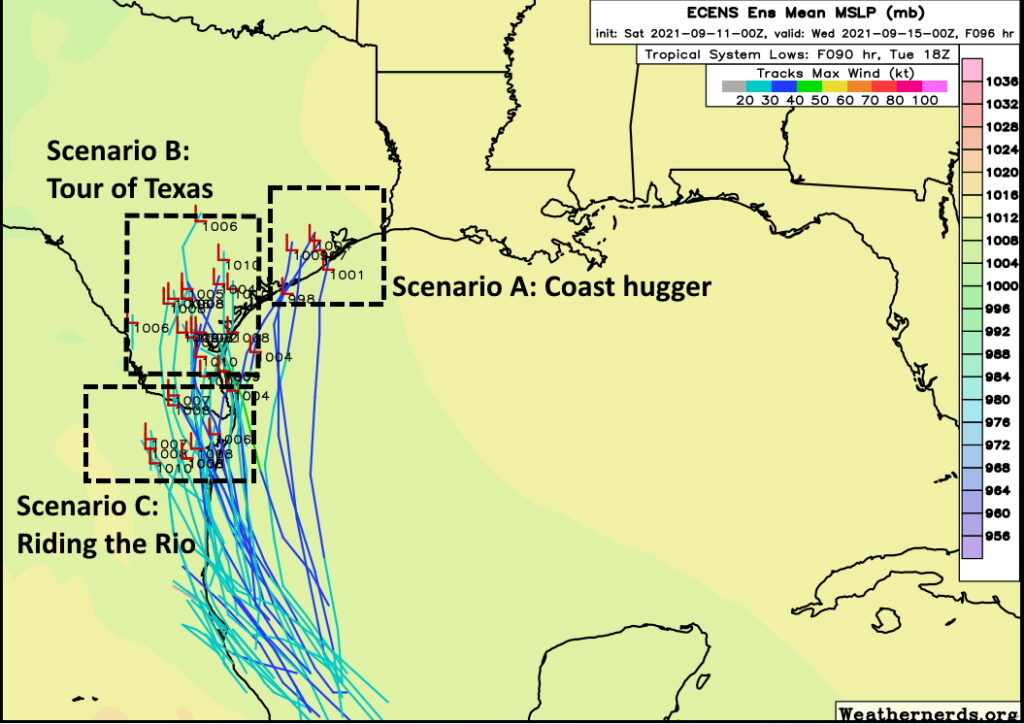 Scenario A: Coast hugger
In this case the storm moves close to the Texas coast on Monday, but perhaps doesn't come fully ashore. It then moves fairly rapidly to the north and then northeast, bringing its center close to the Houston metro area on Tuesday or Wednesday. In this case we would see higher tides—although probably not too great of a storm surge—and wind gusts of tropical storm force in the metro area. However, the heaviest rainfall would likely fall off the Texas coast and potentially in southwestern Louisiana. In this scenario Houston might see 2 to 4 inches of rainfall, with the 20-inch bullseye remaining offshore.
Scenario B: Tour of Texas
In terms of rainfall, this scenario is more ominous. A likely weak tropical storm would move into South Texas on Monday or so, and slow down for a couple of days. The center would remain close enough to the coast that the storm would be able to tap into Gulf of Mexico moisture. In this case, Houston might expect 5 to 15 inches of rain, with a 20-inch bullseye of rainfall coming somewhere in the area from Corpus Christi to Beaumont. But it's impossible to say where. The potential for heavy rainfall would linger through Wednesday. Winds and seas would be much less of a factor.
Scenario C: Riding the Rio
It still is possible that the low moves into northern Mexico and basically tracks along the Rio Grande River, dying out after a few days of being inland. In this case the Texas coast would see some moderate rainfall for a few days, but totals for most areas would probably be 2-4 inches, or even less. This scenario seems a little less likely at this time, but it would certainly have the most benign effects for Houston.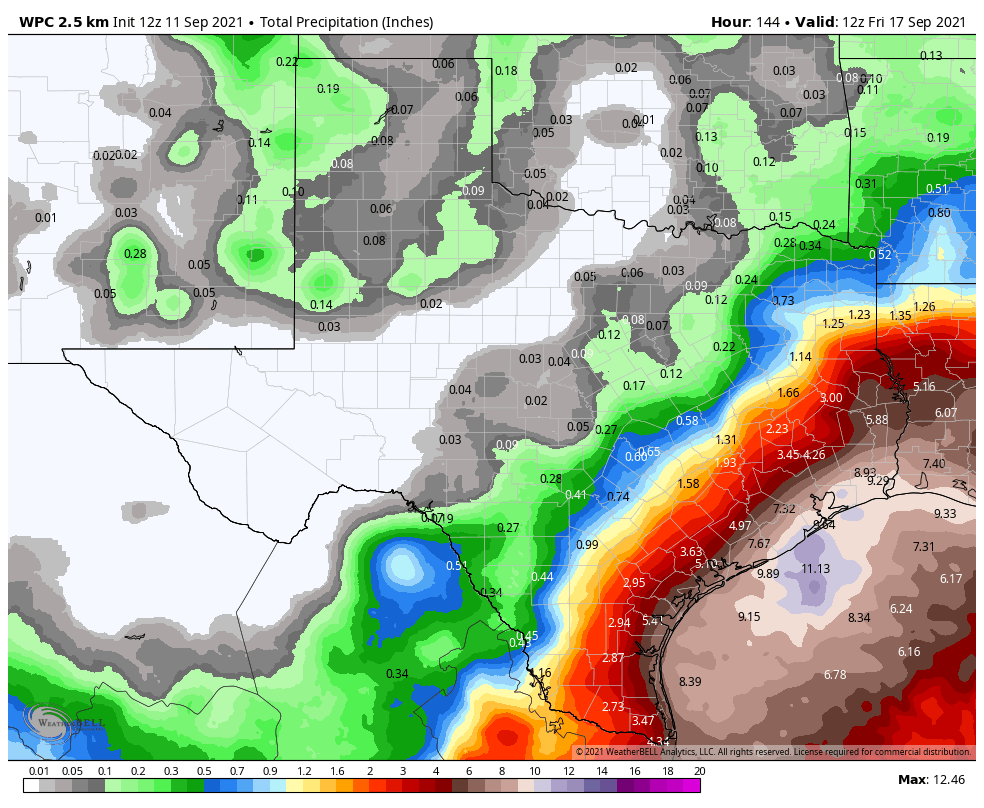 Conclusions
So what actually happens? I wish I could tell you. But we're talking about a tropical wave that has yet to form a semblance of a circulation, so the forecast models are going to struggle with its track. After that, it's not entirely clear how much the wind shear currently hampering its organization will weaken over the next couple of days as the system moves northwest or north toward Texas. And these are just the beginning of our questions.
The bottom line is that Saturday should see fine weather in Houston. Sunday should start out sunny as well before rain and thunderstorm chances increase during the afternoon and evening hours. After that heavy rainfall is possible through Wednesday, and we just really can't say how much. But this is a forecast you should be monitoring closely. We'll have an update later this afternoon or evening.