Our summer-long battle with high pressure has mostly been futile, but over the next several days the good guys should win. We'll see an influx of moisture from the Gulf of Mexico, which should in turn drive up rain chances and bring down temperatures slightly. I don't think we're looking at any type of flooding conditions, but much of the region should pick up one-half to one inch of rain through Sunday, and after today high temperatures should be more reasonable, in the lower 90s for much of the area, for a little while.
Tuesday
Highs today should reach the mid- to upper-90s for inland areas, as mostly sunny skies prevail. However, as the sea breeze kicks up we'll see some isolated to scattered thunderstorms move inland from the coast, and for some locations that will bring the mercury down this afternoon. Rain chances are probably about 20 or 30 percent. Winds will generally be light today, out of the south or southeast at around 5 mph, except where storms develop.
Wednesday
Conditions will be slightly cooler, with slightly higher rain chances on Wednesday as Houston's weather starts to become more influenced by the Gulf. Look for highs in the mid-90s, with rain chances in the 30 to 50 percent range. Nighttime temperatures will remain sticky, only briefly dropping below 80 degrees for most locations.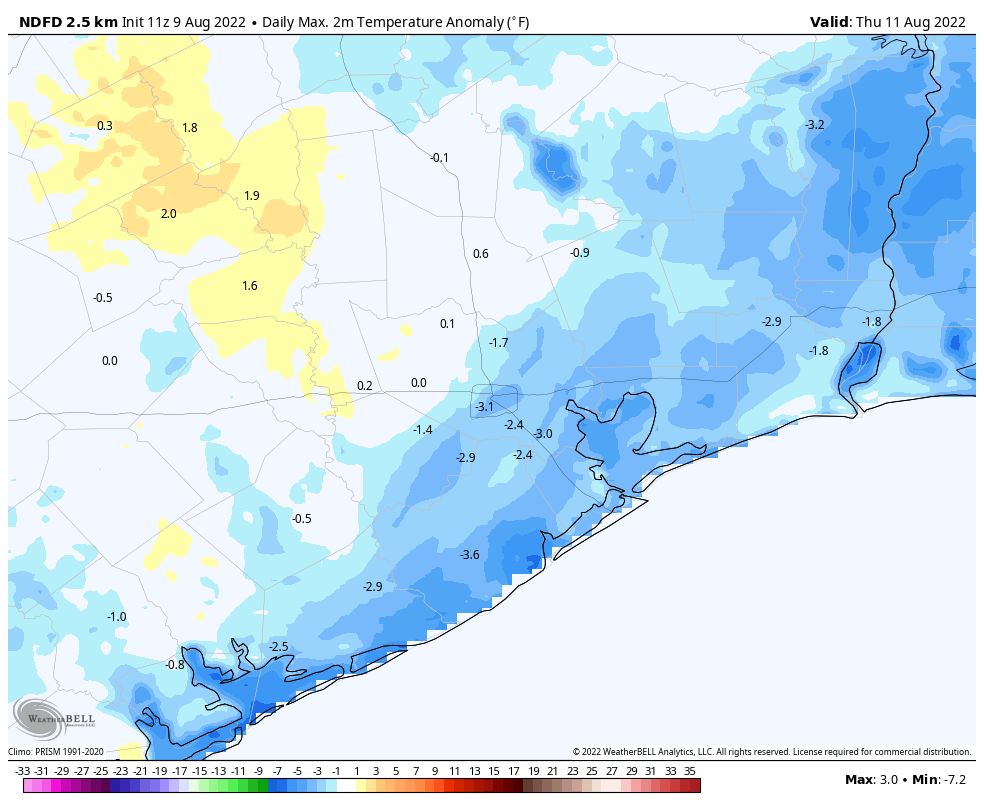 Thursday and Friday
A couple of atmospheric disturbances will combine with Gulf moisture to raise rain chances to around 70 percent for both of these days. While chances will be moderately higher closer to the coast, and east of Interstate 45, much of the region should see intermittent light to moderate rain showers. Both days should bring partly cloudy skies, and in addition to this, rain-cooled air may hold highs in the upper 80s to 90 degrees. Rain showers will be most likely during the afternoon hours on both days.
Saturday and Sunday
Rain showers will be more hit or miss this weekend, with slightly better coverage on Saturday than Sunday. I'd expect these to be mostly sunny days, with highs generally in the low 90s for Houston, and likely a bit warmer further inland in places like College Station.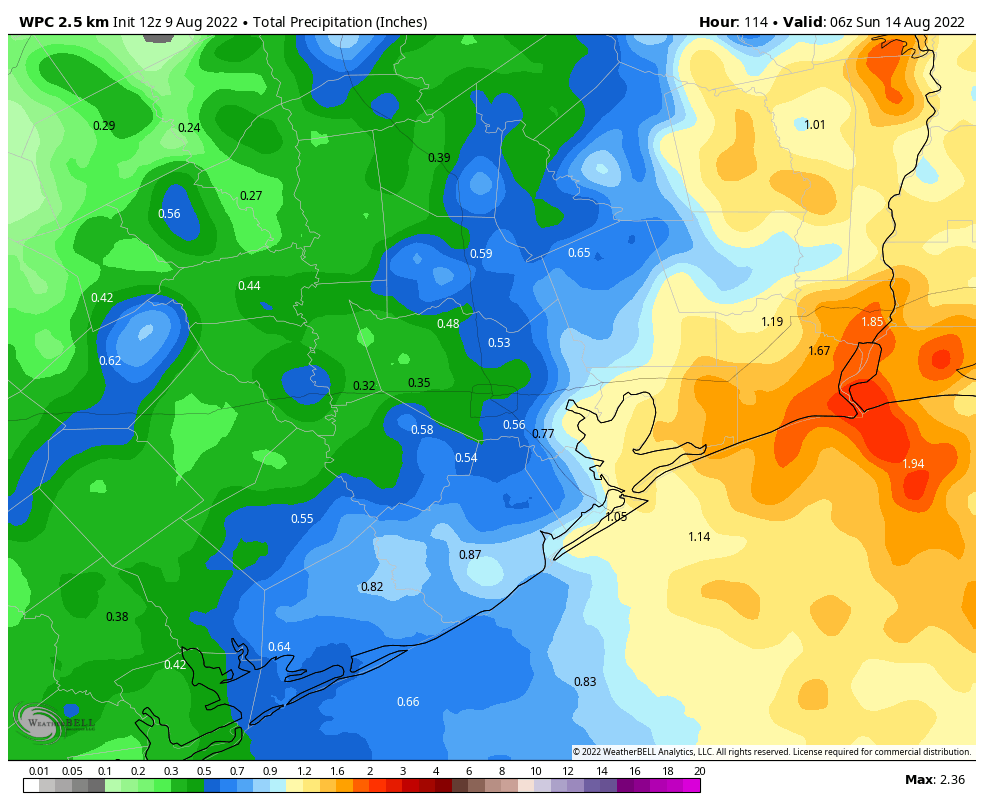 Next week
It appears as though high pressure will start to reassert itself next week, with high temperatures likely to push back up into the mid- to upper-90s for much of the Houston area, to go along with diminished rain chances. I don't think we're looking at a ridge-of-doom type scenario, but it's the middle of August so generally that means rather hot weather around these parts.