96, 96, 97, 94, 98, 96, 94.
Those are not winning lottery numbers. They are our high temperatures so far this June. I wish I could say it would get better, but it does not appear that is in the cards. However, we will continue to mention at least some increasing chances for a return to more typical summer weather, which could theoretically mean more typical daily showers and storms than we've seen lately. We're optimists at heart.
Friday & Saturday
For now, there's not much change expected. Friday should be another hot and dry one. There may be a brief downpour southwest of Sugar Land down 59 or along the coast. But aside from that, just expect sun, clouds, and high temperatures in the low- to mid-90s. I do think the coverage of showers on Saturday afternoon will be at least a little closer to average for this time of year. Odds favor most of us staying dry, but again, optimism. Here's a look at just one model, the NAM, which suggests the best chances of a bit of rain west of I-45 tomorrow.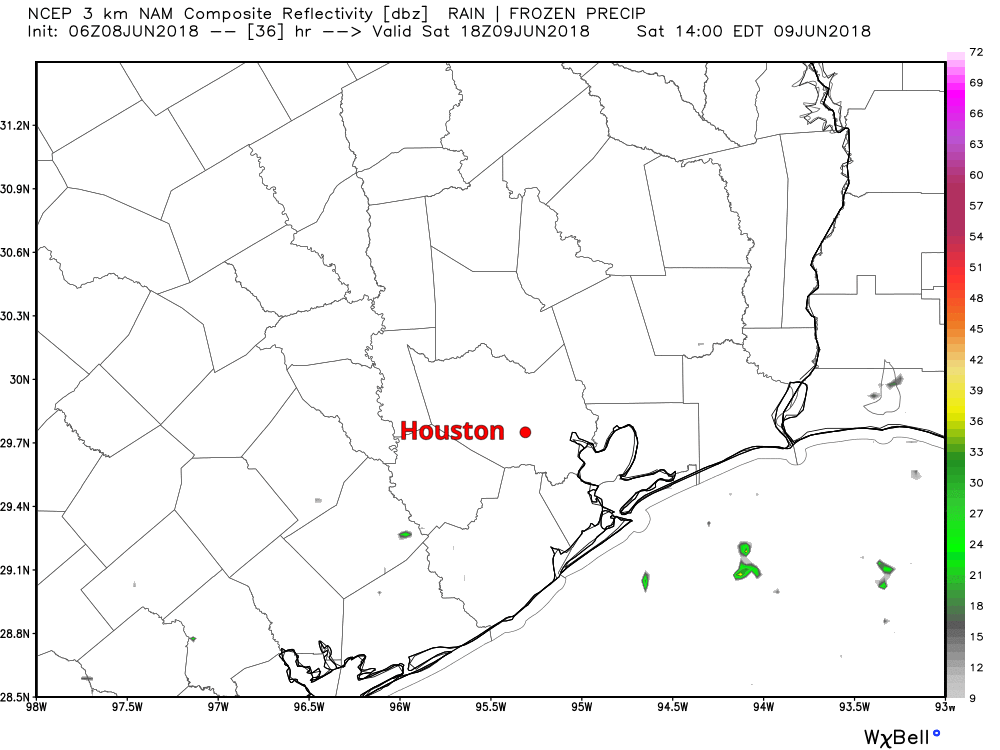 So don't be entirely shocked to see some rain tomorrow, but don't necessarily be too excited for it either. High temperatures Saturday should be low- to mid-90s again after morning lows in the middle 70s.

Sunday through Wednesday
Atmospheric moisture levels continue to increase here Sunday and Monday, which should allow for isolated to perhaps scattered afternoon storms on both of those days. After Monday, we will be competing with potentially more ridging (hotter, sinking air) in the atmosphere nearby in Texas. These factors should somewhat offset, and we will probably just see our hot weather continue, but with slightly increased coverage of showers and storms each day versus this week. You might be able to gauge from my word choice here, but I'm truthfully not that excited about our rain chances through the middle of next week. Some of us will indeed get lucky, but others may very well end up with nothing.
Either way, it remains hot with lower 90s on average, but if shower coverage is held down, we could see a day or two back into the mid-90s.
Later next week
I'll echo Eric's message from yesterday that the second half of June may offer some more promise for us in terms of rain chances, but it will be close. Weather modeling indicates that rain chances should increase a little bit later next week as a tropical wave finds itself in the Gulf. Weather modeling indicates two real possibilities at this point. One is a disorganized, weak  system heading toward the Florida Panhandle again. The other is just an increased slew of moisture heading toward deep south Texas (Corpus Christi and the Rio Grande). This could be what's needed to kick start rain chances a bit more in Texas. With that said however, I am a little concerned it may get directed just a little too far south to really offer the Houston area much relief.
Again, just to be explicitly clear, this isn't a serious tropical system; this is something we see a few times during the summer typically. We will keep tabs on the pattern and update you on rain chances Monday.