Good morning. The overall forecast for the next week is straightforward. We'll see abormal heat for two days, and then about a five-day stretch of much more seasonable weather, with high temperatures in the 50s and 60s, and low temperatures in the 40s and 50s. By next Friday, or Christmas Eve, we'll definitely be warming up, but the forecast for Christmas Day remains uncertain.
I'd like to note one interesting development before moving on to the daily forecast. The US Army Corps of Engineers has announced plans to study the development of a massive underground tunnel to carry floodwaters from inland parts of Houston to Galveston Bay. This is an ambitious plan that is potentially very helpful. But I think there are two important things to note. One, this is not a substitute for a coastal barrier, commonly known as the "Ike Dike." The proposed tunnel would alleviate inland flooding, that is, heavy rainfall from tropical systems and other events. The coastal barrier would address storm surge flooding. Both inland rainfall and storm surge cause flooding, but they are very different mechanisms that require different solutions.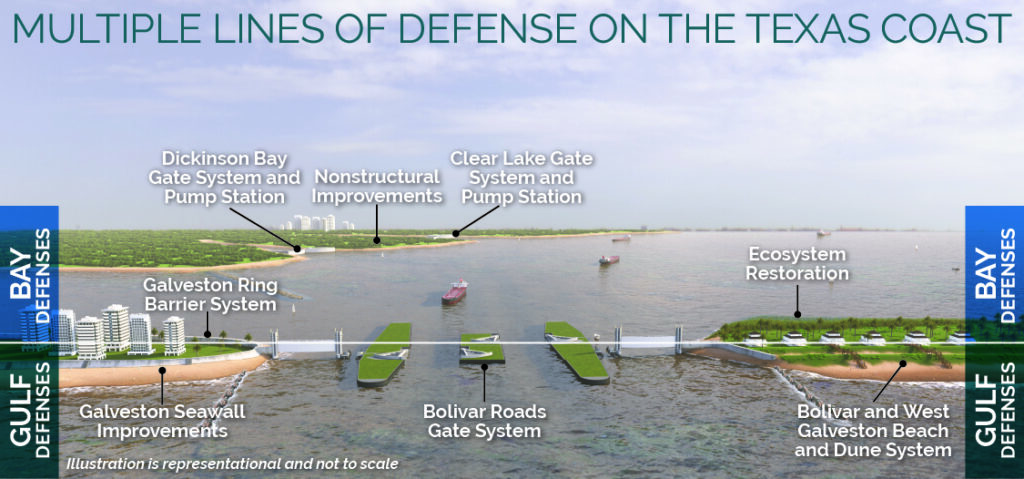 The other point is that 13 years have elapsed since Hurricane Ike and its storm surge, and Hurricane Harvey is now four years in the past. We simply cannot continue to "study" solutions to the problems highlighted by these storms, as the US Army Corps of Engineers has done with storm surge. We must actually build solutions to prevent their catastrophic effects. With all that said, I'm glad to see this idea get a full blown study.
Thursday and Friday
These will be a pair of warm and partly sunny days, much like we've experienced this week. Highs will likely reach the low 80s, and there is the slightest chance of a light shower. Mostly, however, it's going to be warm and humid, with southerly winds blowing at 10 to 15 mph. Nights remain sticky, with lows dropping only to around 70 degrees in Houston. Both days have a chance to set record high temperatures. Not normal for December.
Saturday
Saturday morning will see more of the same before the arrival of a cold front in Houston brings some relief. The front's timing has shifted somewhat. It now looks as though will arrive in northwest Houston during the late morning hours, and reach the coast during the afternoon. Showers and potentially a few thunderstorms will accompany and linger after the front, with overall accumulations likely on the order of 0.5 to 1.5 inches. Lows Saturday night will drop to about 50 degrees in the city of Houston, with cooler conditions inland, and a bit warmer near the coast.
Sunday and Monday
These will be a pair of partly to mostly cloudy days, with highs likely peaking in the 50s. Some spotty showers will be possible both days as the upper atmosphere remains somewhat perturbed. Things should finally begin to clear out later on Monday, or Monday evening. Lows will likely bottom out in the low 40s on Monday night, with the potential for upper 30s for some inland areas as skies clear.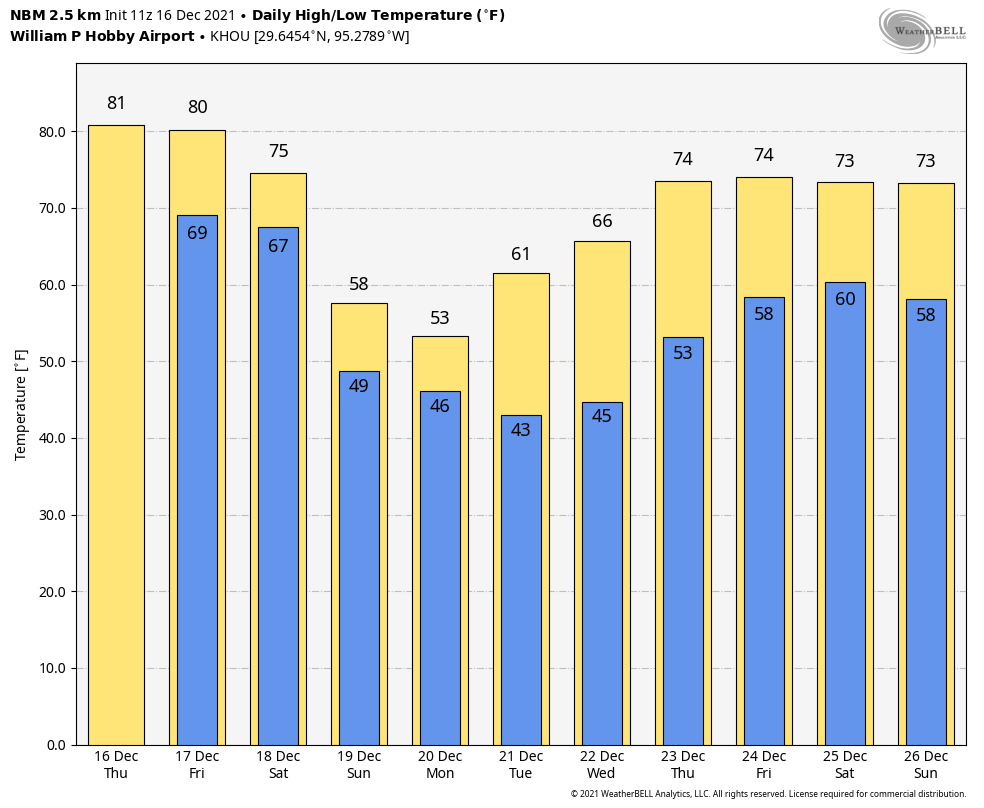 The rest of Christmas week
Things stay dry and cool with mostly clear skies through Thursday morning, after which time we're likely to see highs rebound into the 70s.
Unfortunately, I still don't have much clarity for you after that time. I'd define Christmas morning as feeling at least somewhat "like Christmas" if the low temperature is 55 degrees or lower. Right now the odds of that are probably 40 percent, or less. But the forecast could still really go any way. At least things look pretty dry, in terms of rainfall. Perhaps Matt will have better answers for you in Friday's post.
Speaking of the holidays, we'll maintain a mostly normal schedule for the next two weeks, and in the unlikely event that there is inclement weather we'll have full coverage. However, both Matt and I will be taking some time off from our regular jobs, and doing a bit of traveling. So if a post is published a little later on some days, that is why.